Hands On With Horn: A New Tegra 3 Optimized Gaming Masterpiece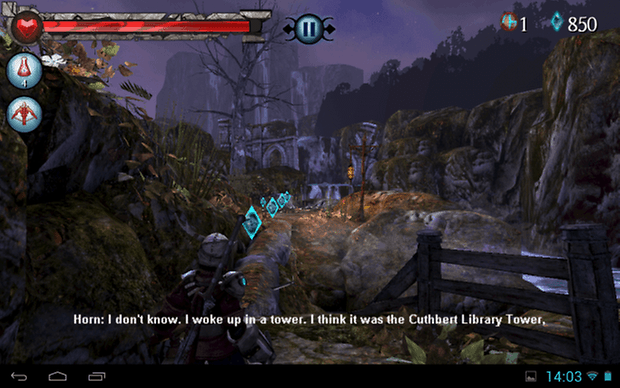 Last week I had a chance to sit down for a private session with Nvidia, who not only provided me with product roadmap information, but also talked a lot about some of their newest Tegra 3 optimized titles. I also got a chance to ask Nvidia Senior Product PR Manager Igor Stanek about why it was possible to enable "Tegra 3 graphics" on non Tegra 3 devices (bottom of the article), and was also shown one of their newest Tegra 3 titles called Horn. After playing the game for a bit, I was honestly so blown away by it that I had to give you guys a quick review and a brief hands on for one of the best games I have ever played on a mobile device.
When Igor first informed me of Horn, I knew that within 30 seconds of seeing it that I would be buying it. Let me just make one thing clear: You will NOT find an Android game (currently) with a better storyline than Horn. Period.
You play as a character named Horn, whose mission is to remove a curse from people throughout the land. In the very beginning of the game, you wake up from the curse, and immediately set off to explore and find out what's going on. Unlike many Android titles, this game features some really great voice acting, cut scenes, and graphics that will literally make your jaw drop: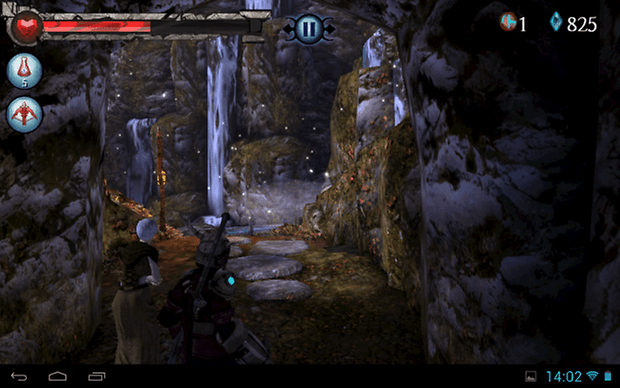 Remember what Riptide did graphically in terms of Android gaming? Well, Horn just raised the bar for RPG mobile gaming. The graphics on this game are just nuts, and I often had to remind myself that I was playing this on a tablet. Surroundings in this massive world move with the environment, are extremely detailed, and are quite simply amazing. Another thing that's great about Horn are the sounds, as many Android titles have either great sound or great graphics. Horn has both, along with great voice acting. The voice acting can certainly have some silly moments, but overall it is extremely entertaining and well implemented.
Controls are something that are highly debated with Android games, and for the best experience, I normally use a gamepad when I can to enjoy tablet gaming. With Horn, you don't need too. Horn is point and click game (The Longest Journey, Syberia, ect) that allows you to move by simply touching the location of where you want to go on the screen. Fighting is done with 2 simply roll buttons that allow you to maneuver around opponents, and then simply swiping across them to attack. I personally really like the controls on this game, and I think that the developers (Phosphor Games) did a hell of a job. I wish that Horn would move a bit smarter at times, but in general, controls aren't something that will frustrate you with Horn: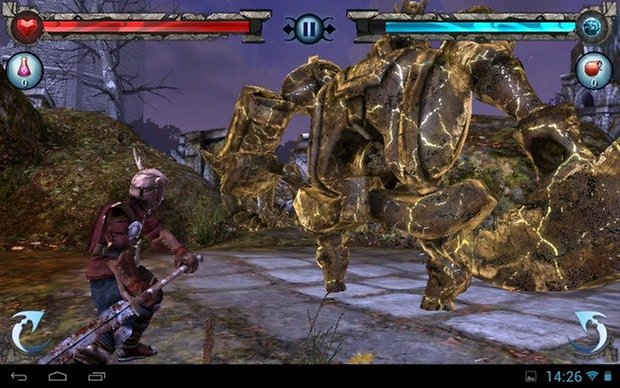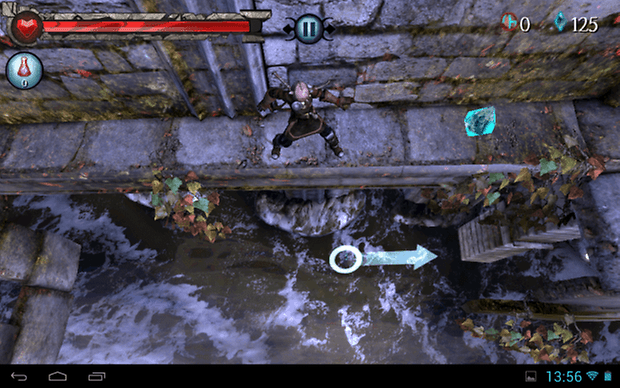 I did get a lot of lag on my Prime after installing this title, but after a reboot, the game runs pretty damn smoothly. There is an occasional stutter here and there, along with some framerate issues, but I am confident they can easily be addressed in future updates. While the issues are definitely there, I am still really enjoying the gameplay, but very much look forward to an update. After all, this should run perfectly on Tegra 3 devices, and while it's stable enough to play, there are some graphical issues that need to be addressed (LOL..funny that in the video, the game literally crashes at the end right when I'm talking about the small amount of graphical problems that I have had).
In app purchases (unfortunately) are present in Horn, but the good news is that you really don't need them to play the game through. If you want to spend a few bucks, you can get access to some pretty cool stuff without spending all your in game currency, but really isn't a requirement in order to finish it.
Horn is a whopping 1.8GB download, so make sure your phone or tablet has the space for it before installing it. The game costs 6.99, but in my opinion, it's money well spent.
Here is a quick hands on of this amazing title running on my Transformer Prime (Youtube link here):
It's hard to believe that mobile gaming has come this far, and with amazing titles like this one, I can't wait to see what Android titles are in the works for 2012/2013.
If you like point and click games with a dash of Fable and a great storyline, I seriously encourage you to give Horn a try. If you're interested, you can buy it on Google Play here.
P.S- Back in mid July, we reported on a workaround that enabled you enable Tegra 3 graphics on non Tegra 3 devices, and after trying it for multiple titles, I and many of our readers can confirm that it works. I spoke with Igor about why this way possible, and although I was initially pretty upset (I felt like Nvidia was keeping the best experience away from non Tegra devices), Nvidia's reasoning for "optimized for Tegra 3" does indeed make sense.
Igor told me that they are aware of this working for certain titles, but that when Nvidia says "optimized for Tegra 3", they say this to keep things easier for consumers. Tegra 3 optimized titles are created to graphically run at their best when used with Tegra 3 chipsets, but are not advertised as "only playable with Tegra 3". If Nvidia didn't use this wording, and customers of other devices experienced more crashes and lockups on non Tegra 3 devices, Nvidia would get the blame and the bad PR. Although I am able to run some Tegra 3 graphics on my Galaxy Nexus, it doesn't mean that the game will run smoothly from start to finish on it. Maybe it will, but Nvidia has chosen not to risk that. I guess that makes sense, although still sneaky :-D
That being said, I very much appreciate Nvidia's open attitude in discussing this issue, and I'm very glad they chose to openly talk about it.