Tips & tricks for Viber: get more connected!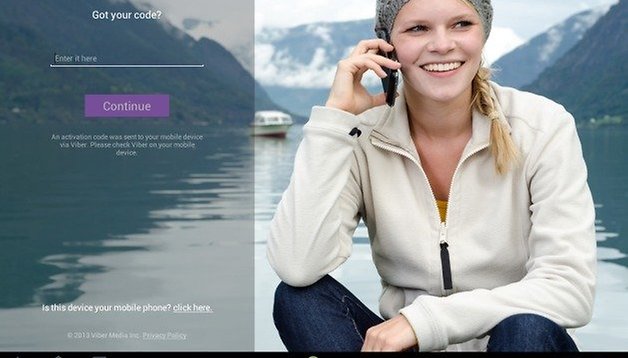 Viber version 4.0 came out recently, and if you could get past the initial bugs, the update kind of breathed new life into ol' purple. I've been a fan of Viber for ages, mostly because I associate different messengers with the various friends I always use them to chat with. So even though I have waaay too many messenger services already, I tend to stick with them all and spread my time between them. Right now though, is Viber's moment, so here's some tips and tricks to get more out of your Viber experience.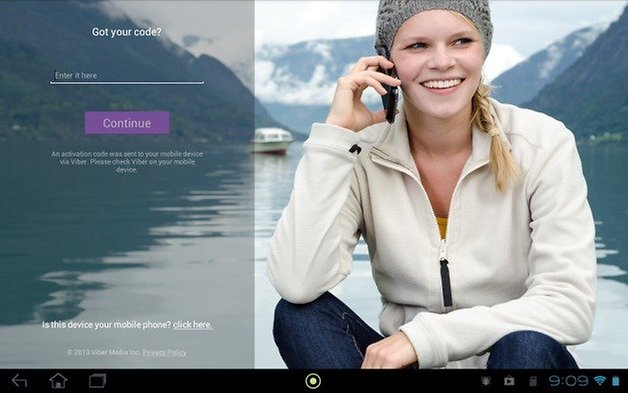 Get Viber on two devices
The coolest thing by far about the version 4 update was that Viber now supports more than one device, so you can have it running on both your phone and your tablet or PC. What's more, the new update has been optimized for tablets too. To install Viber on two devices, simply download the app on the second device, and you will get an activation code on your primary device. Simply enter that code and you're away!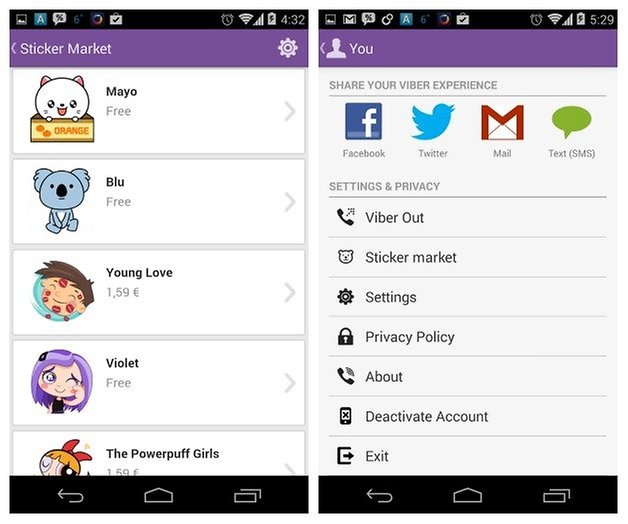 Get free stickers
The new Viber has over a thousand new stickers in the sticker market, but did you know you can get a bunch for free too? You can enter the sticker market and download a bunch of free ones, or you can hop on over to the Play Store and install one of a bazillion free apps (or pay for them) that will get thousands more stickers on your instant messenger. What's best is, many of them work across all your instant messenger services!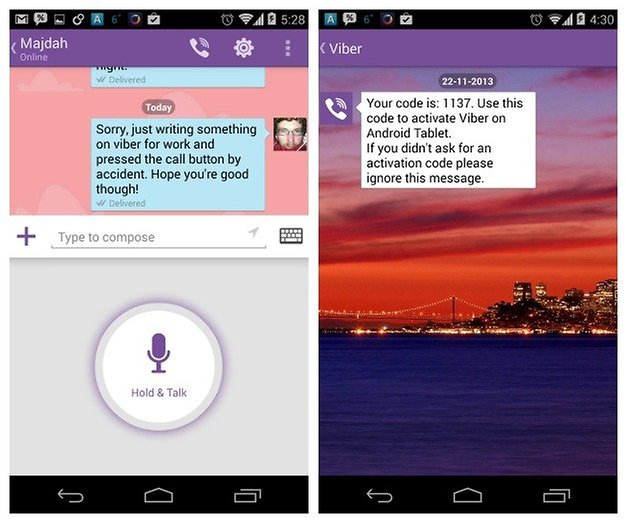 ''Instant'' message faster with Push-to-Talk
Did you know that on average, a 15-second voice message takes about a minute to record, send, download and play? Not with Viber's Push-to-Talk feature, which basically turns your phone into a walkie-talkie, meaning that when you press the button to talk, you are recording, sending and playing the message all at once. Now, that is instant messaging.
To use Push-to-Talk, just press the microphone button on the right in any conversation, then the big button to enter Hold & Talk mode. If your conversation partner is also in Hold & Talk mode, all messages will be automatically streamed and played on either end. Otherwise, the message will be delivered as a recording as usual. You've got a 30-second time limit on your message though, so get to the point! The ring around the outside will turn red if you're waffling on too long.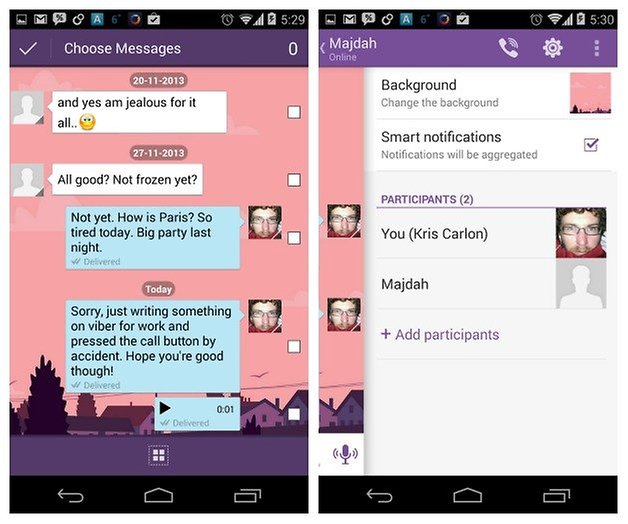 Customize your conversations
Tired of that plain old background to your conversations? Add a sexy new background from one of the preset options or one of your own Pulitzer Prize winners, and add a little spice to your chats! Just go into Settings and Default Background, then you can select from a variety of nice Viber-loaded backgrounds, add something from your gallery via the picture icon on the top navigation bar, or snap one right there and then with the camera icon shortcut – perfect for rubbing your dinner in someone's face while you chat. You also have the option to remove the background entirely via the action overflow menu (three dots in the top right hand corner) if you want to go back to the default. Or you can set a custom background for each conversation: just swipe to the right panel and set a specific background for that chat only.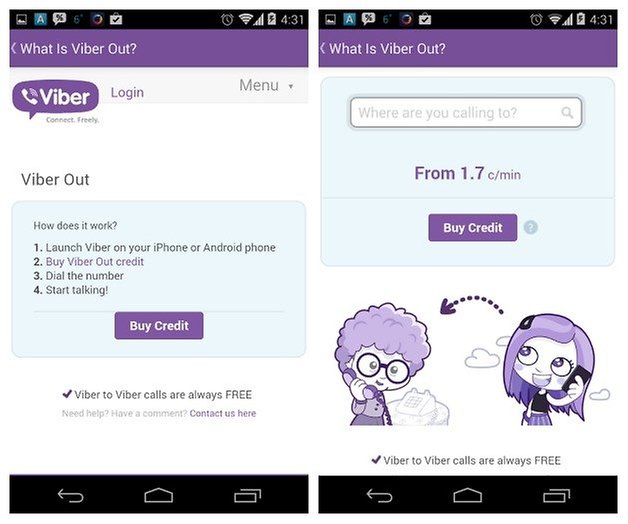 Get connected
Just been to a party and added a dozen new people to your phone contacts? Hit that action overflow menu (this time on the bottom right) and Update Contacts. This will add any new contacts you have in your phone to your Viber contacts if they are using the service. And if you added 100 new friends, now you can send a message to all of them at once because the new Viber lets you send group messages to a hundred people at one time! You can also set a notification if someone joined Viber, and connect your Viber account to both Facebook and Twitter. Plus, Viber now has Viber Out, which lets you add Viber credit and call anyone you want, even if they don't use Viber. Now that's connected.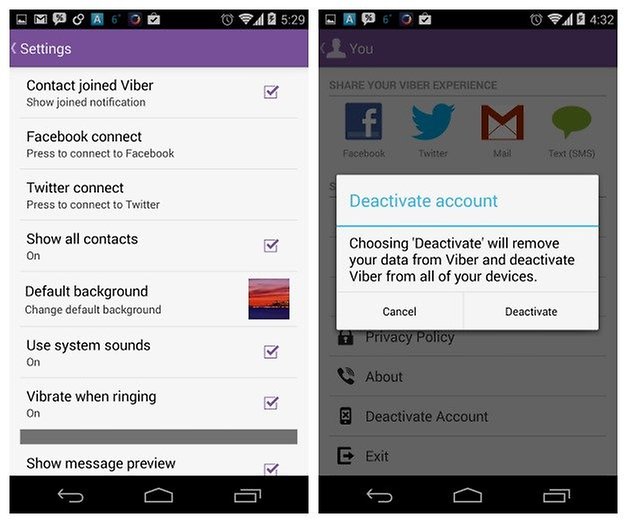 Optimize your Viber
Viber's settings are light years ahead of certain other instant messaging apps, allowing a degree of customization you can only dream of elsewhere. Use the settings menu to personalize your Viber experience, from showing message previews to new message popups, or setting automatic screen unlock for new message and illumination settings. There's even a built in chat history email service and you can set up Viber to send automatic free replies to SMSes whenever possible. You can also manage your message ''Seen'' and contact ''Last Online'' settings from within the app, set auto-download rules for pictures and video and organize your Wi-Fi ''sleep'' settings. Plus set your notifications to be aggregated rather than individual. How good is that!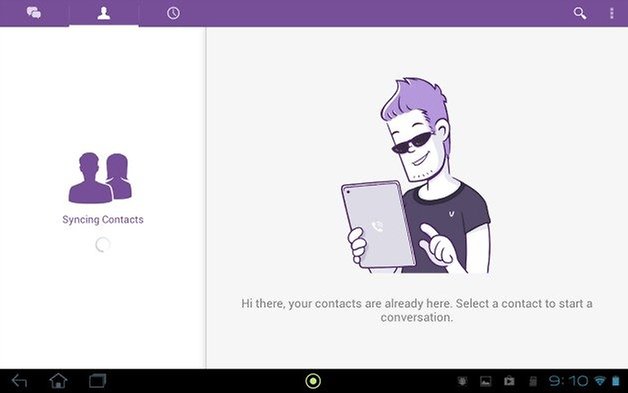 There's going to be more tips and tricks along the way as I play with Viber more and more, but for now there's so many new features to keep you busy that this should get you started. So if you haven't installed the latest Viber yet, get on it, and if you haven't used Viber before, now is the perfect time to try it out. Also, one of the coolest things I've seen lately is that Viber themselves are all over the tech blog comments sections and forums answering user's questions about the new Viber directly – how's that for support!
Have you used Viber? How do you think it compares to the other instant messaging services?