 The T-Mobile/MetroPCS Merger: An Unlikely Union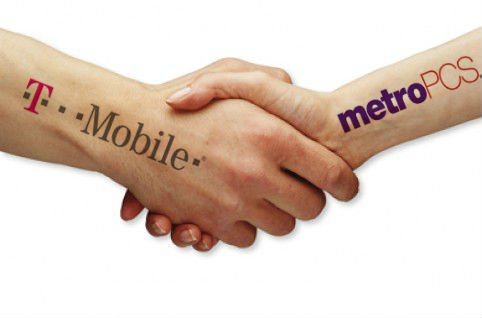 We remember the failed AT&T/T-Mobile merger all too well. Hailed by government officials as a clear victory for American consumers, almost half a year has passed since and T-Mobile USA's future remains as bleak as ever. Less customers, less money flowing in and a sordid state of affairs in general. Deutsche Telekom, the German parent company of T-Mobile USA, seems to have finally had enough and is seriously considering an unorthodox merger with non other than MetroPCS (yeah, the company that is virtually unknown outside of America's urban centers). So is it an act of desperation or a genius move on T-Mobile's part?
Judging from the numbers, the T-Mobile/MetroPCS merger looks like ludicrous idea. With just 9.5 million subscribers, MetroPCS has less than one-third the amount of customers as T-Mobile. Hardly a "fair" match-up by any standards. Whereas T-Mobile has been pushing to unseat the Big Three (AT&T, Sprint, Verizon) on the US market, MetroPCS has contended itself with filling a niche market of mostly low-income customers from urban areas. Anyone from the NYC area will remember the massive MetroPCS ad campaign on public transit. But it seems like T-Mobile has simply run out of options in terms of potential partners for a merge and have settled on dealing with a relatively minor player like MetroPCS.
So what does T-Mobile stand to gain from such a deal? Some analysts would say it's all about acquiring more spectrum to lessen the strain on their network (and allow for faster data speeds and more customers). Yet wireless experts are quick to point to one major problem: T-Mobile and MetroPCS operate on totally incompatible networks (GSM vs. CDMA).
Different in size, incompatible networks, opposing target markets - what could possibly bring these companies together? Answer: Consumer disappointment with high-cost wireless plans. For the first time ever, the wireless industry has actually felt a slip in the number of contract subscribers. Though slight, there is a definite trend among consumers to ditch expensive phone plans in favor of smaller and more flexible providers. Remember how people turned to their local credit-unions in response to being fed up with the big banks? Something similar is happening in the wireless industry.
Fast-forward to the current merger talks and the picture becomes much clearer. MetroPCS offers affordable, competitive contract-free plans aimed towards low-income Americans (of which there are more and more in the current economy). For just $40 dollars, MetroPCS offers an unlimited calling, texting and data plan. Sure, the network can be a bit dodgy and their selection of phones is subpar. But that's exactly where a merger with T-Mobile could be a tremendous asset. Not only would it boost the network, but provide users with a larger selection of phones.
If this deal is done right, T-Mobile could potentially manage to keep its head above water (and save consumers money in the process). Regardless of the outcome, it is becoming evidently clear that telecos will need to move away from contract-based plans in the future or risk losing a sizible amount of subscribers.