TomTom Navigation App Finally Released For Android. Worth The Cash?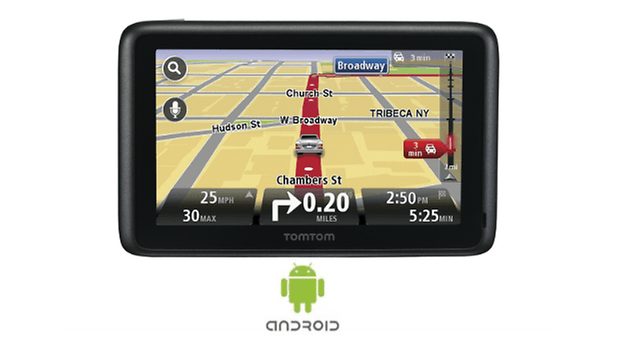 Well it certainly took long enough, but it's finally arrived. TomTom, a global leader in automotive navigation systems, has finally released their app for Android, which offers detailed driving navigation for multiple countries, turn by turn voice guidance, 3D views, and the promise of lifetime updates. I used to have a TomTom in my car, and their devices definitely get the job done. But why should you use it instead of Google Maps? I mean after all, Google offers navigation and a great map system for free right?
As freakin awesome as Google Maps is for navigation, there's one thing it doesn't (yet) offer that TomTom does. Offline navigation. I made the mistake of using Google Maps too often when I was on vacation in Italy last year, and ended up with a whopping 600 Euro phone bill. TomTom uses an onboard solution that allows you to download an entire region, like West Europe for example, directly to your device, meaning that you don't need an internet connection to use it (would be nice if you somehow could in a way, just to get brief/more detailed live traffic reports).
The app isn't cheap, but considering my phone bill in Italy, it's worth the money. The app will cost you between 35 and 49 Euros (45 to 63 US dollars) depending on the region you wish to purchase. So far on Google Play, I can see that Poland, Western Europe, Eastern Europe, Turkey, New Zealand, Europe, South East Asia, Greece, Brazil, and North America are all available for download.
But before you head to Google Play to buy this app, you should know that as of right now, there's a pretty stupid catch to it: It only currently works on devices running at 800 x 480 or 854 x 480 resolutions. While TomTom plans to update and add to the list of compatible resolutions, it means that as of right now, phones like the Galaxy Nexus, GS3, HTC One X, and many others can't use the app just yet. That being said, I expect that TomTom will update this soon, although I honestly find it a bit stupid to release the app with such a limited amount of screen resolutions it can run on.
What I sincerely hope is that this app being released will give Google more motivation to hurry up and release an updated Google Maps with offline navigation. If that happens, TomTom could have a hell of a time competing with Google.
If you you have a compatible phone and want to pick up the app, they can be found here. Just be sure that you look out for fake TomTom apps, as there are many of them (the real deal always has "TomTom International BV as the developer).
Picture credits: mylifescoop.com (edited by myself)