Best Travel Apps: New York City!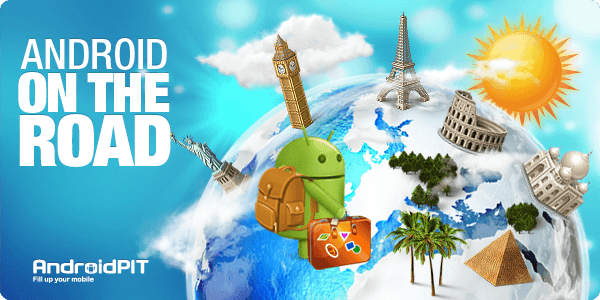 There's nothing quite like hitting the open road, or the open skies to be more precise, and embarking on a trip to the city of your dreams. The novelty and excitement of being in a new and unfamiliar place is definitely an unbeatable adrenaline rush, full of positive emotions and experiences. The question is: are you well-prepared for your upcoming trip?
To help you feel at home while travelling, we've come up with a thorough list of must-have Android travel apps that will hopefully make your stay even more memorable and comfortable. With the help of our hand-picked apps, you and your Android smartphone will blend in like a local in any city. Whether it's restaurants, places to go out, exhibitions or practical tips on how to survive - these apps will cover the hidden gems and secrets of your favorite metropolis.
To start things off, we're heading to the most global city of the all: New York!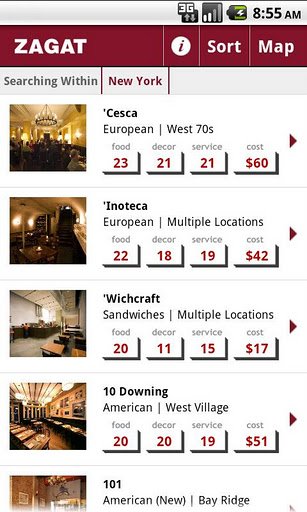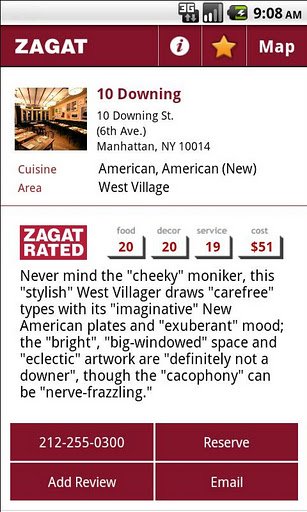 Food is a huge part of New York. In fact, there are so many good eats hidden around the city that it's impossible to know them all. Zagat has become the ultimate go-to-guide for all things gastronomical for both locals and tourists alike, with restaurants trembling in fear before the all-mighty reviews of Zagat's team of food connoisseurs. Armed with the Zagat, you'll be able to discover exquisite deliciousness at every corner categorized by price, cuisine, location and user ratings. Whether it's the best New York bagels or that amazing hole-in-the-wall Thai joint, chances are you'll find a review of it on Zagat with Google Map directions on how to get there. You can even catch a glimpse of the dishes with photos of dishes that are on the menu. Every restaurant is put under the microscope and ranked based on Zagat's 30 point scale. While some of the top-rated places may lie outside of your budget, you're guaranteed to find some mouth-watering ethnic food in the 20 point range. Oh and for those of you feeling lucky: check out Zagat's custom Android widget that selects a restaurant at random in your proximity for you to try. So chow away now, shall we? Should New York City charm you enough to stay their permanently, be prepared to pay $24.99 a month for a Zagat subscription. For anyone that's just visiting, the first month's free trial should be more than enough.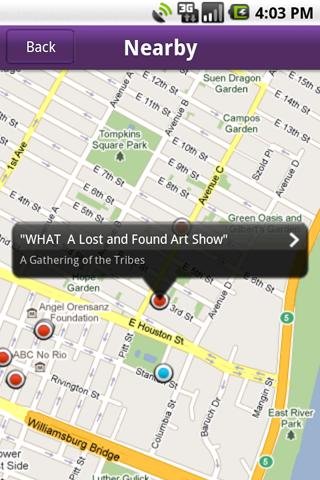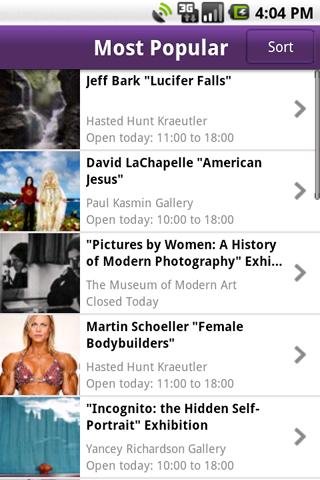 As one of the world's art meccas, any visit to New York isn't complete with a good dose of Chelsea galleries, Brooklyn art openings and a tasting of some of the best museums on the face of the planet. NY Art Beat is your new best friend when it comes to diving head-first into New York's vibrant art scene. Encompassing a wide range of art happenings, the app includes detailed information and reviews of virtually art event in the city classified by neighborhood and/or genre. Even the most picky art aficionados will be able to find something to match their aesthetic palette. And if you're just looking to stop in on a couple of art openings for a quick glass of wine and a serving of snacks (for art's sake, of course), NY Art Beat boasts an exhaustive lists of art viewings from photography to installations to Native Alaskan pottery.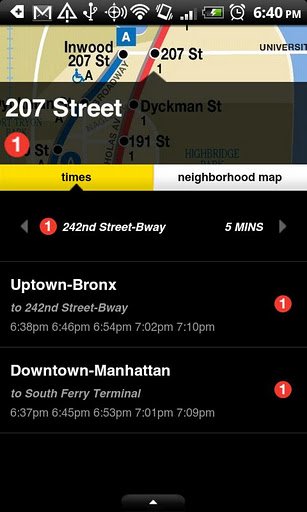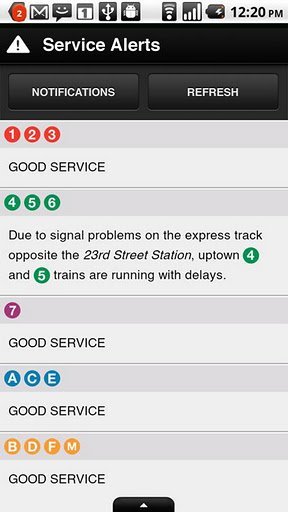 For anyone in the big city for the first time: New York's subway system is pure madness. While New Yorkers somehow manage to navigate the convoluted and disorienting public transit system, most visitors are left staring at their maps in disarray. NYCMate is your loyal app companion that is designed to guide you through the tangled web of subways, buses and commuter trains. Packed with a detailed map of the subway system and train schedule (yes, this mayhem of a city runs on a schedule), show you where the closest station is located and when your next train arrives. And once you're above ground again, NYCMate comes with detailed neighborhood maps for the surroundings of every single subway stop. Best of all, since it's impossible to catch a signal underground in NY (think 9/11), all the data is stored offline on your SD card. New York wouldn't be New York if it weren't for the constant subway repairs and breakdowns, but this app keeps you notified of any disturbances ahead of time.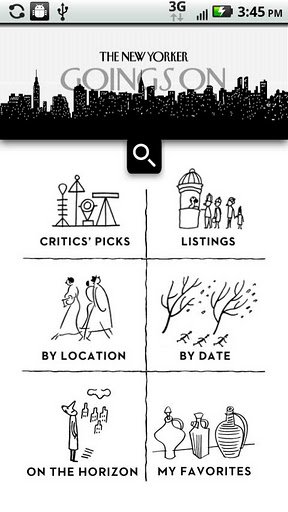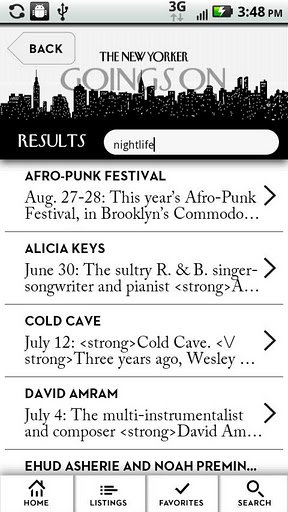 : No one knows New York better than the New Yorker - the city's cultural and intellectual icon, a shining beacon of wonderful American journalism and satire. Loved and read by a wide spectrum of New York socialites, academics, intellectuals, liberal arts students and retirees from the Upper West Side, the New Yorker is also a great tool for discovering the city for people interested in more than just a banale tour of the sights. Like the magazine, the app is a real work of art with the entire design composed of lovable sketches by the publication's acclaimed staff of cartoonists. Plays, concerts, movies, exhibitions, restaurants, public lectures - all hand-picked by staff critics, among which are several renowned American writers and novelists. Follow the tips of America's creative minds, as they guide you around their favorite spots in the city. And to wrap things up, the app even comes with a couple of audio guides to make your New Yorker experience complete. Chique, sophisticated and smart just like the city it embodies.
If you're visiting New York from abroad, chances are you won't be surfing the web with your Android smartphone in the States due to your carrier's exuberant roaming rates. So instead of blindly stumbling about Manhattan in search of an unlocked wireless connection, there's New York Free WiFi - a comprehensive guide to all the free hotspots in the city. Finding a place where you can enjoy a latte and/or bagel while going though your emails couldn't be easier as the app provides with a catalog of free WiFi access points, categorized by subway station and zip-code. Every wireless connection comes with a detailed description about the location, signal strength and whether power outlets are available. The app may help you stay connected and save a lot of money, but it sure ain't free. Then again, 99 cents is nothing when compared to the joy of uploading pictures to New York as you explore the city, a hot dog and smartphone in hand.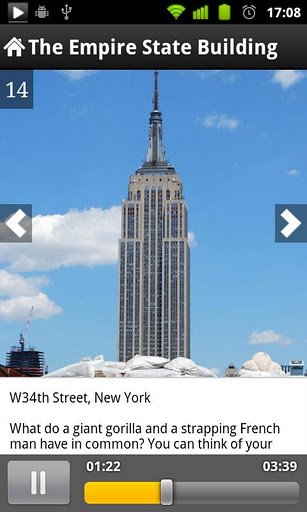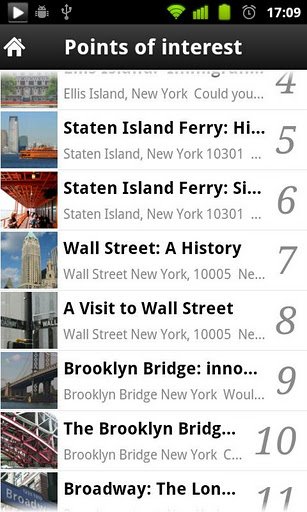 Just because it's touristy doesn't mean it isn't worth seeing, right? The NYC Audio Guide for Android hits all of the must-see places and symbols of New York that all of the New Yorkers love to hate and every visitor wants to see. Packed with around 30 of the city's most popular sights, NYC Audio guides you on a path from the Statue of Liberty all the way to Central Park with time for a short picture opp on Times Square. Stare up at the Empire State Building and let the app guide you through the iconic New York we know so well from the movies. Thankfully, the app downloads all the audio and visual data to your phone allowing you to enjoy the tour guide without an Internet connection. Clocking in at exactly 90 minutes, this app gives you enough information to get a feel of the city without tiring you out.
Hopefully, this list will give you an idea of what to do when you set your foot in New York City. Feel free to share your travel experiences and recommendations for worthy New York applications in the comments!