Turn Auto-Correction Way Up and Google Basically Writes Emails for You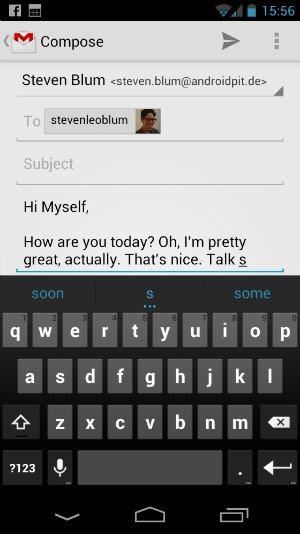 Lazy typers, listen up! If you've been slogging your way through e-mails and text messages, you should know that your Android's keyboard can be transformed into a texting machine with the click of just a few buttons. Simply by turning auto-correction way up, Google will practically write your e-mails for you.
A Reddit user by the name of aesamattki has discrovered that, with just a few clicks, he can make his keyboard far more predictive. In the (totally fake and weird) e-mail I wrote above, Google accurately predicted the word "diseases" after "contagious," and added the question mark after the word "okay."
To be able to text with your eyes closed, simply go to Settings —> Language and Input, and then click on the settings button next to "Android Keyboard." Here you'll be able to change your auto correction settings to "very aggressive."
I think "very aggressive" auto-correct is so incredible it should be the default setting when you buy a new phone. What do you think?