Twitter's App for Android Gets a Much-Needed Makeover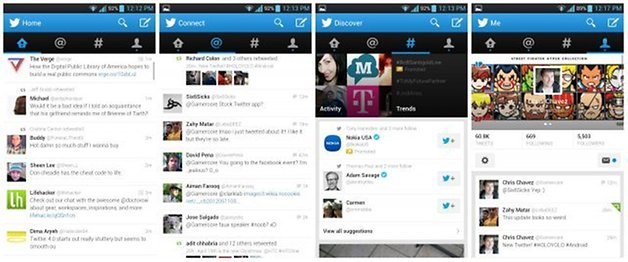 The new Twitter app has finally been updated from what was a clunky and ugly mess to something sleek and sexy. The app's design is finally in line with Android 4.0 / Ice Cream Sandwich and users can now swipe to navigate from one column to another.
But that's not all: Twitter has also finally listened to users who've been wanting @name and hashtag suggestions when composing tweets. Now, the app will predict who you want to Tweet to and what trends you're hopping on to.
The new app also features a cleaner interface, without any unnecessary words in the top bar, and now has enough space for an additional Tweet.
Is it still April fools? With both Facebook and Twitter finally treating their apps with the care and attention they deserve, it almost seems like the world is upside down.Now, all we want is for Twitter to update their MESS of an Android tablet app and give the folks with a Nexus 7 a bit more loving'.
Now, I love Carbon, but the new official Twitter app is good enough that I can imagine chucking the rest of my third-party Twitter apps. Do you thik you'll do the same? Let me know in the comments below!