Google's Bombshell: An Unlocked Galaxy S4 w/ Stock Android for $649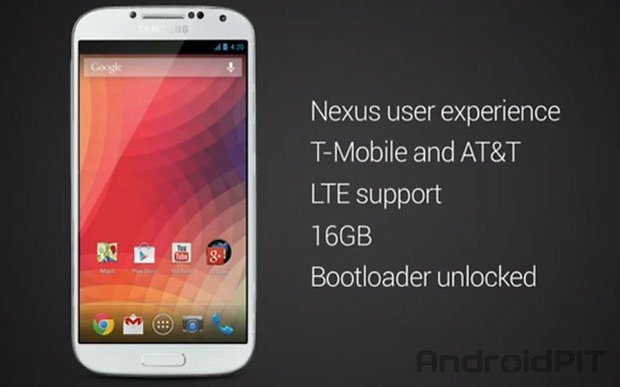 Google just dropped a bombshell on the crowd at I/O.
The company is announcing the first-ever Galaxy S4 running stock Android. The phone will be available directly from the Google Play Store for $649 starting June 26th. It will have LTE support, it will receive updates promptly and its bootloader will be easy to unlock.
This is big news. Huge news, in fact.
Why?
Because before this announcement the HTC One had been the only phone out there that was unlockable and transferrable across multiple LTE networks. But it won't be for long. In one fell swoop, Google has changed the rules of the game. No longer is HTC One the modder's darling it once was.
Plus, it'll give those who hate Touchwiz a reason to buy the Galaxy S4. This is such a huge deal.
Specifications
Processor: Qualcomm Snapdragon 600, 1.9 GHz, 4 cores
or: Exynos 5, 8 cores
Adreno 320 GPU
Display: 4.99-inch, full HD (1920 x 1080 pixels) Super AMOLED
Camera: 13 megapixel (Sony IMX135 sensor), rear, 2-megapixel front-facing camera
Memory: 2 GB
Internal memory: 16, 32 or 64 gigabytes, expandable through microSD cards
Temperature and humidity sensor
Battery: 2,600 mAh, replaceable
Dimensions: 136.6 x 69.8 x 7.9 mm
Weight: 130 grams
Operating System: Android 4.2.2
Not many people clapped when Google announced the price of the stock Galaxy S4, but $649 is not a bad deal. It's not as great a deal as the Nexus 4, but it's less than what you'd pay for a Galaxy S4 today.
Wow. I'm stunned.