Verizon Goofed and Accidentally Announced the Droid DNA It looks like Verizon goofed and unofficially confirmed the HTC Droid DNA as the subject of a forthcoming live, unboxing event. When the information released, tech blogs exploded with the news, and it was too late for Verizon to suppress the error completely. Both the website and Verizon's Google+ account have since been updated to mention only the "newest 4G Droid."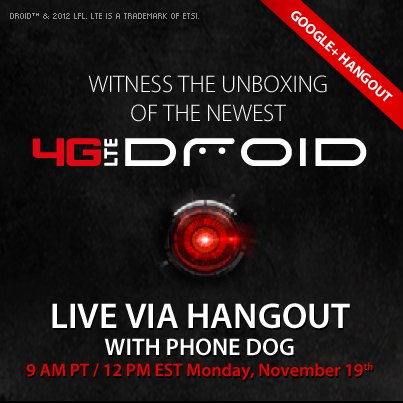 The DNA has yet to be officially unveiled, but the Droid DOES website was accidentally updated to indicate a Droid DNA unboxing, which is happening live on Monday, November 19th.
Personally, I hate estimating the release date of new devices because there is so much that could go wrong, before one is confirmed. However, Verizon announced on Twitter that whatever device is unboxed on the 19th will be released the day after, which is the 20th. So, if the Droid DNA is unboxed at the event, it will be available to purchase the very next day!
The unboxing event will be streamed live, for anyone who wants to participate, via a Google Hangout meeting at 12 PM EST on the 19th. If you want an invite to be a part of the live unboxing, all you have to do is follow the Verizon Wireless Google+ profile, and the event will show up in your calendar. From there, you can RSVP to the event, and of course Google+ will alert you with the appropriate notifications when the time comes.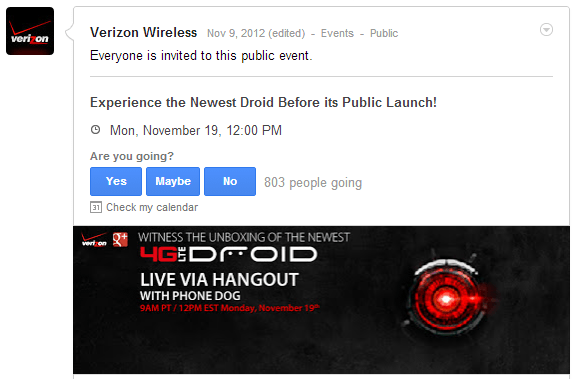 Because the DNA hasn't been officially unveiled yet, we cannot confirm the specs. Rumors state that it will be about 5 inches, and that means the device will be classified as a Phablet. It's also rumored to be the first Phablet to support a 1080p HD resolution. The DNA is expected to be running a quad-core Snapdragon S4 Pro processor, combined with 2GB of installed RAM.
It will be competing directly with the Samsung Galaxy Note II, obviously because the Note is the most prominent Phablet in the market currently.
Verizon has remained relatively quiet about the state of the bootloader, so we'll tell you about that as soon as we know! Judging by how Verizon has done things in the past, the DNA will ship with a locked bootloader, but again that's just speculation.
For now, worry about registering for that event on Verizon's Google+ profile! I'm willing to bet it's going to be quite the spectacle!
If things pan out for the better, we may have another impressive Phablet in the Android family! Phablets are a little too big for my taste, but what about you? Are you planning on getting a Galaxy Note II or are you more interested in the Droid DNA?