Exclusive AndroidPIT Interview With Talmon Marco, CEO Of Viber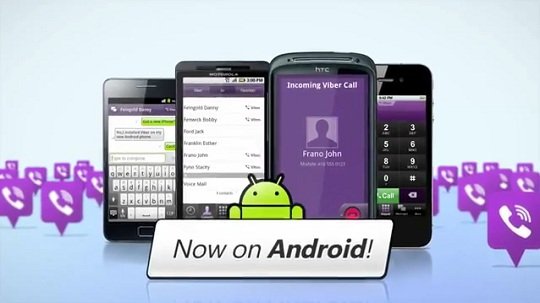 (picture from Vankaizer.com)
If you don't know about Viber, stop what you're doing and go to the market to check it out. Viber is an extremely popular app for Android and IOS that not only allows you to text message for free between platforms, but also allows FREE CALLING to anyone who has the app installed. Viber currently has over 50 million users and is quickly becoming a big name in the mobile communications industry. We had a chance to interview Talmon Marco, CEO of Viber, and ask him some questions about this popular app, their plans for the future, Android fragmentation, and what makes them stand out from competitors.
AndroidPIT: Welcome Talmon! Thank you for taking the time for this interview. For our readers who might not be familiar with Viber, could you briefly tell us a little bit about your company and about the Android app?
Talmon: Thank you! It's my pleasure.
Viber is a free mobile communications platform that lets people connect freely. Anyone with an Android smartphone (or iPhone…) can take 5 minutes to go to the Marketplace, install and start using Viber - call, text and share photos and locations with each other. We are the fastest-growing mobile telephony provider because we offer a better communications experience than is otherwise available. And it's free.
Viber is simple to use and is designed to act just like your phone. It does not require registration – your phone number is your Viber ID, and integrates with your own mobile Contact lists. Viber automatically shows you who is already on Viber, so you don't need to search for and "add" friends. After a quick download, you can instantly start calling and texting, or invite others to join.
Viber runs in the background and can receive calls even when it's turned off, so it has no impact on battery life, which is a key benefit for mobile phones.
Viber launched about 14 months ago and we now have more than 50 million registered users in 193 countries. Viber is growing by 200,000 new users a day. Each month, Viber users make over a billion minutes worth of calls and send close to a billion messages. In many countries we are the largest "mobile voice" provider and a one of the top 3 mobile messaging providers.
AndroidPIT: There are quite a few applications out there that allow you to text and call for free, with some of them being from huge companies like Google and Skype. Viber's application has already reached more than 10 million downloads in the Android Marketplace. How do you manage to stand out from the other apps offering similiar services?
Talmon: We're celebrating an incredible year of explosive growth, due in large part to our avid Android users. In addition to our commitment to a free, and ad-free, mobile environment, we know people will always embrace a cost and quality advantage – the best experience is the one people want to have. We believe our success is due to four main factors:
Quality - Viber's HD engine ensures the best possible quality on WiFi and 3G/4G, which can mean better sound quality than regular calls.
Simplicity – Viber acts just like the phone you are used to. It is easy to find your friends – Viber does not ask you to register and does not ask you to figure out other ID's, so you can start using it instantly.
Mobile first – Viber is built to be used on mobile, so the experience is seamless. It's not a desktop application ported to mobile (like several other similar solutions).
Expanded possibilities - People want to communicate in a variety of ways, so Viber also offers free text and photo messages, and location sharing, all in one place.
AndroidPIT: What are the biggest challenges in putting out a product like this? Are you more focused on improving call quality and service, or are your efforts at this point more centered on marketing and building a reputation globally?
Talmon: More than 50 million people are on Viber because they heard about it– it is a people-created network. Our global reputation is built on our quality and reliability. Our challenge is to ensure people are motivated to share Viber with their friends, family and colleagues by delivering the best quality offering and proving the notion that everyone can be free from the costs and limited services of traditional phone carriers. We are continually innovating, adding more features and more platforms.
AndroidPIT: Are there certain features and functionality that only work on Android or vice versa? Or is the application the exact same on both the iPhone and on Android?
Talmon: Viber for Android is very similar to Viber for iOS, but we are able to offer some unique features due to the openness and flexibility of the Android platform. These features include a full call screen, pop-up text message notifications, integration with your phone's call and messaging logs, and the ability to set Viber as your default dialer. Viber is committed to interoperability across platforms, and we have seen tremendous growth with the Android platform.
AndroidPIT: When it came to development, did you find it harder/easier to develop on a certain platform, or did releasing it for IOS and Android both come with seperate challenges?
Talmon: Both platforms have their advantages. It looks like Android development seems easier than iOS but the platform fragmentation makes things somewhat challenging, whereas on iOS you have a very limited number of devices to test on.
I guess it's a tie.
AndroidPIT: One additional reason that consumers really like Viber is due to it containing no advertising, which is pretty rare these days for a free app with this many downloads. Will the application always remain free, or are there plans for a paid version in the future?
Talmon: We made several commitments when we launched Viber, which we intend to respect:
The Viber app will always be free
Viber to Viber calls and texts will always be free
We will put no ads on our mobile clients.
We do plan to generate revenues at some point in time in the future via value added services. Right now we are focused on our consumers, and expanding platforms and offerings to make their experience even better.
AndroidPIT: Is Android's fragmentation issue something that creates problems for Viber when developing it for different versions of Android? If yes, how do you work around that?
Talmon: Simple answer: yes. With every version we get reports about something happening on some platofrm that we did not find in the lab. We have dozens of different phones in the lab and we test on all of them, but there are only so many phones that you can test on. At the moment, the most popular Android device on the Viber network is used by only 2.7% of our Android users with the second most popular being used by 2%. You can guess how long the list is...
AndroidPIT: If there was one thing you could change about Viber right now, what would it be?
Talmon: Right now, GSM calls and Viber use the same network. However, while GSM calls get a dedicated, path, data gets "best efforts." Therefore, if the network is not engineered to have enough capacity, a Viber call may be hampered by not enough data. We use many techniques to overcome these scenarios, and we have an extremely high completion rate. But in the future, we believe 4G networks will have more resources available, and that will allow us to offer an even better calling environment for our users. So what I would change is really more about networks than Viber.
AndroidPIT: Are there plans for a Viber app on Windows Mobile or Blackberry?
Talmon: Our users have been vocal about asking for Viber for BlackBerry, and we are in the very final stages of development for that platform! We are committed to expanding Viber to more and more platforms, and are working to bring Viber to the Windows Phone world as well. We announce new releases as soon as they are ready, so stay tuned for news.
AndroidPIT: Is your current focus on adding features to Viber, or on improving its existing features? Are there any new features in development that will be rolling out soon?
Talmon: Viber's mission is to empower the world to connect freely, instantly and in any way imaginable. While our engineers are always upgrading Viber's current capabilities, we are also focused on interoperability, expanding both platforms and features. We are dedicated to innovation so that our users can communicate and interact in new ways. If we can dream it, you will have it - yet we try not to announce products until they are available for everyone to experience.
AndroidPIT: Thank you very much again for taking the time to answer our questions.
Talmon: Thank you, and also a special thanks goes to AndroidPIT's readers. Our company representatives will be here to address any further question raised by your readers in the article comments.