[Video] Google Glass Unpacked Step-by-Step Glass has been the current hot topic and now there's more: the popular unpacking video giving us a live glimpse of the device. The first edition of Glass have been made available to certain members of the public. Thanks to our friends over at Engadget, we were able to feast our eyes upon the unpacking process, as well as experience the happy new owners using them in action.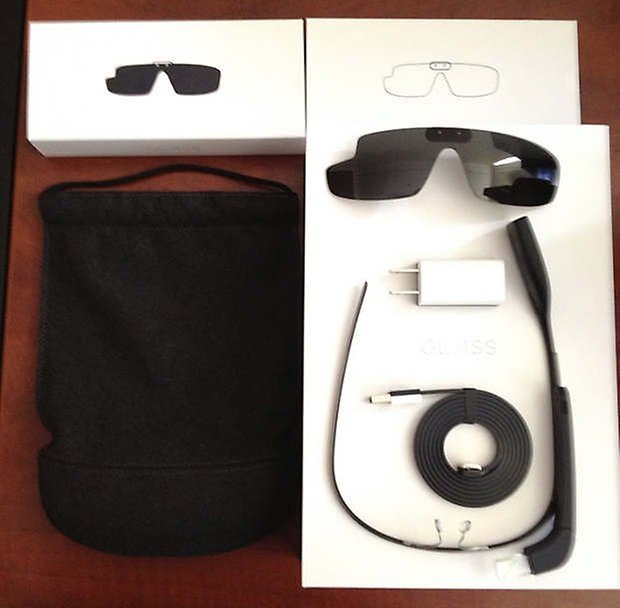 Eye-appealing packaging down to the last detail
The first video, being the most informative of the three, really takes a step-by-step look at Glass, its packaging, as well as some interesting added tid-bits. In the video, Dan McLaughlin inspects the recyclable function-explaining box, the nosepads and accessories like the sleek and protective carrying pouch, added pop-on sunglasses and extra glass covering clip. These are to be used when you're being active while wearing the new sci-fi-looking device. Glass took measures in making everything eye-appealing, including the black and white charger and the right angle plug, which will allow you to discreetly charge Glass with a cable that loops right into your shirt collar.
Fitting and Picture Taking
The neat people at Google showed the Glass owner how to adjust the display to your eyeball for optimal viewing, as well as explained that taking pictures is easiest done by pressing the capture button, rather than asking Glass to take the shot. What's more, Googlers are working on the eye-glass version and McLaughlin says that you could potentially DIY by removing the lens portion. This could be risky business though, I would avoid playing around with Glass too much, unless you feel very comfortable.
Using Glass in your day-to-day life
This second video make me think that there will be many advantages of Google Glass, some of which won't be discovered until you actually use them in your day-to-day life. One thing that popped into mind were extreme sports like back-country snowboarding, where normally a hand-held or helmet-camera is used. Glass would make the filming task a much easier one.
The third video, though it is in Vietnamese, also allows you to take a closer look at Glass in plainer view.
As time goes by, more people will be getting their hands on the new Matrix-looking eye-wear and revealing their own Glass discoveries. Hopefully we'll get a pair here at AndroidPIT soon. Stay tuned for any updates.