[Video] A first hands-on of the LG G Pad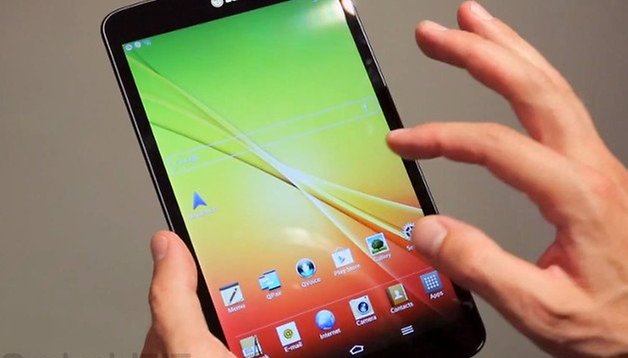 A huge mash-up of new smartphones and tablets were presented at the IFA this week, some tops and some flops. LG delivered a new tablet, the G Pad, and by doing so dabbled in a market they haven't touched for a long time. The wait could have been worth it, because it turned out really well. We had the chance to test it out and complete a short review, as well as a hands-on video.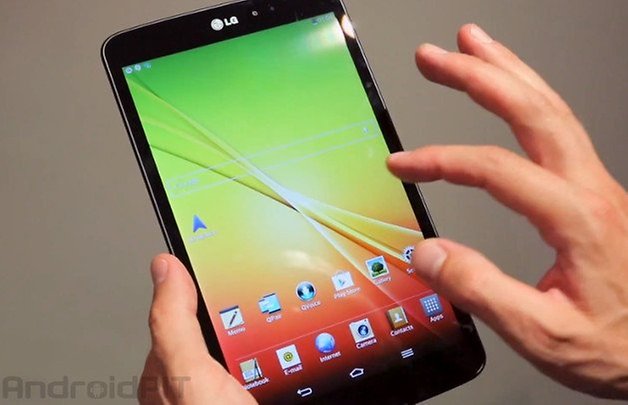 Design and Craftsmanship
The G Pad with its 8.3'' has a display diagonal that is not often encountered with tablets, though when held it feels really comfortable. The cause for this is the choice of material and the elegant craftsmanship. The backside's aluminium look is nice to hold and the edges, made of a rubberized plastic, also ensures for a secure grip, though the entirety doesn't feel heavy or thick. The backside also contains two speakers, as well as a camera and a microSD slot for storage expansion.
Display
The display is the next highlight: LG promotes the G Pad as the first 8-inch tablet with a Full HD resolution of 1,920 x 1,200 pixels, a count which actually classifies it in a slightly higher range (WUXGA). The color presentation is good and quite realistic and the hi-def LCD IPS display is quite bright. It's here that LG can be the most proud of their innovation.
Software
The G Pad is running on Android 4.2.2 with the trademark LG user interface. A few LG features which are also present on past devices from the manufacturer can also be experienced on this new addition, like the multi-tasking function ''Slide Aside''' for example, which allows the user to open three apps at the same time and push them to the side when they're no longer needed.
The screenshot function ''Quick Memo'' offers your own software button which can be added to the three standard on-screen buttons located at the bottom of the display. The front touch buttons can also be configured, a small yet very useful feature.
''Knock On'' allows you to turn the display on and off by tapping on the screen 2 times, just like with the LG G2. This is especially practical for quickly checking notifications like missed emails or upcoming meetings.
Camera
On board you'll also find a camera, but at 5 MP resolution it isn't particularly high-performing and is merely a nice additional gimmick as opposed to something really useful.
The G Pad should be ready for roll out later this month in either white or black, though the price is yet to be released.