Video Test: Sony Xperia Z vs. Galaxy Note 2 vs. Nexus 4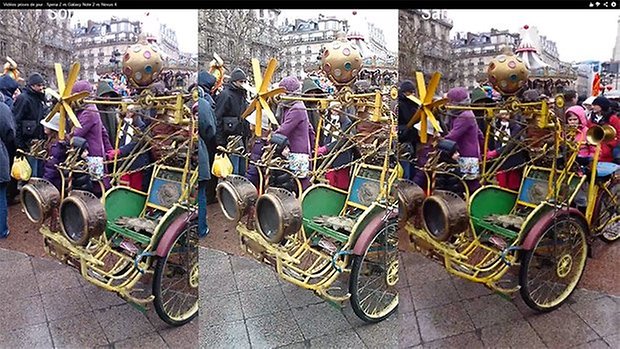 The French Android fan site Frandroid recently conducted a video comparison test between the Sony Xperia Z, Samsung Galaxy Note 2 and the Nexus 4. The winner may surprise you.
Frandroid filmed day and night in Parisien tourist sites. During the day, it first looked like the Nexus 4 took the sharpest videos although, on second glance, it appeared the Sony Xperia Z and the Galaxy Note 2 were far more accurate at color reproduction. The Nexus 4 sometimes cast more severe shadows than the Xperia Z and the Galaxy Note 2, as well. Sound quality was far, far better on the Sony Xperia Z and Galaxy Note 2 than the Nexus 4, which always sounded tinny and weak. The daytime video concluded with a comparison of the Sony Xperia Z camera filming with and without HDR, which is supposed to help in strong light although I couldn't see much of a difference.
The results were much more dramatic at night. The Sony Xperia Z was able to take in far more light than either of its competitors, resulting in stunningly great night time shots. Color reproduction was also far above the other two; lit objects did not appear as orange as with the Galaxy Note 2 or the Nexus 4. The only time the light in the Xperia Z's video became distracting was when the camera was fixed on the Eiffel Tower; a large halo of light surrounding it against the night sky.
Overall, I would say the Galaxy Note 2 and the Sony Xperia Z's benefits far outweigh their shortcomings, when stacked against the Nexus 4. While it may first appear as if the Nexus 4 takes more accurate, sharper pictures, it later becomes clear that they are actually more whitewashed and less colorful. Anyone who cares about sound quality in their videos should pick up a Galaxy Note 2 or a Xperia Z. Finally, the Xperia Z wins unequivocally at taking night-time shots.
Winner: Xperia Z.
What do you think?