[Video] This Galaxy Note 10.1 Stylus Doubles as a Cell Phone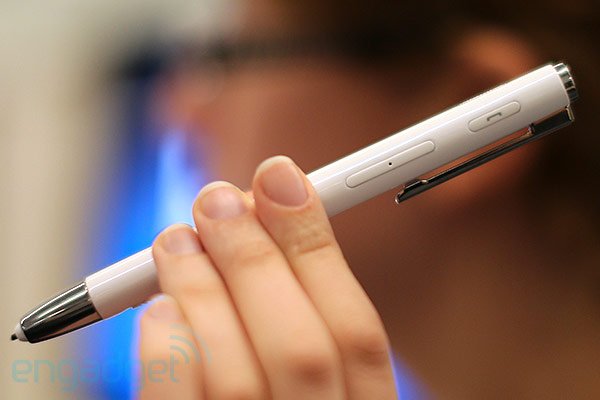 Samsung created a Bluetooth-enabled S Pen you can buy for the Galaxy Note 10.1 which doubles as a cell phone, according to Engadget.
The accessory didn't make it into any of the major reviews of the Galaxy Note 10.1 but it could become an interesting niche product for those who'd like smartphone functionality on their SIM-enabled tablets. There's an earpiece on one side of the pen, a call button on the other, a microphone near the tip and a microUSB adaptor port at the top for charging.
For the stylus to work, all you have to do is pair it with the tablet via Bluetooth and you're good to go. You can initiate calls either on the S-Pen or on your device, and the pen even vibrates to alert you of incoming calls. While it may look a bit strange to be talking to a pen, I can imagine this coming in handy on more than a few occasions. It certainly looks less freakish than holding a tablet to your head and talking really loudly.
The Padfone, released by ASUS, also features a smart stylus that allows you to initiate calls, so it's not as if Sammy's the first on the scene here – but it's still an interesting idea. We have no idea about pricing or availability right now, nor if it is pairable with other Bluetooth-enabled devices besides the Galaxy Note 10.1 (and the original Galaxy Note). We also wonder whether it will fit into the same slot as the normal stylus. Still, we think it's a pretty awesome idea.