[Video] This Physical Keyboard Appears and Disappears Like Magic!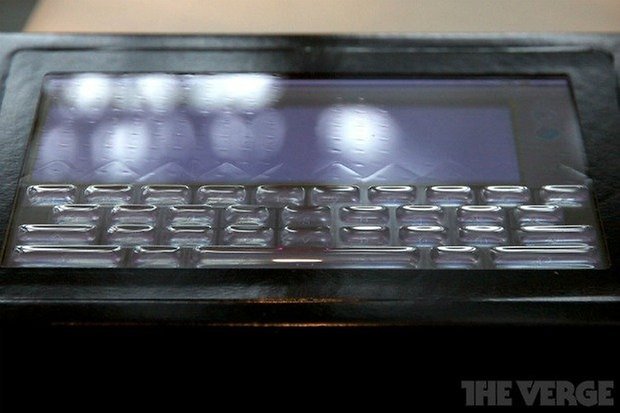 While most smartphones don't have physical keyboards anymore, at least we've got bigger screens. Blackberry may dominate the market for those who'd like full-fledged QWERTY action, but many prefer a larger screen for showing off pictures and playing games.
But what if you didn't have to choose?
What if you could have a big, glorious LCD screen that transformed itself into a physical keyboard whenever you needed it to? A little company called Tactus Technology wants to give you just that.
At a user's command, Tactus can transform your smartphone screen into a full-fledged physical keyboard which can then recede as if it was never even there. The technology is based on "microfluidics" – beneath the surface of the screen is a kind of piping system which directs fluids to form the shape of keys. It only takes a tiny amount of fluid to raise the deformable membrance covering the surface of the screen and give your fingers some cushion for the pushin'. And then, just as easily, the buttons "disappear."
Just check out this sweet demo reel for more:
According to the Verge, the feature is incredibly impressive, but there are a few problems. For one, the fluids must be directed in a pre-determined pattern, so for now you can only use them for one orientation, such as creating a row of numbers or letters, although there is a chance that it could be possible in the future to create different tactical environments for different apps. The second issue is aesthetic: once you see the small grooves on your screen where the buttons raise, it's hard to un-see them. Thankfully, this is an issue Tactus is working to elliminate.
Tactus plans on shipping this new technology in smartphones by 2013. As a lover of physical keyboards, would kill to have this futuristic innovation installed on my phone. What do you think about this invention?
(Top photo: The Verge)