Watch Extended, 4 Min. Version of Samsung's Epic Superbowl Commercial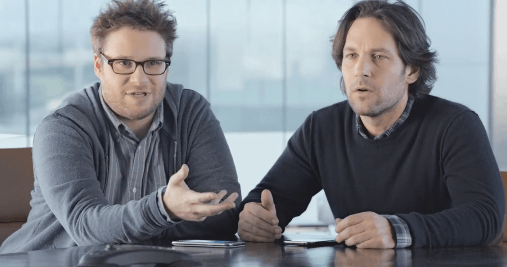 Do you enjoy watching comedy masters ruthlessly insult each other? Well, you're in luck because Samsung has released an extended, four minute version of their Superbowl commercial, featuring comedy masterminds Seth Rogan and Paul Rudd. The conceit is that they're both fighting over who is better fit to represent Samsung during the Superbowl.
The extended version of the commercial includes more zingers per second than seems humanly possible. Both stars are told to make a viral video that's ALREADY viral.* After questioning this, Seth is told to "go become an Asian rapper." He makes this face: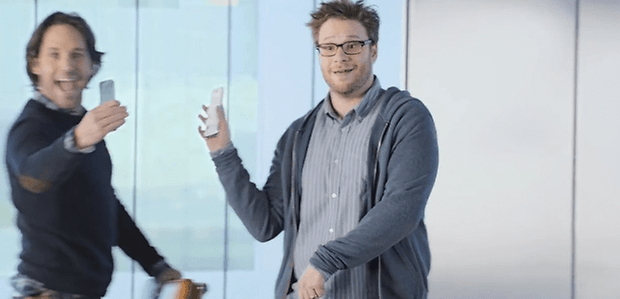 My favorite moment is when Paul Rudd uses his tablet as a giant phone: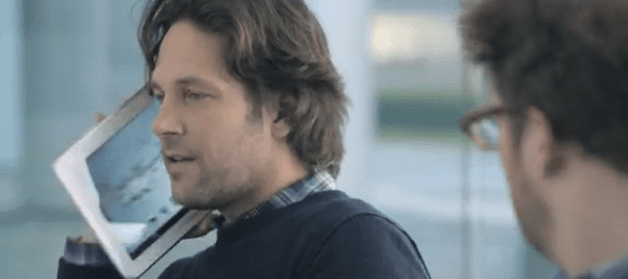 "You should use it as a phone, it will match the size of your giant head."
Samsung gives away absolutely nothing in the commercial, except for the fact that the "Next Big Thing" is coming soon. According to various blogs, the Next Big Thing is more than 6 Samsung devices, including the Galaxy Fonblet, Galaxy Pocket, Galaxy Star, Galaxy Frame and an unnamed device widely believed to be the Galaxy S4.
All of the devices – except for the Galaxy S4 – are expected to be announced at Mobile World Congress later this month. Samsung is building up their brand name before the big launch, and I think they've succeeded admirably at doing so in this self-deprecating TV spot. What do you think?
* = Which actually reminds me of a few content meetings I've had at AndroidPIT.