We Tested the LG Pocket Photo: Presenting The New Flirting Tool The LG Pocket Photo is a small printer that is fit just for your pocket, which allows you to print pictures from your smarphone and digital camera wherever and whenever you want. LG presented its wee printer at many conferences this year, like at the CES in Las Vegas and the MWC in Barcelona. My AnroidPIT teammate Johannes got his hands on the lil' guy and tested it out! Here are the findings!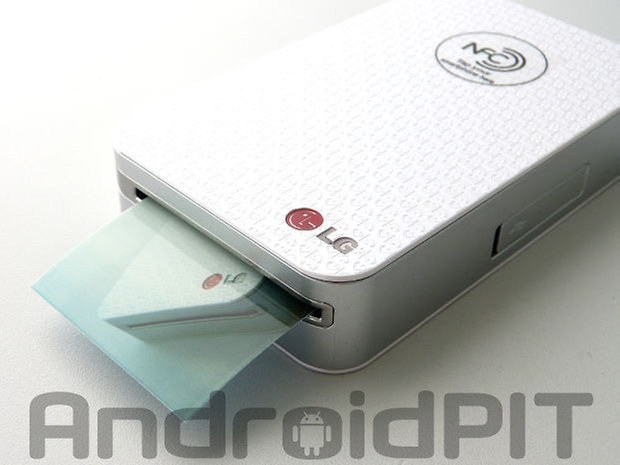 The idea behind the Pocket Photo is pretty neato: you've got a small cable-free photo printer that you can always have tucked away in your pocket, which connects with your smartphone or digital camera with Bluetooth. It's the new photo booth or Polaroid camera for on the go. But when testing out, does this really provide us with high quality pics? When would something like this really come in handy, or is it more of a useless one-hit-wonder toy you'll forget to use.
Slightly girly design
First and foremost, the design is a nice little bundle. With its 4.76 x 2.83 x 0.94 (inches) dimensions, it's no bigger than most trending smartphones at the moment. Though it might not fit too well in your pant pockets, you'd have no problem slipping it into your jacket or handbag. It's got a cutesy heart-like texture, which makes me think that it's trying to target women more than men (and I mean that in the least sexist way possible). It's decent enough and its white color matches many other devices out there, like the up-and-coming HTC One for example.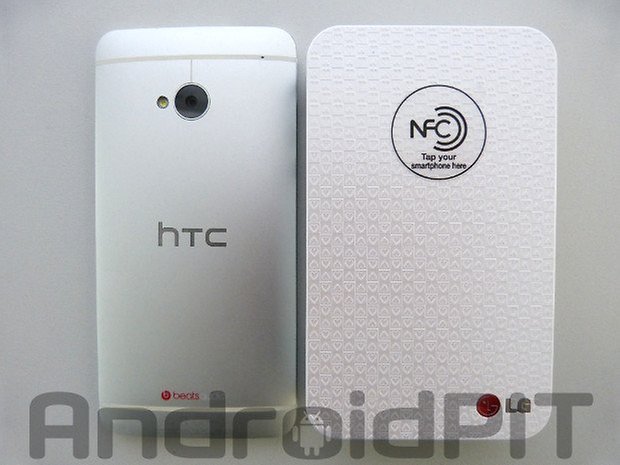 Functions: no blowing involved!
You've got many ways of using this little toy, either with Bluetooth, USB or an NFC chip. For those who have this last function, the Pocket Photo can simply be activated when the two devices touch! Then the information is transferred via Bluetooth.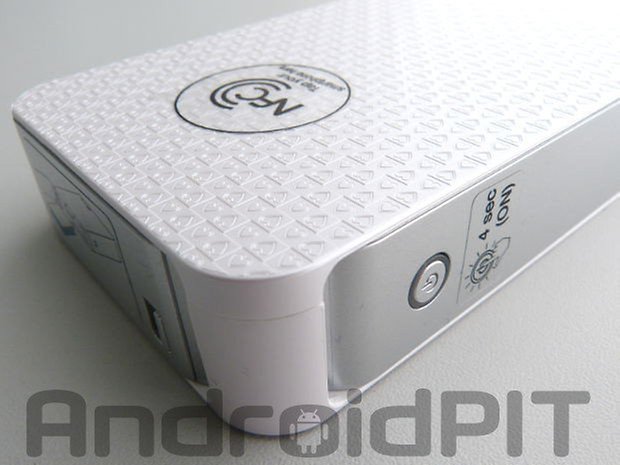 The little printer that could works with an app that is obviously called LG Pocket Photo, which is free! It's also a photo editor in that you can choose pictures, edit them and add extra text or other things like a QR code. Then, these pictures are easily printed for your enjoyment. During our test, it worked like a dream. Cool fact: it works with non-LG devices that have Android 2.2 or higher.
There is no need to blow on these pictures or shake them furiously while cautiously holding its edges. Nope, technology has taken a few steps forward. The images on printed on so-called ''ZINK paper''; zinc stands for zero ink. The color pigments aren't printed onto the page, they are already found on the paper before the printing even commences. Remember I mentioned Polaroid? Well this new technology comes from one of its sister companies.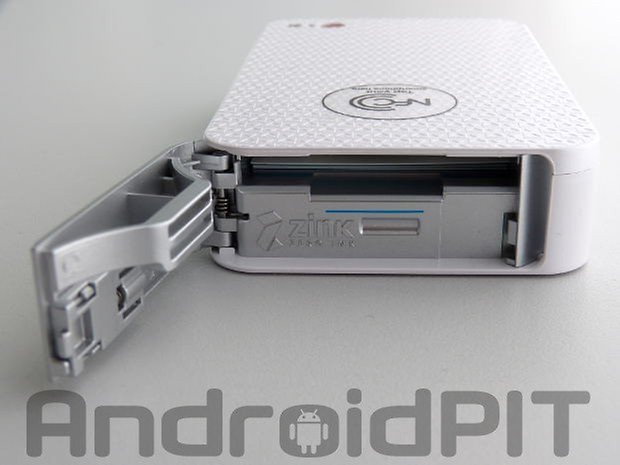 Putting the wee guy into practice
Alrighty, so far it sounds pretty neat. However, once put into practice, it's a little disappointing, the results aren't all that I expected. After the 40 seconds that it takes to print a picture, I noticed that the colors are really matte in comparison to the picture on the smartphone. LG is already aware of this fact and makes a statement on the package saying ''the colors on the printed pictures may differ from the picture on your smartphone's display''. Phooey!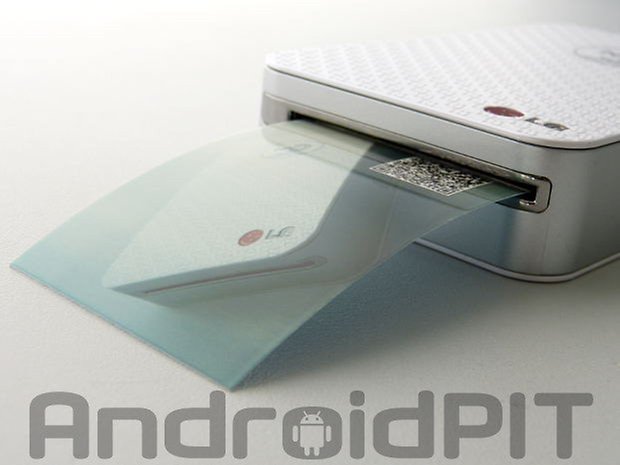 The app with its various filters and editing functions couldn't do much to help the meek and washed-out colors of the printed pictures. What's more, even if you edit your picture, like I did, the results that came out where different than the preview on my display. The boarders did what they pleased and the middle of the picture was askew.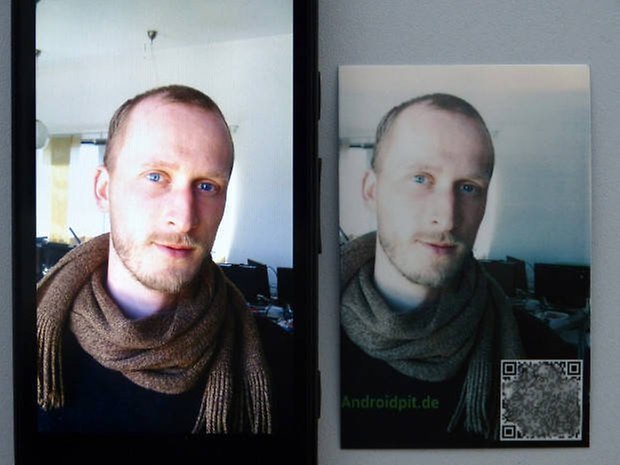 On the other hand, the app's extra features are pretty interesting, like the adding texts to the picture or a QR code. You can use the Pocket Photo app to generate the desired QR codes of information or your choice. You can even add contact information. This is the perfect way to give that guy or girl you've had your eye on your number in an interesting and creative way. The process worked well: the take a picture, add info, print and voila!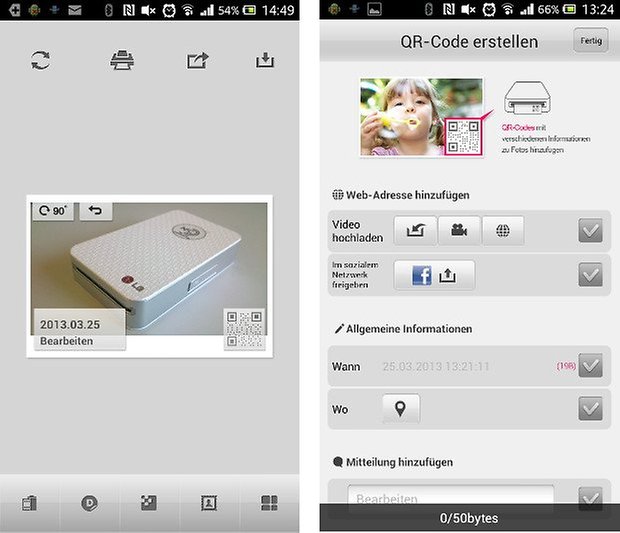 A huge downside is this: you can't print endless amounts of picture because after just 10 pictures, it runs out of batteries. LG says you develop 15 pictures within the printer's battery life, but in our test, it only printed 8 and then needed to be charged. Charging takes about one and a half hours.
Bottom Line
LG claims that this new little toy is a mobile photo studio, but I feel it falls short of its advertised promise. I was put off by the weak battery life and the less-than-amazing picture quality. What's more, it's selling for 199.99 US dollars. The individual ZINK pages are selling at about 25.65 US dollars (for 100 from ZINK for example).
The practicality of this type of device is also questionable. LG promotes its mini printer by calling it a ''mobile lifestyle printer'', with which you can share the nicest moments with your friends. Up to now, you could do that by sharing your pics via online portals like Whatsup for example. I guess it's nice to have something tangible again, like the good old days!
Like I said before, this could be the perfect flirt tool, where you quickly take a picture of yourself with all of your contact info or a few sassy words. It sounds charming, yet is on the other hand not very practical: you'd have to take the printer out, turn it on, connect it to the smartphone, choose your picture, edit it, send it via Bluetooth and then wait for it to print – the person you have your eye on might have lost interest by then! Sometimes the old pen and paper will do the trick!
Parties would be a cool place to use the Pocket Photo. I've been to weddings with a photo booth where the guests could take pictures of themselves in costumes and then have the pictures printed as a great momento! This could be used for any type of party where the guests leave with a lasting, tangible memory.
But let's be honest: would you carry the mini printer around with you, on top of the charging cable and the extra ZINK pages? Where would you use this Photo making miracle?