Military To Control Unmanned Fighter Drones From Android Tablets?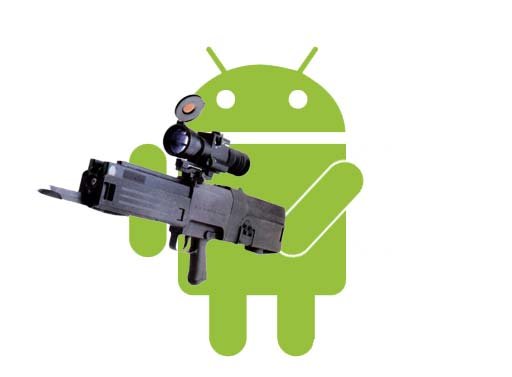 Back in early February, the US Military officially approved selected Android devices for use on the battlefield, making Android the first OS approved for sending classified documents through a mobile device that's also approved for the battlefield. Now while Blackberry's are still the most used device in the White House, Android devices are the OS of choice for soliders in combat, and according to Elektrobit (a Finnish wireless engineering company), 80% of the work needed to build a military grade smartphone is already available in Android's kernel, and such devices are already being designed. What does that mean for the military itself? As crazy as it might sound, it means that controlling unmanned applications, such as unmanned drones, could all be done directly from an optimized Android tablet.
I don't know about you guys, but I use my tablet mostly for web surfing and playing Super Stickman Golf, and as far as military operations go, I have become a force to be reckoned with on Modern Combat 3. But REAL military operations? Controlling an unmanned fighter drone...from an Android tablet? **falls over**
But why Android and not other mobile operating systems? Well, according to Jani Lyrintzis (vice prsident of special terminals at Elektrobit), it's all due to Android's kernel and the option to add middleware between the applications layer and the operating system. Elektrobit has already customized Android for military purposes, and is currently selling the designs to help defense contractors build high security smartphones that tailor to the needs of the military. Raptor Identification Sytems is one of those contractors, and are currently adding biometric identification capabilites to Android phones and tablets for the US Department of Defense.
By adding those additional layers, it prevents apps and users from compromising the government security policies, making Android suitable for government agents and soldiers in combat. What's really crazy is that military personal using the devices could simply recruit consumer devlopers to build specialized versions of apps for the military and the phones they use, opening up a whole new world of possibilites for Android developers and possibly even a military Android market. According to Lyrintzis, the technology found in Android already supports everything we just discussed here (and more), and it's only a matter of ensuring that security is airtight on these devices before deeming them battle ready.
This is.....awesome? I mean, I'm not one to condone war, but just KNOWING that Android's technology already supports the possibility of being easily modified to pilot bomber drones from a tablet makes me look a little different at my Galaxy Tab 10.1.
Picture credits: cdn1.mobilemag.com/