Update: Happy birthday, Whatsapp! New status feature added
We're always keeping an eye out for the latest WhatsApp update news and features. When we hear of a new feature coming soon, we'll tell you when you can expect it to roll out to you, how to use the new feature and we'll give you all the tips and tricks you need to make the most of it. The most recent update brings a welcome upgrade to the Status features.
How do I update WhatsApp?
The easiest way to update WhatsApp is through the Play Store, where updates will work their way to you automatically. Make sure it's not waiting for an update by opening the Play Store, pressing on the trio of lines in the top left to open the menu. There, select My apps & games and see if it's listed at the top of the screen.
WhatsApp Messenger

To get beta versions of WhatsApp through the Play Store, you can sign up here, and then you'll have the latest features before all your friends do.
If you want to update WhatsApp manually, you can download the latest version of WhatsApp by visiting the WhatsApp update download page, or you can download the WhatsApp update APK through APK Mirror, where the latest version is always uploaded (including beta builds).
To install an APK, make sure you head into Settings > Security > Unknown sources and ensure the toggle is on. Then, press on the downloaded APK file and follow the instructions. For a more detailed explanation of what APKs are and what to do with them, take a look at our dedicated page.
The latest WhatsApp update: new Status features
Today, February 24, is WhatsApp's 8th birthday. To celebrate, the app is getting an update which will bring a new Status feature. It's already rolling out, so you can expect it within the coming days if you haven't seen it already.
Unable to buy Snapchat, Facebook is trying to duplicate the success of its features through WhatsApp Messenger. Since 2009, even before messaging was added as a function, it was possible to write text statuses on WhatsApp. Now, statuses are getting an upgrade, offering features similar to Snapchat. You can take photos, edit them to add emojis, text, stickers and more and publish them as your Status.
Your WhatsApp Status is visible for 24 hours. Of course, it is possible to manage your privacy settings to allow only some contacts (or all your contacts) to view your WhatsApp status. In short, if you are familiar with Snapchat or Instagram, you won't be lost when trying out the new features.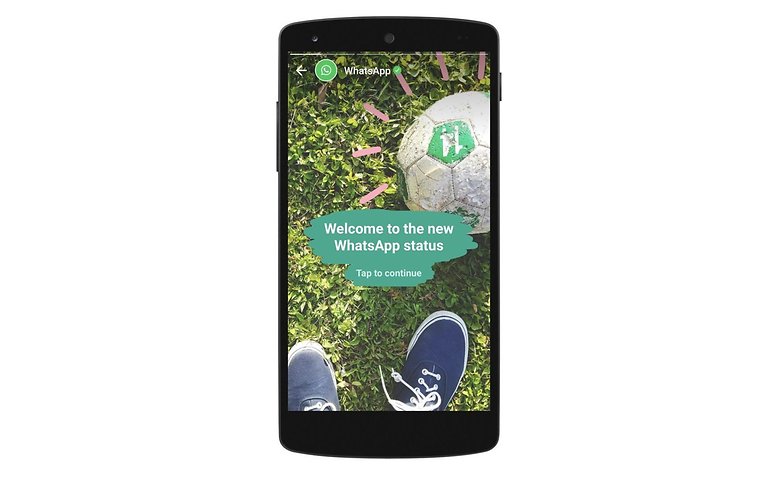 Recent WhatsApp update: two-step verification feature
Two-step verification is a well-known security feature already available on many other services like Facebook, Twitter, Google and Dropbox, among others. Using a special code to verify that you're you, this extra verification step makes your accounts more secure. WhatsApp now offers this feature too, but with a twist. The app allows you to create a six-digit passcode that will be required each time your phone number is verified with the application.
To enable the two-step verification feature: open WhatsApp and go to Settings > Account > Two-step verification, then tap Enable and set your code. It's that simple.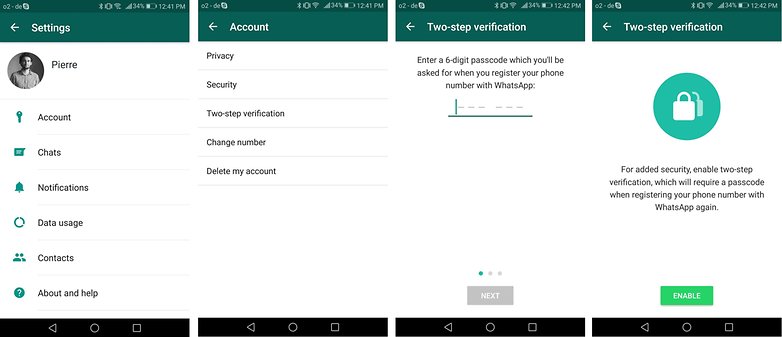 Recent WhatsApp update: GIF features added
In the past year or two, there have been a lot of major WhatsApp updates, like the addition of video calling, end-to-end encryption, voicemail, tons of new emoji, Google Drive backups and the end of the subscription fee. And now, you can convert videos into GIFs, share them and search for them on Giphy.
Convert videos into GIFs and share: Tap the attachment icon in a conversation, record a video, then hit OK. When the video trimming page pops up, tap the camcorder icon on the upper right and it will switch to a GIF icon. Then you can send your up to six second long video as a GIF.
Share GIFs from Giphy or Tenor: Tap the emoji button and you can choose between the GIF and emoji modes on the bar that shows up at the bottom. Choose GIF and you can see a list of popular emoji or search by keyword for just the right GIF for the occasion. The GIF feature is from either Giphy or Tenor, with users split between the two services evenly.
New media sharing limit: The media sharing limit has been raised from 10 to 30, so you can now share up to 30 photos or videos at once.
To get these features, update your app to the 2.17.6 beta through the Google Play Store, or by searching for the APK online.

Have you got the latest version of WhatsApp? What do you think of it?