Which Samsung smartphone should I buy in 2018?
Samsung's smartphone lineup used to be laughably complicated, but in recent years it has been pared down in a way that mere mortals are now able to make sense of it. There's the lower end J series, the mid-range A series, and the premium S and Note series. To help you decide which model is right for you, we've put together a list of our top picks for 2018.
Just the basics: Galaxy J series
If your budget mandates a lower end to mid-range device, or you just don't need to accomplish more than basic tasks on your smartphone, the Galaxy J series is the first place you should look. And, although some 2017 models can be found on the shelves still, when it comes to entry level and mid-range smartphones, it's best to get the newest model so the hardware will be able to keep pace.
With that in mind, we've seen the release of two new J series contenders this year so far: the Galaxy J7 (2018) and Galaxy J3 (2018). First things first: the Galaxy J7 costs around $288, while the J3 goes for around $190. With such a big difference in price comes a big difference in specs and overall experience, of course.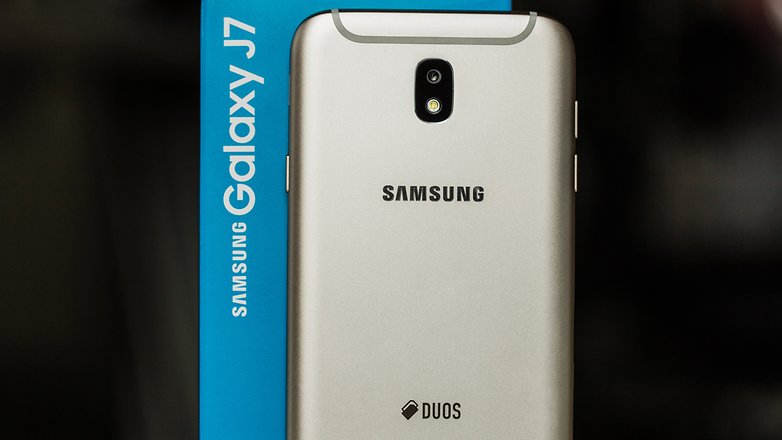 If you want an affordable device without disappointment or bad surprises, you should go for the J7 (2018). This year's J7 has a 5.5-inch HD display, an Exynos 7870 octacore SoC, 3,300 mAh battery, 2 GB of RAM and 16 GB of storage expandable via MicroSD up to 256 GB. It's also running Android 8.0 Oreo, and has 13 MP cameras on the front and back, along with a front fingerprint scanner. For someone who just wants to make calls, check social media and watch videos, this configuration should be perfectly adequate.
The J3, on the other hand, makes a lot of compromises. Its HD display is half an inch smaller than that of the J7, the battery is just 2,600 mAh, the SoC is just a quadcore Exynos 7570, there's no fingerprint scanner and the rear camera has just 8 MP while the front has 5 MP. Although it has the same memory configuration as the J7 and also runs Android Oreo, expectations for even a lower end smartphone in 2018 are too high for the J3 to be a winner. So, if you're looking for something entry level from Samsung, the J7 is a sure bet, but you should steer clear of the J3 unless your budget absolutely necessitates it.
Mid-range: Galaxy A series
You won't find Samsung's latest additions to the A series at your carrier shop in the US, but you can pick them up on Amazon, where prices will vary. The stars of the 2018 A series lineup are the A8 and A6, along with their Plus versions, and they pack more power and style than the J series.
The A6 (2018) has a thin bezels and a 5.6-inch HD+ AMOLED Infinity Display, while the A6+ (2018) has a larger 6-inch display. But, it doesn't just look good. It has the same Exynos 7870 SoC as the J7, Android Oreo, and 3 to 4 GB of RAM, so it runs well, too. Plus, it has 16 MP single front and rear cameras.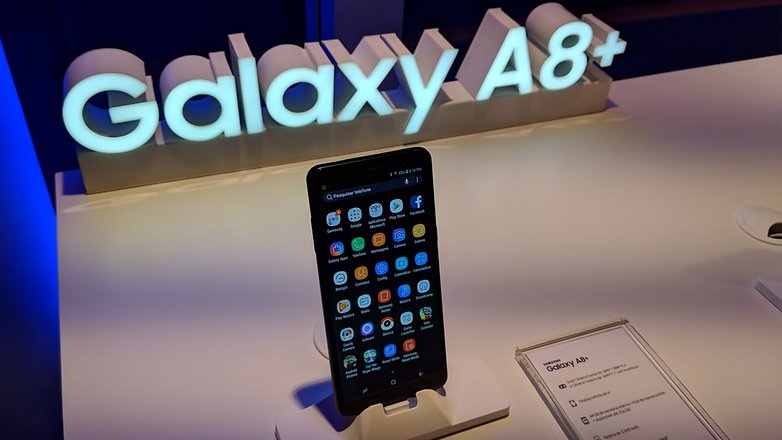 The A8 and A8+ will appeal to those who like the A6 (2018), but want a bit more performance. It comes with a better SoC, the Exynos 7885, and no less than 4 GB of RAM (the A6+ also has a 6 GB option). It also packs a dual 8+16 MP selfie camera.
Premium: Galaxy S and Note series
The Galaxy S9, S9+ and Note 9 have all now arrived, and you might be wondering what the differences are between Samsung's newest premium smartphones. The S9 and S9+ differ in display size (5.8 vs 6.2 inches), battery capacity (the larger one has 500 mAh more capacity), RAM (4 GB vs 6 GB) and the rear camera (the S9+ has a dual camera). The S9+ and Note 9 differ in display size only slightly (6.4 vs 6.3 inches), battery capacity (an additional 500 mAh for the Note) and the S-Pen, of course.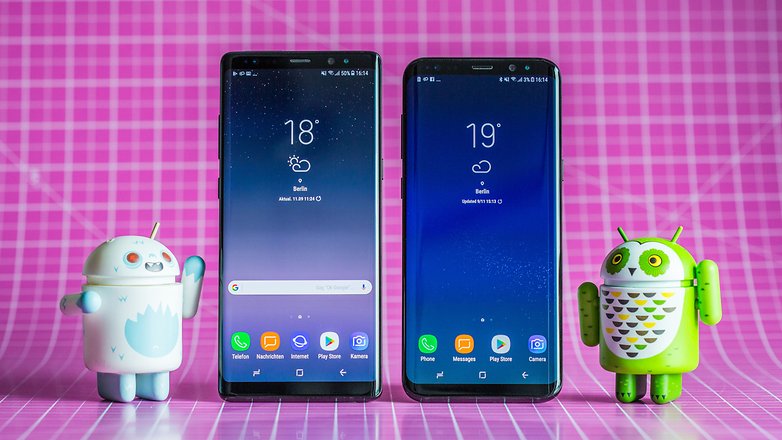 While you can't go wrong with any of these options, your final choice should come down to personal preference and whether you think the slight differences between each model justify their price differences. Another thing to keep in mind is that last year's S8 and Note 8 flagships are still perfectly able to keep up, and they still look modern compared to the newest models since there haven't been many design changes. If you'd like to save some dough and still have a premium device, they are well worth considering in 2018.
Which Samsung smartphone are you most interested in right now?