Why Is Facebook's App Such a Piece of Crap?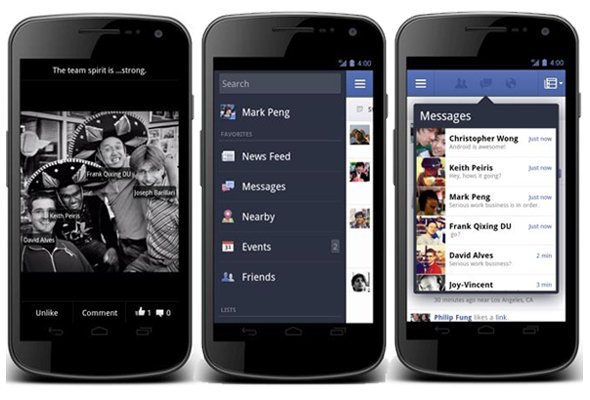 With almost a million 1 star reviews on Google Play, Facebook's Android app is one of the worst-reviewed, yet most popular, apps ever made. If the Razzies were ever handed out to apps, Facebook's would win, hands-down. Complaints about the app run the gamut; but generally revolve around a few main issues. Users complain the app:
Constantly freezes
Force crashes
Uses way more data than the browser version
Is slow to load, even on fast phones
Is just plain boring and aesthetically ugly
Why has Facebook, which had revenues this year of upwards of a billion dollars this year, created one of the slowest apps on the market?
The (partial) answer is that Facebook has used the wrong code to create their app and is apparantly too lazy to update it. Here's what Mobtest has to say about Facebook's code:
"For a starter, caching of unchanged content cannot be controlled by the developer. The FB app downloads the whole timeline HTML every time, and it is up to the UIWebView to determine whether it needs to download images, stylesheets etc again…. Also, to communicate from the UIWebView to the native app, a Javascript bridge is needed. This is tricky stuff, slow and not really thread safe."
For those who have noticed the Facebook app uses the majority of their data; that's why. It downloads the ENTIRE timeline, even if you're not looking at it, every time you open the app. That's also one of the reasons why the app is so slow.
After nearly a million 1 star ratings on Google Play, and an average rating of 2 stars on iOS, you think Facebook would have gotten the hint and made their app just a tad speedier. But they haven't. Why is THAT?
Well, a writer at Digital Trends found this little nugget in Facebook's updated S-1 ( a document required of any company that is preparing to go public):
We do not currently directly generate any meaningful revenue from the use of Facebook mobile products, and our ability to do so successfully is unproven. We believe this increased usage of Facebook on mobile devices has contributed to the recent trend of our daily active users (DAUs) increasing more rapidly than the increase in the number of ads delivered. If users increasingly access Facebook mobile products as a substitute for access through personal computers, and if we are unable to successfully implement monetization strategies for our mobile users, or if we incur excessive expenses in this effort, our financial performance and ability to grow revenue would be negatively affected.
So, Facebook's app sucks because the developers working on it haven't meaningfully updated it, and they haven't done so because Facebook would rather you visit their website anyway. This has got to be one of the worst strategies I've ever read. It's almost as if Facebook wishes mobile would just go away, like they could close their eyes, count to ten, and everyone would go back to farting around on their computers again. (Side note: Is this really the kind of company you'd want to invest in?)
Just for the sake of comparison, have you ever played around with the Google+ app? The thing runs like buttah. Buttah, I tell you. Updates fly on to the screen, profiles are beautiful and take milliseconds to load, and you can even initiate a video hangout with your besties.
Facebook's app does none of these things. It is slow and stale. If more friends were on Google+, I would drop Facebook's app in a heartbeat. Till then, I'm sticking with m.facebook.com.