 Why hasn't Spring Sprung? 5 Free Weather Apps of the Week
Today marks the Spring Equinox, March 20th: Spring should have sprung by now! For the last few weeks, I've been checking the weather on my Samsung Galaxy S3, every hour, to see if there have been any improvement and cry a single tear when I see the bad news. My winter-ruined brain then thought, is my weather app telling me the truth and is this the best app out there? Which one can predict the summer first?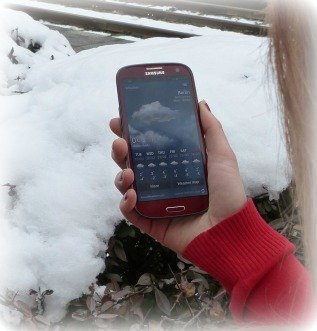 Today I'm taking a look at the various weather apps, which have had the best and worst reviews in our AndroidPIT App Center. These are the ones I found, about which I will give you a little review breakdown.
Weather
Here's a ''sunny day'' app, which offers you such standard features like a temperature status bar and live notifications, as well as hourly and weekly forecasts for multiple locations. Weather was specifically designed to be as simple and intuitive as possible. The clients, who installed this app, said it was very practical for smartphones with very little RAM, was very easy to use and a good tool. It received a total of 4.6 stars out of 5 in our AndroidPIT Center; not too shabby! The description says that it is ''gorgeously animated (..) as you see the weather come alive'', but I would tell the developer that's going a little too far.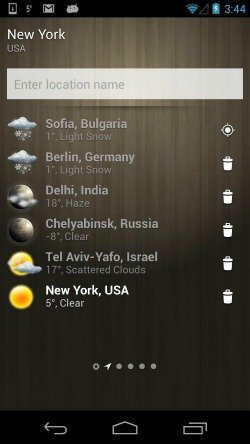 AccuWeather
This is one of the worst weather apps, since mostly everyone who used it and commented on it, hated it. The installation process for AccuWeather was deemed complicated and a waste of time. It was also unclear how to have it animate on the home screen. The German app test review also agreed that it was hard to use and only gave it 3 stars.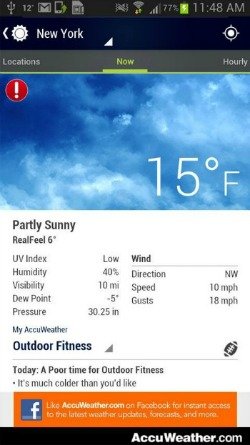 The Weather Channel
This one got 5 stars and was deemed excellent by our app tester. Most of the client reviews held five stars, other than a few complaining about no Facebook sharing, slow operating and even worse, that it has audio recordings. The Weather Channel gets its info from 200 meteorologists and uses a so-called ''ultra-local TruPoint forecasting technology'', to tell you exactly where and when the rain will start, down to the very hour. This app got raving reviews from other Android platforms like Android Police and Gizmodo, for example.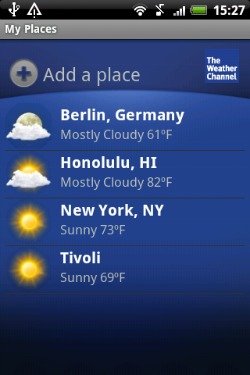 WeatherBug
Four stars for this sucker from our app tester and most clients who had installed it were happy, professing things like: ''it saved my life!'' WeatherBug offer the largest network of real-time weather sensors for forecasts and alerts. It offers interactive maps, has exclusive dangerous thunderstorm alerts and live weather cams with more than 2000 around the US.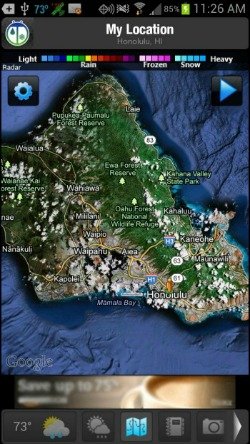 Moxier World
Our app tester gave it 3 stars, losing points on features and screen, which happen to be the most important elements! It's interesting though that our clients gave it great reviews, all boasting 5 stars. Moxier World offers world time and local weather, as well as a widget. You can browse the globe using city search and save your faves. It looks pretty slick and it's main advantage is being able to display the weather and temperature in several different cities at once.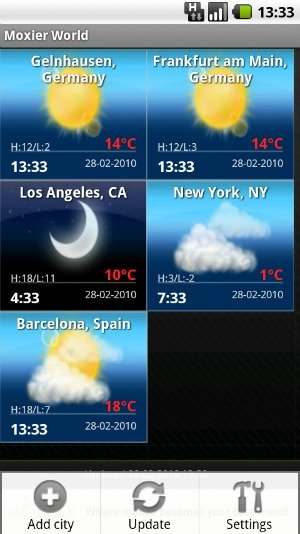 Worldscope Webcams
So, this one isn't a weather app, but I wanted to add it to the mix, just to spice things up. It was my personal favorite and I plan on installing it right away. Worldscope Webcams offers more than 20,000 web-cams from around the world. These update every few minutes and can be set as your wallpaper or homescreen widget. All the reviews were positive, except for one saying they had a hard time updating the newest version. It got an overall 4.4 stars from the clients who rated it. Sometimes a picture is worth a thousand words.
To be honest with you, a weather app is only as good as its predictions and if that's the case, they will never win. Nonetheless, if you were thinking of changing up your weather app, this list might just inspire you.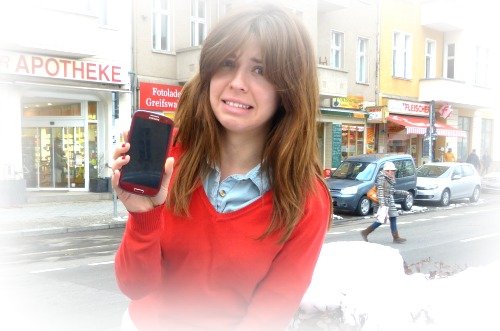 What weather apps do you use to find out when to take out your shorts and flip flops?