Giveaway: Win a Galaxy S9 from AndroidPIT and TouchPal
Update:

A winner has been chosen!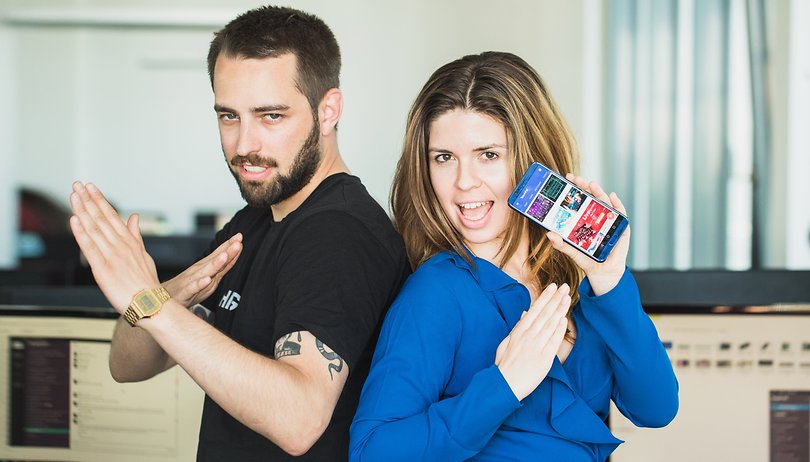 TouchPal has been on the tip of our lips in the past weeks because of the recent launch of its AI-powered TouchPal Keyboard Pro app. We covered it in a review and compared it to Gboard, but now is when the fun will really start. In an exciting editor vs editor challenge, we put two candidates up against each other to test the TouchPal Keyboard Pro and Google's Gboard simultaneously and see who comes out the winner. Not only that, today we have a great contest for you: you could win an Amazon eGift card for the same price as a Samsung Galaxy S9 (64GB variant). We have a winner!
TouchPal Keyboard Pro vs Gboard: two editors rival the two keyboard apps
One sunny afternoon, two editors took a stance against each other, confident about their typing and gliding skills, and of the fact that they could beat the other at a series of keyboard challenges! Both fierce, competitors in this game had one thing to win: the glory! The loser would have to do get down and do 10 push-ups. These timed challenges were:
Challenge 1 - Speed test: who is the fastest response to a message with the least mistakes
Challenge 2 - GIFs fight: the funniest GIFs and how long they took to find and post
Challenge 3 - Creativity Duel: make your texts more creative with emojis, animated texts and your own AR Emoji
Challenge 4 - Weather Search: Find out about the weather in New York the fastest
Challenge 5 - Math Quiz: Calculate a math equation the quickest
Challenge 6 - Money Quiz: Find the currency exchange from USD to Euros
TouchPal Keyboard Pro: advantages and features of the AI-powered app
The two met in the studio of AndroidPIT with the hopes of having some fun - and to engage each other's competitive spirit in friendly rivalry. But what exactly do all these things mean? As previously shown in the review, the TouchPal Keyboard Pro is able to offer its users a wide range of services.
First of all, TouchPal has taken steps to improve typing speed and accuracy with several components, the most impressive being its integrated artificial intelligence engine and smart predictions. TouchPal suggests accurate words for the context of your sentence as well as offers smart replies to speed up your conversations. The cool thing about this feature is that the keyboard is constantly learning from your behavior as well as trends on the internet in order to always optimize your typing experience.
Secondly, TouchPal Keyboard Pro comes with its very own AI digital assistant, named Talia, that provides you with information and dining recommendations right in the app. In addition to smart replies as mentioned above, Talia will suggest GIFs for your messages, offer you dining recommendations for your city, let you know about the weather, calculate math equations, find the correct currency exchange, all right in the app. There is no need to even leave the app, which is a time-saving and helpful feature.
TouchPal also offers a lot of cool fonts and themes to jazz up your keyboard, limitless GIFs and other creative elements.
Giveaway - How to win a Samsung Galaxy S9 with TouchPal!
Not only do you get to watch an exciting video, TouchPal is putting on a great contest right in this article! The contest starts at the publication time of this article and goes one week until June 4 2018 at 23:59 Pacific Daylight Time. The winner will be then announced on June 6 2018. Here's how you participate:
Step 1: Download the app from the Google Play Store (for Apple users, Talia for iOS is coming soon).
Step 2: In the comment section below, let us know what feature you liked on TouchPal Keyboard Pro and why. If you aren't sure, check out the video above for a quick overview.
Step 3: Share this article on a social media platform of your choice and send me the link of the shared post in a private message.
What will you win? An Amazon eGift Card for the equivalent price of a brand new Samsung Galaxy S9 (64GB variant)!
Winner announcement
After much deliberation over the great comments you all left and social media shares made, we have decided on a winner! It was definitely a hard decision to make. The winner is Nikhil Nayak! Thank you all again for your participation. Most of the comments were actually really good and proves we've really got a tech savvy audience here on AndroidPIT. We will try to get more contests on the site so that there are more chances to win some cool prizes.
Have you tried TouchPal Keyboard Pro yet? Let us know what you think in the comments below.
This article was written in collaboration with TouchPal.