Wirefly Offering $150 T-Mobile Nexus 4 With 2-Year Contract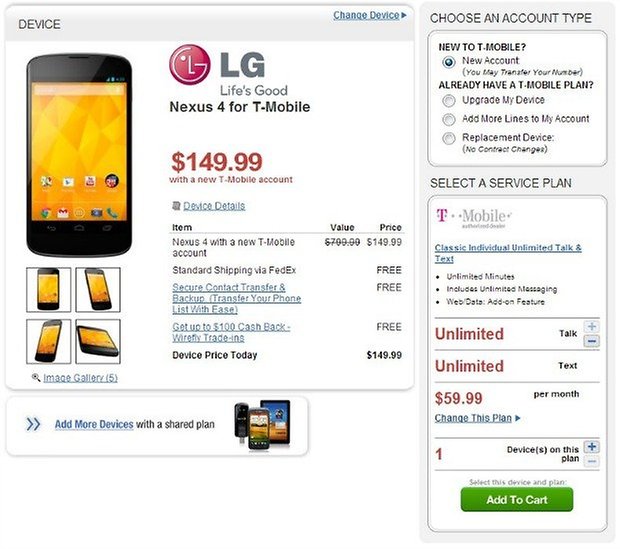 Given up on the Nexus 4? Can't blame you. It's irritating how hard it is to get your hands on this phone, even months after its release. But the folks over at Wirefly have a deal that just might just cause a change of heart. They're offering the Nexus 4 for just $150 on a two-year contract. That's $50 less than T-Mobile's retail price and is good for both new contracts and 2-year renewals. And shipping – via FedEx – is free.
Now I know what you're thinking: what's the catch? The catch is that you'll be locked into a contract. Wirefly only allows to choose among T-Mobile's classic plans...BUTyou can switch plans after a month to Monthly 4G value plan and save a lot of money.
Your other option is to wait for Google and LG to untangle their supply chain problems and buy the phone unlocked. But who knows how long that'll take.
If you want to buy the Nexus 4 from Wirefly my advice is to DO IT NOW. This phone has a habit of selling-out immediately every time it's offered by a new vendor. But Click here for more information on how to buy the phone.