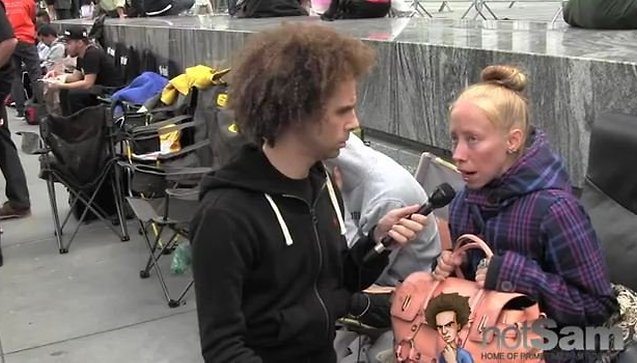 Totally Clueless Apple Fan Buying an iPhone 5 for No Real Reason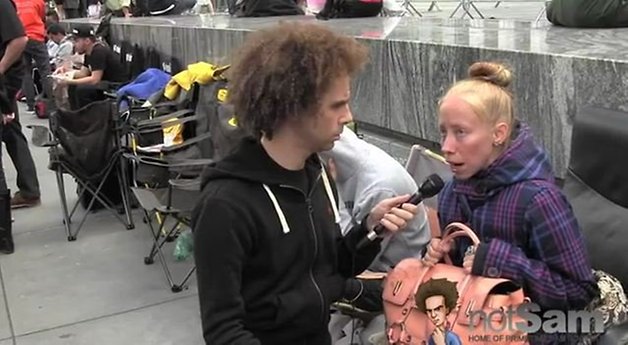 Meet Rachel, a woman who is very intent on buying an iPhone 5 – or, as she refers to it, an Apple 5. Rachel camped outside for two days waiting to buy the newest gadget from Apple, but in this interview it appears as if she has no idea what an iPhone is, or that she could buy another phone that is also capable of taking pictures, accessing the Internet and...taking calls.
Rachel wants a phone she can use to text her friends (does she realize you can do that with a $20 phone?) but she's choosing Apple because "it would be cool to use, like every day like a laptop" and she likes that the device has an Apple on it, is "silver, glass, touch screened" and that everything is very "advanced."
Referring to the phone, she says "I haven't seen it yet but I'm pretty sure it would be cool to use." She's also very excited about it having the "internet."
Of course, my first thought was "this woman CANNOT be real," but Mashable also interviewed her, and she seems to be saying the exact same thing to them. It's plausible to me that an Apple shopper would be this clueless about phones.
I love you, Rachel and I hope you buy so, so many iPhone 5's and are able to take pictures with them all at once, like a giant camera. But stay off that Internet! It's full of tricksters. *
*For the record, there are plenty of uninformed people on both platforms, but Rachel is by far my fave.