Would Nokia + Android Be the Ultimate Dream Team?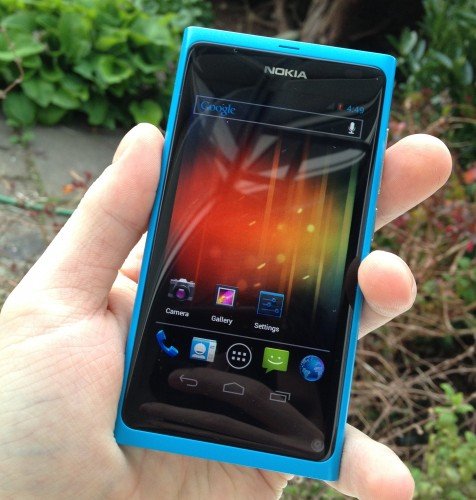 What if Nokia and Android mated? What would their love child look like? Would you fall instantly in love with it? At least one writer at the Verge would. Take it away, Vlad Savov:
I can't stop thinking about this. A question that's grown trite over the past 18 months keeps haunting me in the wake of the Lumia 920 announcement: what if Nokia had chosen Android instead of Windows Phone?
Haunting. He is literally being haunted by the image of a phone, guys. THIS IS SERIOUS.
It's because all of the other phones out there are unsightly monsters:
The RAZR Maxx has a vast battery, but is otherwise a Kevlar-coated train crash, the HTC One X is pretty, but ruined by a dorky UI skin, and the iPhone 4S does most things well, but is too small and fragile. Where lies perfection?
Polarizing desciptors? Check! Sure, there's some truth here, but who knows what "dorky UI skin" Nokia would slap on an Android phone. Meanwhile, the Galaxy S3 is kind of a thing. Why no mention of it?
The best industrial design among phones is a more subjective matter, but I continue to be enamored with the "pillow-shaped" ergonomics and unibody styling of the Nokia N9, whose lineage is abundantly evident in the Lumia 920.
Yes, because it's so snuggly swoft you can actually sleep on it!
Now that Nokia has upgraded the innards of its flagship — combining the splendid Snapdragon S4 with LTE, a fancy Synaptics touchscreen, wireless charging, and the controversial new PureView camera — there's basically no hardware complaint to level at the company.
Okay, I agree that the N9 is a gorgeous phone, and the Lumia 920 looks pretty great as well. But that beauty is only skin deep. The Snapdragon S4 processor isn't the fastest out there, and the wireless charging unit isn't that impressive. Only the resolution blows away the competition (1280x768p is currently the best in industry).
The phone is beautiful, I give you that. But let's not get carried away: these internals are not so impressive. Would I buy a Nokia phone if it ran Android? Absolutely. But Nokia would have to upgrade their processor and improve upon Android's OS, like Samsung has done with the Galaxy S3. What do you think?
(Top photo: AndroidCommunity.com)