AndroidPIT's "WTF?!" Android App of the Week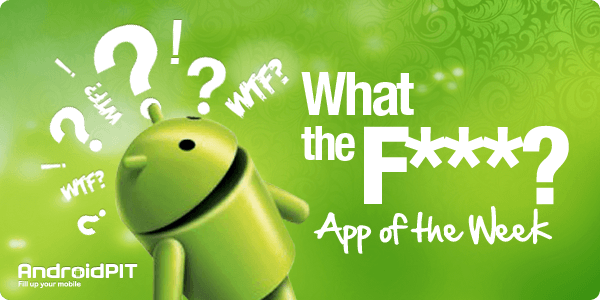 It's that time of the week again and we know you've been cravin it. Having debated and brainstormed tedeously, AndroidPIT's editorial team has decided on this week's WTF?! Android App of the Week. We've found an app that's truly disgusting and almost totally useless. Today's WTF App of the Week is....Poop Diary! Yes, that's right, it's a friendly app that helps you monitor your poop size, color, consistency and frequency!
The app describes itself as the perfect way to "avoid constipation," since it will notify you if you haven't taken a dump recently. So now, along with messages from your girlfriend and a voicemail from your boss, you can also look forward to a notification demanding you take a dump. If you're having problems doing so, the app will massage your stomach with a gentle vibration until you've defecated yourself (like a fiber pill! [kidding])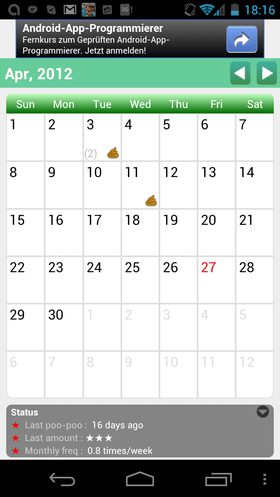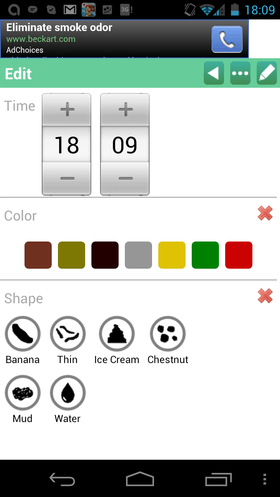 This is how it really works: After you've dropped the kids at the pool, all you need to do is click on the calendar and make a note of it. First, you choose the color. Options include brown (good job!), green-brown (you go girl!) , dark brown (there may be some issues), gray (you're PROBABLY okay), yellow (uh-oh), green (see a doctor) and red (call 911). You can also choose from a wide variety of shapes that describe the dump you just took, including banana, ice cream, chestnut and mud (which is really more of a consistency, although I am nitpicking).
Once you're done, you'll see a calendar filled with your own excrement! So you can see, oh, hey, monday, yeah, took a dump that day. Tuesday, too! Wednesday I took three! That was a productive day. Sadly, there is no synchronization feature with Google calendar so you can start to see whether your schedule schedule is affecting your crapping schedule.
But, hey, while a lot of apps totally stink at least this one truly admits it's a piece of crap. Poop Diary: a totally useless, yet oddly compelling app that has us scratching our heads and muttering to ourselves "what the f**k."