Motorola Gets Xbox 360 Banned In The US? Not If Obama Likes Games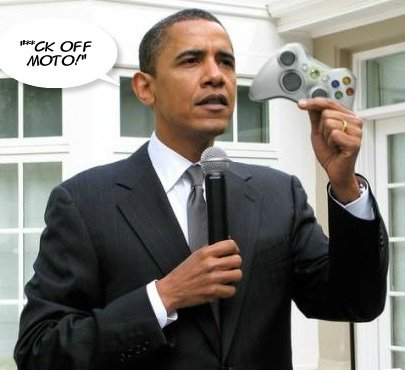 Back in April we reported on how Motorola won a patent dispute against Microsoft in court, and that the result of that trial could result in Xbox 360's being banned from stores. Under normal circumstances I would probably point and laugh at Microsoft...but not this time. Coming between a man and his games is no laughing matter...But here's a fun fact for you that you might not have heard: Did you know that before the ban on the Xbox can come into effect (or any device for that matter), that it has to be approved first by the Obama Administration?
That's right folks. Obama baby. I actually never knew exactly how the process of banning a device works, but apparently it goes a little something like this:
The Judge presiding over the case in Motorola Vs Microsoft recommends that the device be banned in the US (which he has done).
The decision then goes to the International Trade Commission, as the Judge's decision is only his/her recommendation of the best course of action.
The ITC then has a set amount of time to decide on whether or not to follow the decision of the Judge (in this case, until August 23rd).
If the ITC agrees on the ruling of the courts and also decide for an import ban, the decision then goes to the Obama Administration.
The Obama Administration then has 60 days to review the case. If they sign off on it, the ban goes into effect. If not, the decision of the courts, Judge, or ITC are overturned and another solution must be found.
All I'm saying is that I have a feeling Obama is a gamer, and if so, he's not gonna be happy about this. I mean common Google...you just bought Motorola...can nothing be done on your end here?
All jokes aside though, Microsoft will most likely end up settling one way or another, as I honestly can't imagine a ban on this console coming into effect. HTC was also faced with a similiar problem recently, as imports of their One X and Evo 4G were held at US Customs for inspection following a loss to Apple in court. The phones are now slowly entering the US, but situations like this can be a nightmare for any company and their bottom line.
Can't we just leave the games out of this? Please?
Picture credits: www.blogcdn.com (edited by myself)