Want To Buy, Sell, Or Trade Your Phone/Tablet? Check Out XDA Market!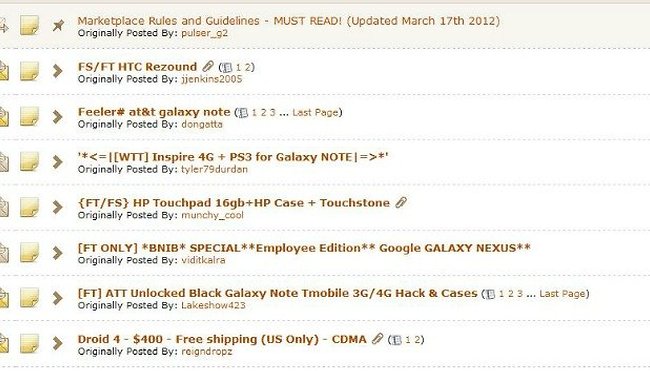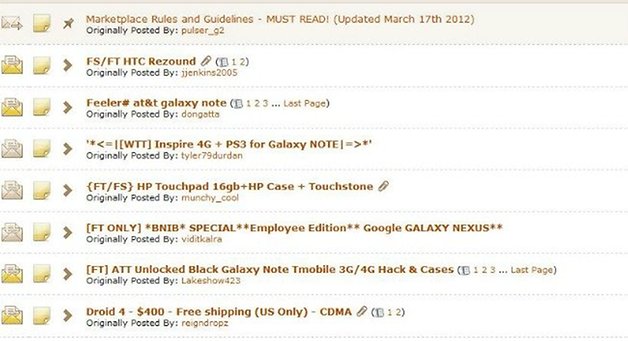 We all know that ebay, Amazon, or even Craigslist can be great places to buy and sell mobile devices, and I have even sold a phone or 2 on these platforms myself with much success. But wouldn't it be nice if you had a specific place to buy, sell, or even trade your phone for cash or for another device? Wouldn't it be convenient to even be able to sell rooted devices within a community that knows a lot about different models of phones (Android, Windows, iPhone and more) with the chance to wheel and deal and accept offers and counteroffers for your device or devices? How great would it be if those platforms didn't even charge fees for sales, and that you could look up user seller/buying feedback similiar to ebay in an organized and moderated forum? How nice would it be to put your device on a marketplace just to feel out the possible offers you could get for it without having to sell it? And to top it off, how great would it be to watch users fight for YOUR phone by making cash and trade offers, with you at the end being able to accept the offer of your choice? If all that sounds great to you, you NEED to check out XDA Marketplace, which is a bustling and busy section of XDA Developers that most people don't even know exist.
How does it work?
So very simple, yet so effective! If you have a device you want to sell or trade, you simply post in the "Wanting to Sell" forum of the market, and if you're looking to buy a certain device, you post in the "Wanting to Buy" section. In the title you simply write, for example "FT (for trade) Samsung Galaxy Nexus for HTC Sensation and Cash", or something along those lines. You are required to post pictures of the device and information on condition and how old it is. From there, anyone interested can post in the thread with their offer, or send you a PM of what device/devices/how much cash they are willing to offer. You can immediately say yes or no if interested and can continue to accept other offers if needed. You can also post in the thread title "Feeler" plus the device your looking to sell, which means that you just want to get an idea of what people might offer for it. Here's a screenie of the main page of the XDA Market: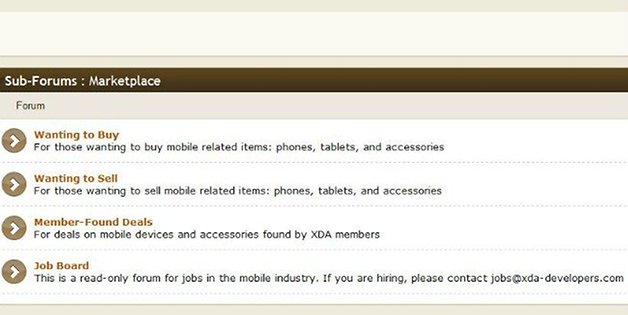 There are NO fees and you negotiate shipping with the buyer/seller on your own. Paying with Paypal makes things easier in case something goes wrong, as you can then prove if you received your goods or not with a tracking number being submitted to Paypal. You can also review "Seller Feeback" of users, meaning if they have done transactions before on XDA that you can see how it went and how the seller/buyer was to deal with. You can also trade for another device or even trade for another device plus cash. The possibilities are endless, and there are literally THOUSANDS of threads with people looking to sell, trade, and buy.
Of course, like any market, there are some scammers from time to time, and the great thing is that the community makes you aware of who those scammers are and how they scam. Upon agreeing upon a final price, you then can start a "Progress thread" so that other users can see how the transaction is coming along. In the event that it's your first time selling and nobody trusts you enough to make a deal, there are dedicated and trusted sellers that can act as middlemen, meaning that you send your device to him and the money is sent to him. Upon receiving the items/cash, he can then ship the device to the person paying and the cash to the seller. This is a great solution for first time buyers, as a trusted member is helping to regulate the trade.
I have used the market twice now, and sold a rare MI One for a new HTC Sensation and cash, and also sold a used Sensation for 250 Euros shipped to the UK. Most buyers allow global transactions, so it's not limited to any country unless specified by the buyer.
So if you're looking for a new device at a great price, or you're wanting to sell or trade your device for another device or for some cash (or both), I HIGHLY suggest that you check it out. The link to the XDA Market main page can be found here.
Happy buying/trading, selling!!!