Xiaomi is continuously working on expanding its smartphone model range. While rumors have been circulating for some time, the online retailer Gearbest decided to leak the new Xiaomi Mi Mix 2 on its platform before the Chinese manufacturers even had time to officially present it.
"Keyboard not found - press any key to continue."
What do you think?
Xiaomi managed to create quite some buzz around the first Mi Mix as it delivered an amazing display-to-size ratio. Up until then, no other smartphone had offered so much screen size with so little bezel. The Xiaomi Mi Mix 2 seems to take it even further. If the images from Gearbest are accurate, the front panel of the smartphone will just be one giant display - similar to the concept images of the iPhone 8 that have been making the rounds on the Internet.
The Xiaomi Mi Mix 2 is a refreshing alternative on the phablet market
What do you think?
This naturally brings up the question as to how Xiaomi intends to integrate the front facing camera of the Mi Mix 2. According to the data sheet that Gearbest published, a 13 megapixel front facing camera seems to be integrated, but the images only show a camera on the back of the smartphone. Be it tongue in cheek, or a ballsy advertising move - the online retailer has also decided to spruce up the camera "specs" by stating that the Xiaomi Mi Mix 2 has "Dual cameras (one front, one rear)". While technically correct, I'd think that most people would agree that this isn't what we would expect for a "dual camera".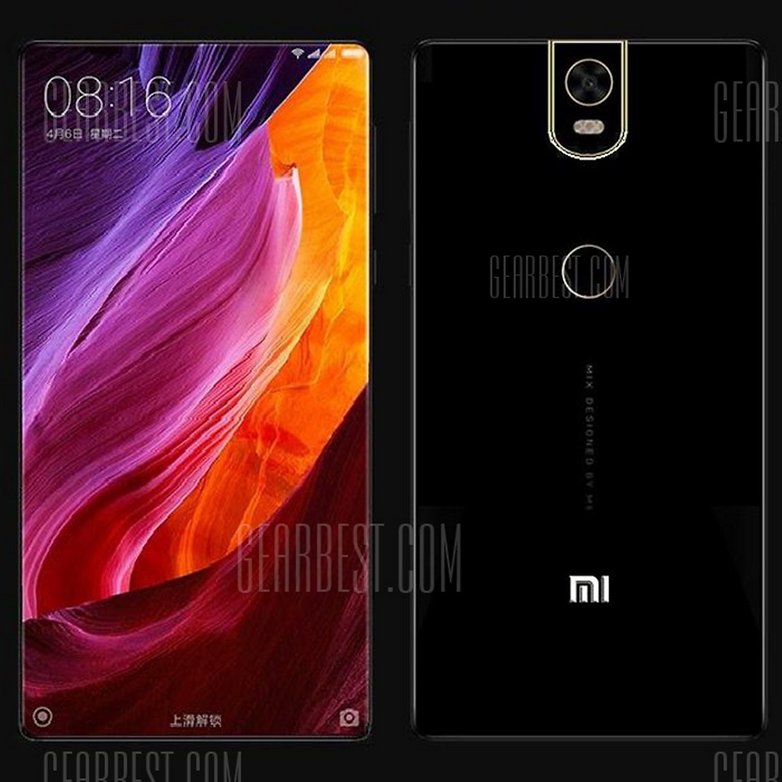 According to the data sheet from Gearbest, the Xiaomi Mi Mix 2 seems to have some strong specs. A Snapdragon 835 processor with 4, 6 or even 8 GB of RAM, plus 128 or 256 GB of memory, a 6.4-inch display with 2,560 x 1,440 pixel resolution, a 19 megapixel camera and Android 7.1 nougat. The non-removable battery of the Xiaomi Mi Mix 2 has - according to the online retailer - a capacity of 4,500 mAh.
The smallest variant of the Xiaomi Mi Mix 2 is priced at 774,93 Euro - which translates to $833 (£649 | ₹53,791). For those of you who are interested, you can sign up on the online retailer's sales page to get a notification when the device is officially available.
Xiaomi Mi Mix 2: Rumored Specs
| | |
| --- | --- |
| Display | 6.4 inch 2540 x 1440 AMOLED screen |
| CPU | Snapdragon 835 Octa Core 2.45 GHz |
| GPU | Adreno 540 |
| System | MIUI 9 ( Android 7.1 ) |
| Battery | 4500mAh Built-in |
| Camera | 19.0 MP rear camera + 13.0 MP front camera |
| Sensor | Ambient Light Sensor, Gravity Sensor, Proximity Sensor |
| Bluetooth | 4.2 |