Xiaomi Redmi Note 4 price, release date, specs and features
The announcement of the Xiaomi Redmi Note 4 is right around the corner. The latest device from one of China's most hyped manufacturers is expected within the coming days. But is this the device you should buy next? Read below for all the Xiaomi Redmi Note 4 price, release date, specs and features we know so far.
Xiaomi Redmi Note 4 price and release date
We're expecting Xiaomi to unveil the Redmi Note 4 very soon, on August 25 in fact. A flyer was posted on Times News showing the launch date, so we're confident that next Thursday will be the one. Regarding pricing for the new device, we haven't seen any concrete figures doing the rounds. But if we work off of past generations, the prices should be around $150 and $180 for the 16 GB and 64 GB versions, respectively.
Xiaomi Redmi Note 4 specs
Some great news – a leak has appeared that provides a stack of details about the Xiaomi Redmi Note 4 specs and performance. What we're dealing with here is some pretty solid hardware. The leak appeared on Weibo, which comes as little surprise, and shows a grainy image of what we can assume is the Note 4's retail packaging.
So let's get down to the specs. The leak shows that it'll run a deca-core MediaTek Helio X20 processor, which is similar to the Snapdragon 820 performance-wise, powered by a 4,100-mAh battery. We're expecting two models, one with 2 GB of RAM and 16 GB of storage, and another that will have 3 GB of RAM and 64 GB of storage.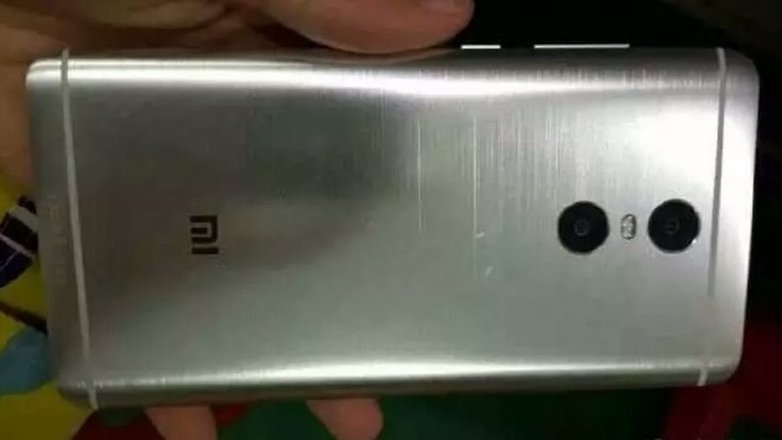 Other specs we can see (see the packaging below) include a 5.5-inch display size and a 13 MP rear camera coupled with a 5 MP front camera. All of this will, of course, be run with a MIUI-skinned version of Android. The specs sheet looks very solid for a device within the budget price range. As is typical of Xiaomi phones, you're getting quite a lot for your money.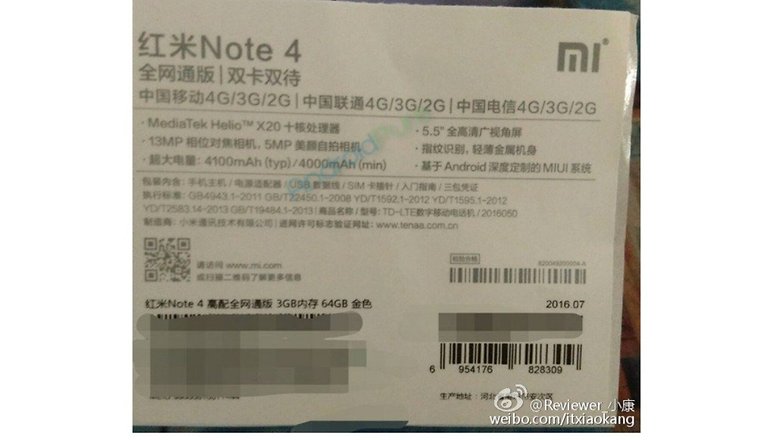 Xiaomi Redmi Note 4 features
Regarding Redmi Note 4 features and overall design, there isn't too much new to look at from what we've seen so far. Weibo is again a prime source for leaked images of the device, and we've once more seen in relatively good detail what the phablet will look like. It follows the design of the Redmi Note 3 quite closely, with hardly anything new at first glance. But that's not necessarily a bad thing.

There is a fingerprint sensor below the rear camera unit but, this time around the distinguishing difference in design to the previous all-metal Note is the placement of the flash, which is now on the left side of the sensor rather than beneath it. While this probably makes no difference from an operation perspective, it is a clear visual differentiation, and evidence that the newer model is in hand.
The front side of the Note 4 doesn't have much new going on either. From what we can see in the images, there are the usual capacitive buttons, along with a front-facing camera, call speaker and what looks like a proximity sensor. However, at least from the image above, we can see that there might be an antenna across the bottom back side of the phone to improve reception. This wasn't present on previous models.
Are you excited for the upcoming release of the Xiaomi Redmi Note 4? Let us know in the comments.