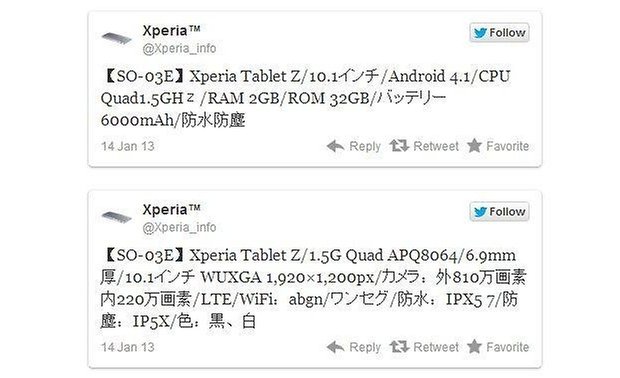 Sony's luck with the world of tablets have been shabby to say the least, but perhaps there is some light at the end of the proverbial tunnel with the latest leaks concerning the Sony Xperia Tablet Z. Apparently, this will also be known as "Pollux", carrying the model number C690X for those living in the west, while folks living in Japan will receive the Xperia Tablet Z as the SO-03E via NTT DoCoMo.
It is interesting to note that the Sony Xperia Tablet Z is the first tablet to be developed by Sony Mobile instead of its parent company, Sony, which is what we saw in previous tablet outings under the Sony brand name. It goes without saying that under Sony Mobile's umbrella, you can see the Xperia design signature as well as user interface which should be more in line with Sony's Xperia range of smartphones.
The Twitter leak of the Xperia Tablet Z claims that this will be a powerhouse in terms of hardware specifications, and we are holding on to the edge of our seats with details such as a quad-core 1.5GHz Snapdragon processor, 2GB RAM, a whopping 32GB of internal memory, a 10.1-inch display at a stunning 1,920 x 1,200 resolution, LTE connectivity, an 8-megapixel camera at the back, a 2-megapixel shooter in front, all crammed into a water- and dust-resistant chassis.
Needless to say, with such power packed specifications, you would need a rather beefy battery to go along with it, and the Xperia Tablet Z does not disappoint with its 6,000mAh battery. It will arrive in business-like black and white shades, touting a saliva inducing body that measures just 6.9mm in thickness.
Oh yeah, did we mention that it will come with Android 4.1 Jelly Bean as well?