YotaPhone: Hands-video and Dual Screen Fun YotaPhone named its first phone after itself (for the time being) and this innovative piece of gadgetry really made my head spin. While our AndroidPIT team was live on location during the MWC in Barcelona, they were able to get first hand look at the new YotaPhone right at the Russian company's booth. We've created a hands-on video, explaining all the various functions and perks of this interesting new gadget.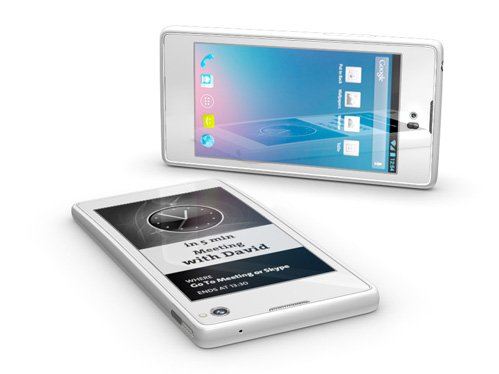 I really like the fact that there are two screens, the main touchscreen, with the secondary one on the back. This is very useful for me in particular, who often forgets to plug in my smartphone. I'm sure it will come in handy one day when my phone dies and I need to show a plane ticket. The last displayed image stays on the backside of the device, thanks to the electronic paper technology. It's basically half-phone, half-e-reader.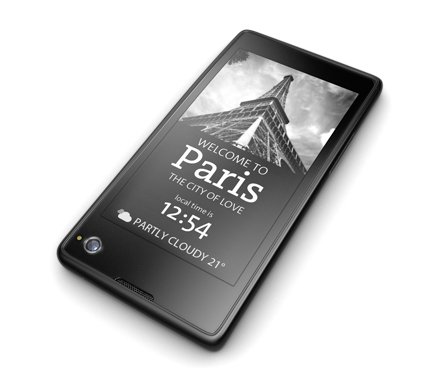 The revolutionary electronic paper technology offers dual-screen functionality.
They wanted to create an interesting, far from boring device, that differs from the pack. One example of how they did this is by making their notifications more lively. For example, as it is shown in the film, if you get send the words ''I Love you'', a heart will be displayed with the message on the device's secondary screen.
What's more, the controls are revolutionary. The main touchscreen side can be controlled with swypes over the extended capacitive areas. As for the back, you have a touch strip for EPD control. An example of how this works is also shown in the video.
You'll be able to stay on top of who's spamming any of your social networks with this device too. Information in regards to this are displayed across the back of your screen, no unlocking involved! It's anticipated that the new device will be release in the second half of this year, but where and exactly when is yet to be determined.
Main Technical Information:
Platform:Qualcomm Snapdragon MSM 8960
Dual Core 1.5 Ghz KraitOS
Operating System: Android, 4.2 Jelly Bean release
Dimensions: 67×131(7.3/9.9) mm
Weight: 140 grams
EPD Eink, 4.3"LCDJDI, 4.3" 1280×720 (HD)
Connectivity: LTE (bands 3, 7, 20 MIMO), 2G, 3G, 4G, Wi-Fi (Direct), BT, NFC
Memory: 32 or 64 GB Flash, 2 GB RAM
Keys: Power and Volume Keys
Connectors: Audio 3.5mmSIM slot
SIM slot: combined with Power key button
Battery: 2100 mAh
Camera: 12 MP main camera, HD front camera
Take a look and let us know what you think!
What did you think of the YotaPhone? All I can say is, will the force be with it ​??
(Images: AndroidPIT and YotaPhone)