You Can Now Record Video Voicemails Using Skype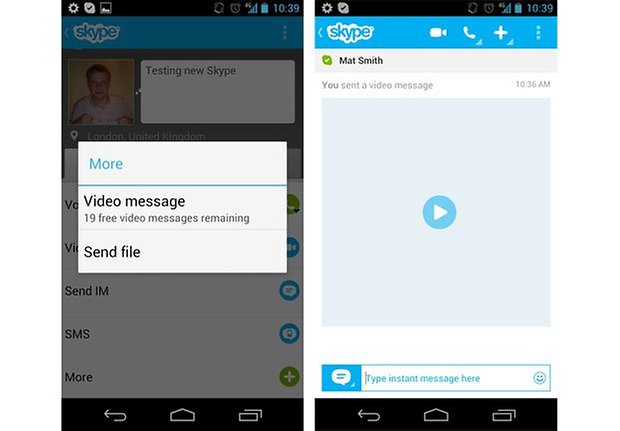 If the popularity of Vine and Facebook's new video recording feature are any indication, fast, reliable video messaging is the next frontier in global communication. Now Microsoft's Skype is stepping into the global video messaging arena because, well, why would't they?
Skype for Android was updated today with a new video voicemail feature. Users can now record and send up to three minutes of video to anyone in the world at the click of a record button. Anyone with iOS, OS X and Android can record the message (assuming their OS is up-to-date), and anyone on any platform can receive the message. The service only seems to work via your front-facing camera. Audio and video quality were decent if not spectacular.
The option to record a video message appears every time you try to call someone and they fail to answer. Or you can also send a video message straight from your contacts list.
The feature is only available to those who've signed up for premium accounts, i.e. accounts where you pay a flat rate for unlimited calls to landlines. These accounts start at around $5 a month. For now, though, Skype allows you to send 20 for free as a limited-time trial offer.
Skype faces competition not just from Facebook and Vine but also WhatsApp and Send It. It probably won't be long before Google also adds a video voicemail feature to Talk. But Skype benefits from having a massive number of subscribers. Video voicemail is a simple and valuable service that will certainly help people connect in a more human way, even when a call goes unanswered.
Download the updated app here.