Zebra Paint Coloring App - easy for kids!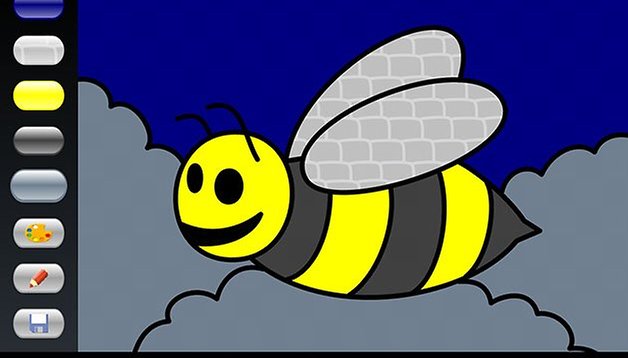 Smartphones and tablets are magical to children. For those times when you are playing with your kids, there exist a lot of child-friendly apps. From experience, kids just love to paint on tablets. The Zebra Paint Coloring App is basically very similar to painting by numbers. We tested it out for you today!
Good
✓

easy to use

✓

quick to learn

✓

child-friendly
Bad
✕

not enough images after a while of using this app
| | | | | | |
| --- | --- | --- | --- | --- | --- |
| Reviewed on | Android version | Root | Modifications | Reviewed version | Latest version |
| Samsung Galaxy Tab 10.1 | 4.2.2 | Yes | CyanogenMod | 1.7 | 1.7 |
Features & Use
When I'm out, there are three devices that I always have: my phone, my tablet and my Playstation Vita. Games are installed on all three devices and unfortunately, not all are suitable for children. Either the games are much too brutal or require a lot of practice (like R-Type). Children get really happy when they paint on a tablet, at least from my experience so far. Icon apps are a dime a dozen, but what I was looking for was a kind painting by numbers and finally I came across the Zebra Paint Coloring App.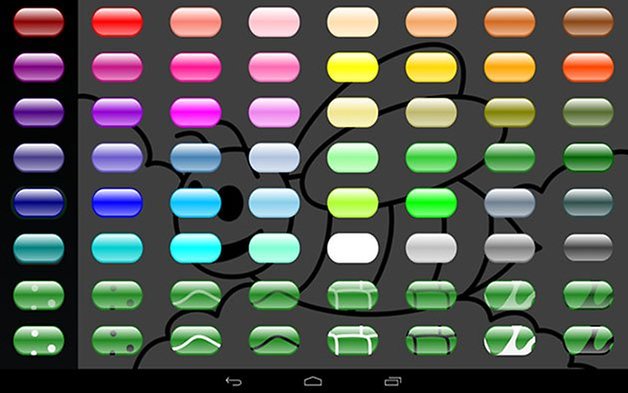 The functionality of the app is very simple: there are ready-made blank images. You basically ''fill" them in. You choose a suitable color, tap on the blank space and it is fills automatically. Certainly not the pinnacle of creativity, but works great for kids. With my young co-testers, I added a lower age limit of about 4-5 years, although of course this is optional. The app is very simple and after a briefly explaining it to the younger test assistants, they were ready to get to work all by themselves.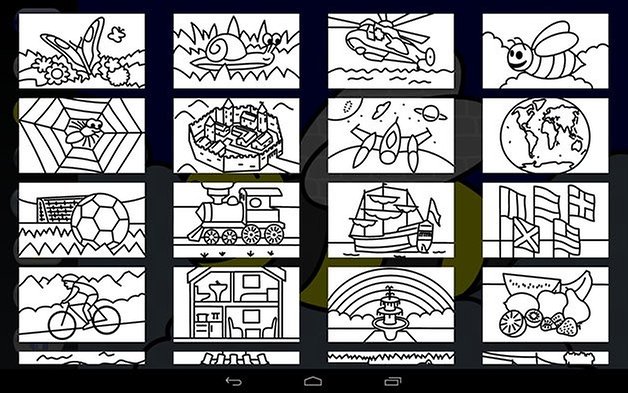 In the left sidebar, you'll see the five most recently used colors. Below you can access the color palette icon which provides different colors and patterns. There is a pencil icon for new templates, while the disk icon saves the "masterpiece" in the gallery of the device. The functionality of the app is intentionally not overloaded so that children can actually operate it smoothly without help. Only the colors in the color palette are not always self-explanatory at first glance.

Screen & Controls
The layout of the app is described above in the last category. In terms of controls, the icons in the Zebra Paint Coloring App are kept nice and big on the Galaxy Tab 10.1, and thus very suitable for children's fingers, making easier for them to choose. The controls are very simple and even small children can quickly cope with the app.
Speed & Stability
The Zebra Paint Coloring App app ran very smoothly on the Galaxy Tab 10.1. Scrolling through the picture templates works smoothly and the loading times only lasted a few seconds. I also didn't run into any stability problems.
Price/Performance Ratio
The Zebra Paint Coloring App has 40 images available for free in the Google Play and contains no ads or in-app purchases that could accidentally be activated by children. With the Zebra Paint Pro Painters app, there's 100 frames for just over a dollar. Though this is a fair price, the free, ad-free version is also great!
Final verdict
Children are able to play the Zebra Paint Coloring App for a few solid hours, but the creativity aspect is a bit too restricted. The simple filling of the image areas is quickly learned and mastered and entertains children who will have a great time. The simple controls make the app 100% suited for children. Parents will small children should definitely think about getting this app, which would spark some creativity.