 Zenonia is Back and Better Than Ever in Wheel of Destiny
Zenonia. I need only mention the name, and virtually everyone knows what it is that I speak of. If you are not familiar with the Zenonia ways, then you do not deserve to be here! Alas, I shall let you stay for the sake of humanity.
That sounded a tad dramatic, let's try that again.
I reported earlier that Zenonia 5 Wheel of Destiny was coming soon, with loads of RPG grindyness. Long story short, it's actually available in the Google Play store now. Hold your applause until later, because I've got all the juicy details and at the very least, an in-depth preview of the latest Zenonia title.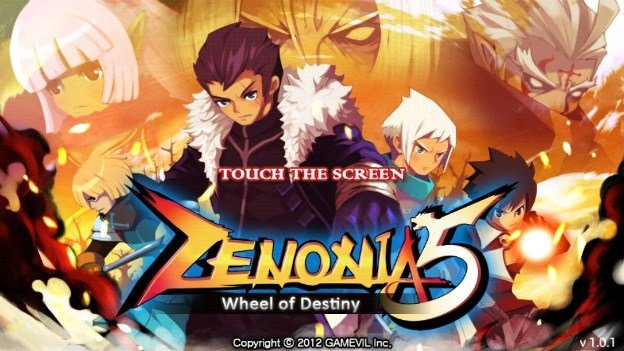 Not only is it good, it's astoundingly good.
This is the fifth installment in Gamevil's famous mobile RPG series. This time around, the story is a little less complicated.
Wheel of Destiny takes place during a time when corruption and greed inhabits the region. The wealthy take advantage of the poor and disturbing darkness looms. The hero, which is you, must restore order to the world and protect the less fortunate from the oncoming evil.
I have yet to conquer the entire game, but so far I've only seen Regret mentioned once or twice. The story itself takes place many years after the events in Zenonia 4, which Gamevil calls "the distant future". So essentially, Wheel of Destiny comprises a brand new standalone story. The hero from all the foregoing Zenonia titles is long gone it seems.
As in previous Zenonia games, there are four playable classes: the Berserker, Mechanic, Wizard and Paladin. Each class has a different variety of skills and extraordinary powers. My personal favorite is the mechanic, because of his ranged attacks. Sure, the mechanic class doesn't do as much damage as a melee class like the Berserker or Paladin, but the increased attack range allows me plenty of time to escape from a fight when I'm in trouble. Considering the Zenonia series has always been fast paced, that's a significant advantage to have. Plus, I tend to die a lot, and I never have any of those damn Origin of Life items.
Just to fill you in (in the event you've never played any of the previous titles), the Zenonia series was converted to a free to play model after the third game. You don't need to spend real money to play the game, but there are game mechanics in place that will attempt to seduce you into spending cash. For example, when you die you can revive on the spot without using any special items, but you're also forced to undergo an experience, gold and item strength reduction, or you can respawn instantly using an Origin of Life with no adverse effects. Problem is, you only start out with two Origin of Life in your inventory and it's incredibly hard to get more without buying them outright with real money. You can save up in game coins, but it takes a while.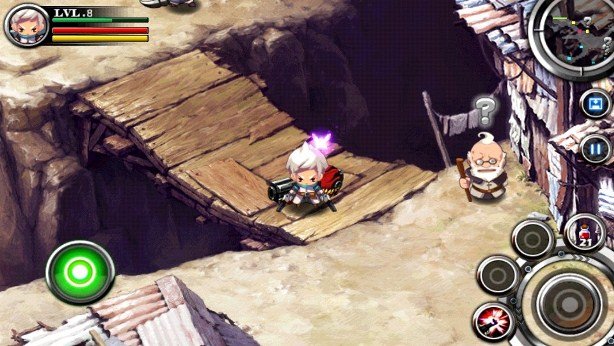 The graphics have received a tremendous overhaul. Mind you, this is still a 2D, sprite-based RPG, yet the art form in Zenonia 5 is breathtaking. Some of the enemy sprites are questionable; the beginning of the game has you fending off miner zombies (yes they carry a pickaxe), and these sprites look a little goofy. That being said, the Zenonia series has always had a positive cartoony feel to it, and that obviously hasn't changed in the latest installment.
This is going to sound strange but, there is one thing in particular that I totally love about Zenonia 5. It's the loading screen. I cannot explain it, but just the minimalistic feel to it and the way the Zenonia icon glows against the solid black background. It just makes my juices flow.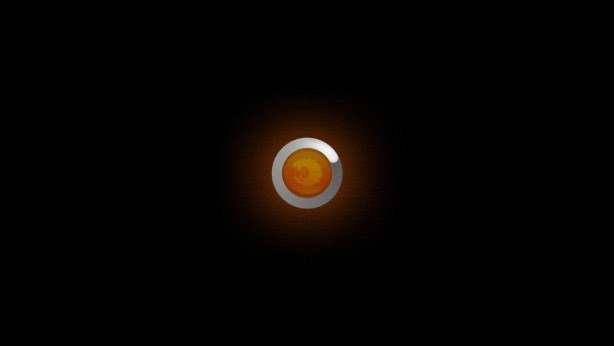 Of course, the in-game menus are excellent too. I actually enjoy equipping items, leveling up skills and reading about quests in Zenonia 5. The menu system was somewhat contentious in previous iterations. In the other Zenonia games, the menu buttons were much smaller in size, and for someone like me who has chubby fingers, it can get a bit aggravating trying to poke the right spot. Tapping on a button properly is more of a crapshoot in the older titles, but in Zenonia 5 the menus are spot on.
The class talent trees are comprehensive and border on excessive, so there's plenty to customize. There are active skills (the ones you add to your hotkey slots and use in combat), and then there are passive skills which always remain active once purchased.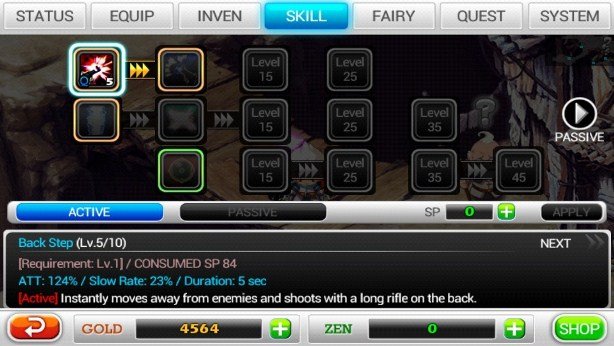 As always, you gain skill points and attribute points by leveling up, and you level up by killing baddies and completing quests to acquire experience. It's tons of fun, and I find myself again addicted to another Zenonia title.
Zenonia 5 Multiplayer
There are three different multiplayer modes in Zenonia 5; Player vs Player, the Abyss, and Raid.
The Abyss isn't actually a traditional multiplayer mode; instead it's more of a single player dungeon with online leaderboards. You can enter the Abyss once daily for an opportunity to win rare items and equipment. You fend off swarms of enemies in an endless competition to see how long you can survive.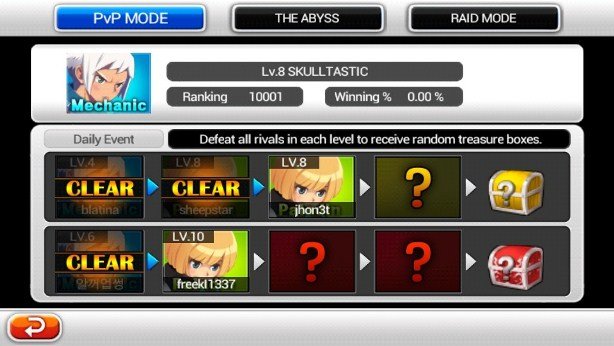 Player vs Player is a little different than Zenonia 4, but the core mechanics are the same. You are presented with horizontal PVP ladders personalized to your character (players you fight are usually around the same level). You engage in one-on-one battles against other players. If you win, the next opponent is revealed, and you advance one notch on the ladder. Complete the entire list of opponents and you'll unlock a chest with a chance to win a rare item. If you don't win, then you're free to keep trying, but you'll never be able to unlock the chest unless you defeat all of your opponents. You also have the option to enter into a quick match mode which pairs you with a random opponent in one-on-one battles.
Raid is not yet implemented, but a report message pops up (pictured below) to let you know that soon you'll be able to partake in co-op battles online in order to earn killer booty (not hiney booty, loot booty). I'm excited for the Raid system to be enabled, but I'll need to find a suitable group of friends to play the game with (hint, hint).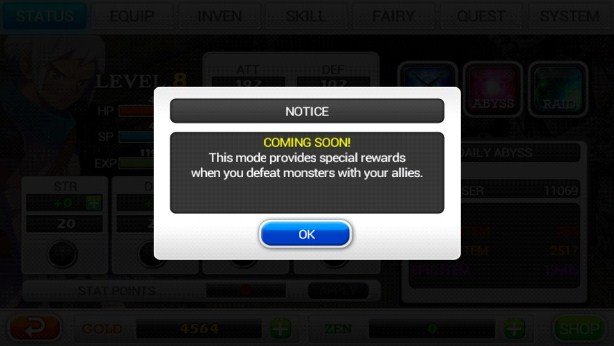 I've played a round in the Abyss every day so far, but I always get my ass kicked. I have yet to win any unique items, but honestly that's where all the fun in RPG games comes from; strengthening your character in epic proportions.
As for PVP, I've won quite a few rounds already, but the last opponents in the ladder always seem to be a few levels higher than me, which in turn leads to my downfall. Right now I'm working on leveling up my character so I can take out a few more folks in PVP.
Also, new to Zenonia 5 is the Gamevil Live service. It works like OpenFeint or Xbox Live (if you truly want to make that comparison), except it's not quite as intrusive. You are not required to sign in to the service in order to play the game. It just works as a bonus. Personally, I want services like this in online multiplayer games because it makes tracking and teaming up with friends a lot easier.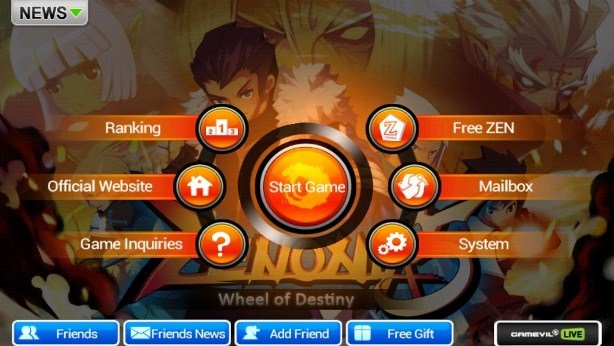 For a free game, Zenonia 5 undeniably delivers on all fronts. Gamevil has done it again with their latest installment, and they never cease to amaze me. I will be playing Zenonia 5 for a while, it's addictive, fun, and it's everything I need a mobile RPG to be.
If you'd like to try your hand at taking me on, or you'd just like to group up when the Raid system is finally available, my Gameloft Live account is SKULLTASTIC.
It's appropriate to note that when Zenonia 5 first started up it was asking for Superuser permissions on my device (only applies to rooted devices). I don't quite understand why a mobile game would need Superuser access, so I denied it. The game crashed, but then I restarted, and it was fine. If you run into this issue, just deny the game access and restart.