Zombies, Run! Creator: "I Wouldn't Be Much Help in a Real Apocalypse"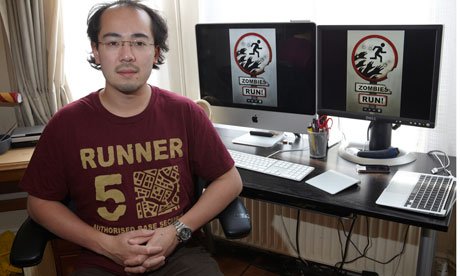 (Adrian Hon, photographed by "The Guardian")
First it was vampires, then werewolfs and now it seems as if the entire nation is consumed with an obsession for zombies. Not only is flesh-eating bacteria in the news, but recent cannibalistic attacks have put the entire nation on edge. Thankfully, the creators of "Zombies, Run" are here to help. The Zombies Run app for Android is an interactive audiobook that immerses your fitness-loving self in a world where zombies are out to eat you — perfect training for a real apocalypse.
Adrian Hon is the founder and chief creative of Six to Start, an online games company, and a co-creator of the Zombies, Run! app. I had a chance to talk to him about the app, his inspirations, and what he would do during an actual zombie apocalypse. Here's what he had to say:
What inspired you to create a fitness app featuring flesh-eating zombies?
I've been running for several years now, but when I was a kid I remember absolutely hating it - it definitely didn't come naturally to me, and I really only got into it with the help of gadgets like the Garmin Forerunner GPS watch. When the iPhone came out, I started using Runkeeper, but I was still baffled that no-one had actually made the *act* of running any more fun (and I don't mean gamification where you get a few points and badges after a workout). So that's where the whole 'running game' part of it came from.
As for the zombies, that was from our co-creator and lead writer, Naomi Alderman, who's more of a running novice. She'd joined a running club a while back, and one of the questions they asked people was 'why do you want to run?'. Some people said they wanted to get fit, others to lose weight, and one person said, to survive the zombie apocalypse...
What would you do in case of an actual zombie apocalypse?
I'm not sure I'd be of much use - I'm not a bad shot but they don't have that many guns lying around in the UK! So probably becoming a runner would be the best thing.
What's your favorite zombie film?
Shaun of the Dead - it has the perfect combination of black humour and action!
What's the most interesting response you've received from an app customer?
The responses have been fantastic so far, but probably the best one was from a dad, about his son. He was a bit worried his son wasn't getting enough exercise, so he told him to give Zombies, Run! a try. An hour later and he still hadn't returned home, so the dad puts on his trainers and goes out to find him - it turns out that his son is doing his second lap around the neighborhood because he wanted to find out what would happen in the next mission. We were absolutely delighted and humbled when we heard that!
Mr. Hon, thank you for this interview.
(You can download Zombies, Run! from the Google Play Store right here.)