[Rumor] Nexus Prime: Both Phone And Tablet!?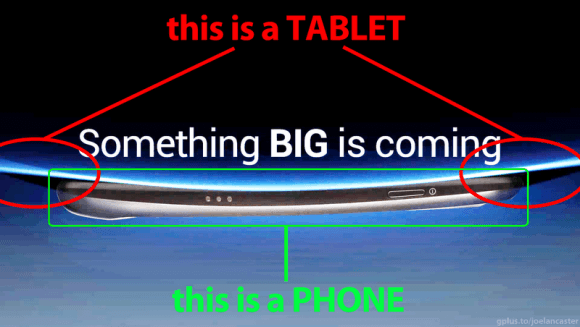 We'll keep this one short because there still isn't a lot of information out there. If you're an Android fan you should already be excited about the Samsung Unpacked event on October 11th. The Android community is expecting to get a first glance at Android 4.0 Ice Cream Sandwich and the latest incarnation of the Nexus series of smartphones, the Nexus Prime. But is that all Samsung is planing to roll out? Or are they planing something new, something no one is expecting?
If you believe the internet rumor mill (which has a bating averaged that wouldn't even qualify it for little league) Samsung has hidden clues in it's new teaser trailer that point to a combined tablet PC / Smartphone launch on the 11th. Film maker Joe Lancaster did a little filter trickery on the latest teaser trailer and managed to produce the image you see above. As you can plainly see it does look like something is either behind or extending out of the Nexus Prime. But what could it be? A phone and a tablet? A phone with an expandable display? Just a reflection or maybe a stylistic touch?
Right now no one knows. But it does seem like the video is hinting at something with a tag line like Some things just go better together. I'm not one to buy into internet hype, but it does seem like Samsung still has an ace up their sleeve.
Full Samsung Nexus Prime Teaser Trailer: