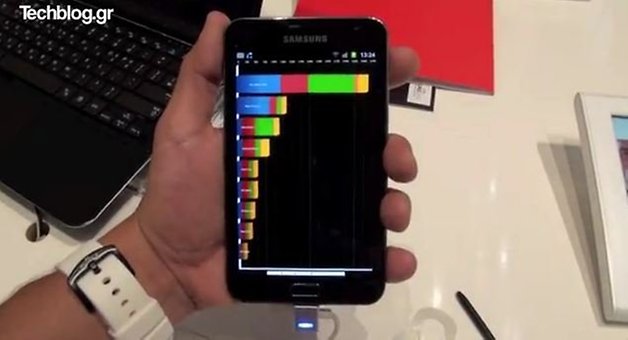 The Samsung Galaxy Note, which we first showed you before it was announced at this year's IFA has been a darling of many here at AndroidPIT and interest is spilling over onto all sides of the Android community. With IFA now wrapping up, the bench-markers have gotten their hands on one of Samsung's latest handsets and the results are impressive. (Full video after the jump)
Geek site TechBlog managed to slip Quadrant Standard onto one of the IFA 2011 demo units of the phone/Tablet cross-over and record a benchmark score of 3,624 (for a bit of context... Engaget clocked the Samsung Galaxy S II at 3,396) Not bad for the new multimedia tablet, but also what you would expect from a Samsung device sporting 1.4GHz dual-core processors.
Those raring to get their hands on Samsung's latest website may have to have wait for it though. The latest rumours point to a release late in Q1 next year. However when I spoke to one of the Korean development heads he assured me the Galaxy Note would be ready for a Q4 release this year. He's hoping Samsung can keep that promise.
Greek Benchmark Video: