Best Android health and fitness apps: 9 to keep you on track
Update: Two new apps added
Thanks to improvements in the sensors built into our smartphones, fitness apps have never been so popular. They allow us to log various statistics, from the distance of a morning jog to the time spent lifting weights in the evening. If you're in the market for an app to help you record and make sense of all this data, there are plenty to choose from. Here are the best apps for tracking your health and fitness on Android.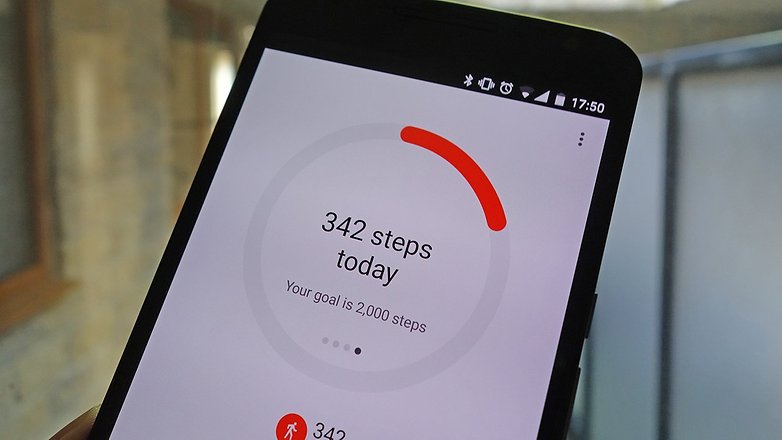 1. Best heart rate monitor: Instant Heart Rate
It's important to track your heart rate during the different stages of your fitness regimen. Whether this is before, during or after your workout, you should keep an eye on it. Instant Heart Rate gives you accurate heart rates when you need them so you can reach your fitness goals.
There are plenty of heart rate monitoring apps out there that track through a camera system but Instant Heart Rate has some features that sets it apart. When you're working out, you can see what your heart rate is and check if it's moving towards the goal you want it to. For instance, you should have a different heart rate for weight loss and cardio and the app measures that.
Instant Heart Rate's tracking system gives you a timeline of your heart rate so you can track whether you've been hitting your cardio or fat-burning goals. You can also track your resting heart rate to look at the unhealthy stress put on your heart under normal conditions.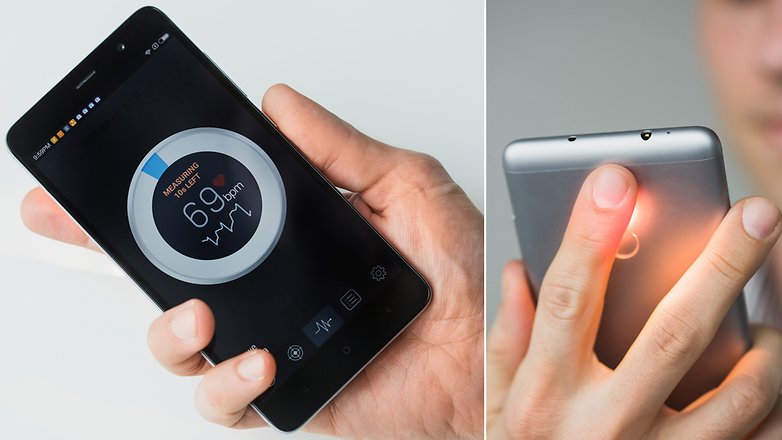 Instant Heart Rate

2. Best for measuring your body fat: BMI Calculator
If you ever wondered how you're doing with your goals of eliminating excess body fat, then you should try BMI Calculator. The app is really simple, which sets it apart from other body fat measuring apps. All you need to do is plug in your height and weight and it will give you a percentage estimate of your body fat.
Once the app has calculated your body fat it will give you a recommendation about your exercise regimen. It tells you the category your body fat is at. There are eight classes of body fat on the app and they range from 'Very Severely Underweight' to 'Obese Class III.' It will give you a target weight so you know what your target goal is.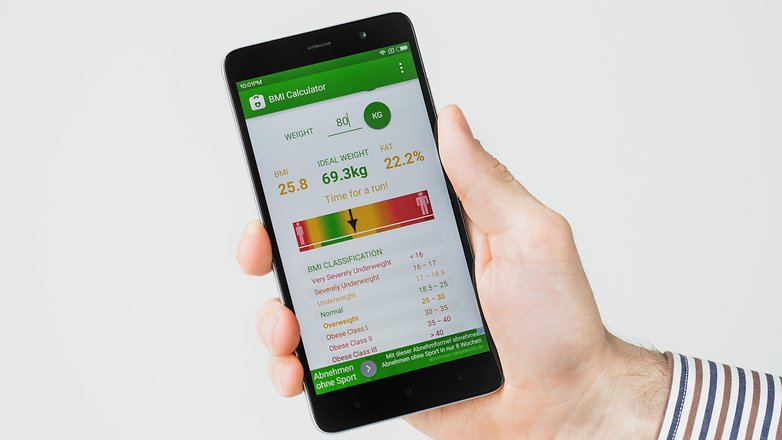 BMI Calculator

3. Best for busy people: 7 Minute Workout
This is a brilliant app for those who are just getting started with fitness, and might be intimidated by the scope of other apps or routines. The 7 Minute Workout app is exactly as it sounds – it shows you the steps to complete a 7-minute workout routine that can aid weight loss and strengthen muscles.
7 Minute Workout doesn't have many tracking or social features, its focus is on delivering a simple set of exercises and ensuring you know how to perform them. The major strength of this app is its ability to provide a non-threatening entry point to a more healthy lifestyle.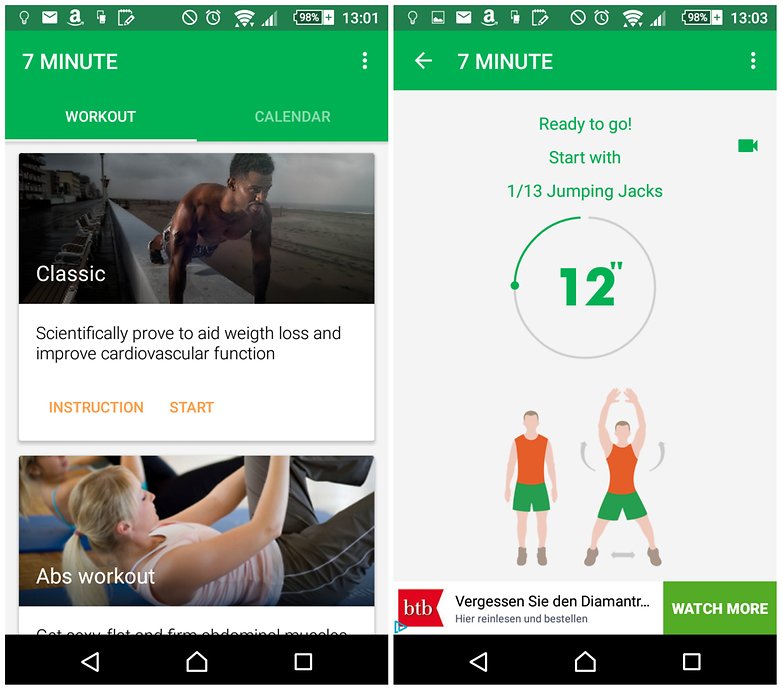 7 Minute Workout

4. Best for simplicity: Google Fit
Google's own health and fitness app is pretty sparse in the features department, but it is tightly integrated with Android and Android Wear, so it's a convenient option at least. A web interface is also available at https://fit.google.com.
Weight, heart rate, steps and activity time can all be logged automatically, and if you have the time to tell Google exactly what you're up to, you can choose from a long list of activities, from snowboarding to horse riding. You can set simple daily goals as well and get an alert when you've reached them.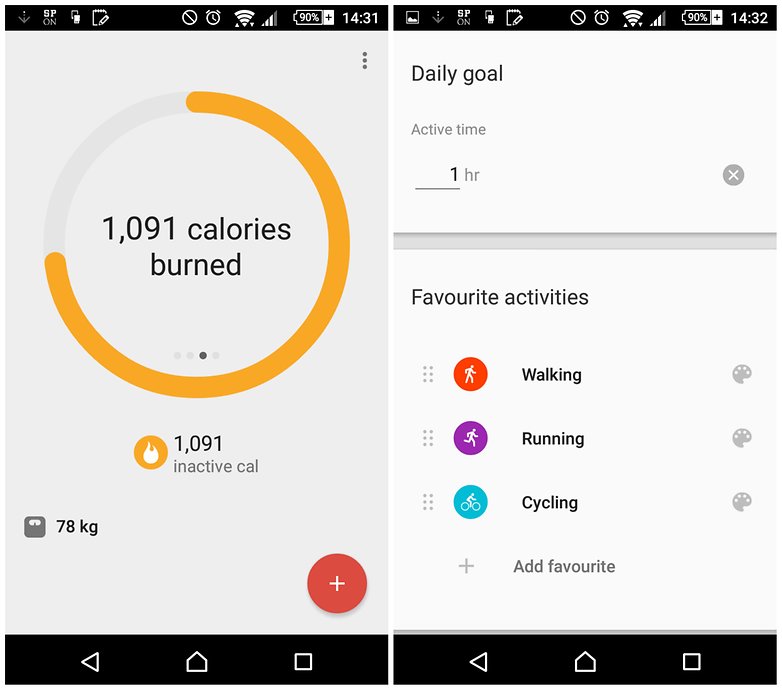 Google Fit - Fitness Tracking

5. Best all-rounder: RunKeeper
RunKeeper has a good reputation, not just for the number of features in its own app but also the number of third-party services it plugs into (it works with both Google Fit and Apple Health). If you're a keen runner, there aren't many better options than this one.
You can plot your runs on a map, monitor distance covered and calories burned, set personal goals, integrate your indoor activities and more. Despite the app's name it can handle bike rides and gym workouts as well as running, so it's a comprehensive monitoring app.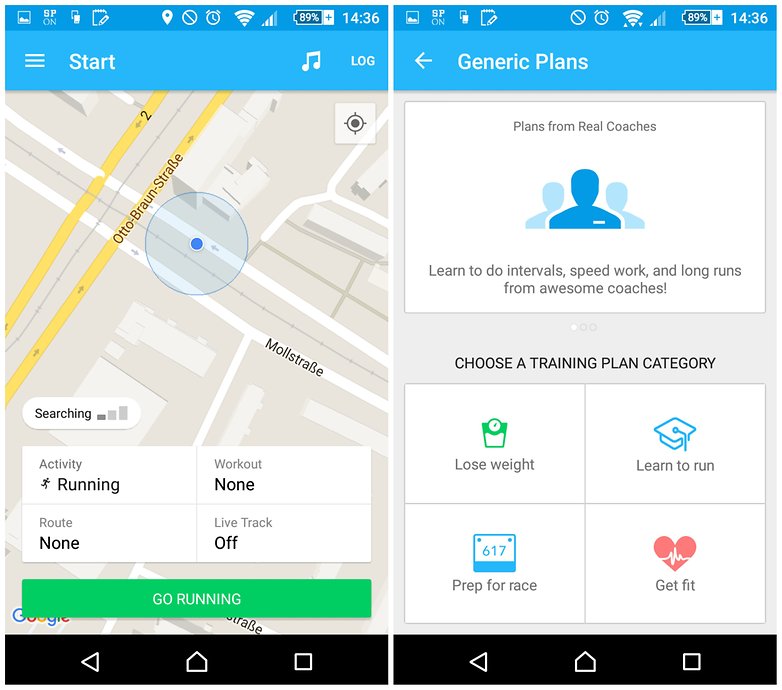 Runkeeper - GPS Track Run Walk

6. Best for cyclists: Strava
Another well-known app with a strong reputation, Strava comes with a host of handy features, both in the core of the app and via separate add-ons. By tracking your running and bike riding via GPS, Strava can help you beat your own personal bests and challenge your friends as well.
Strava lets you track distance, pace, speed, elevation and other statistics as you go, and thanks to the data that's been collected from all of Strava's users, you can check out some of the routes that are popular with other people – even if you're a long way from home.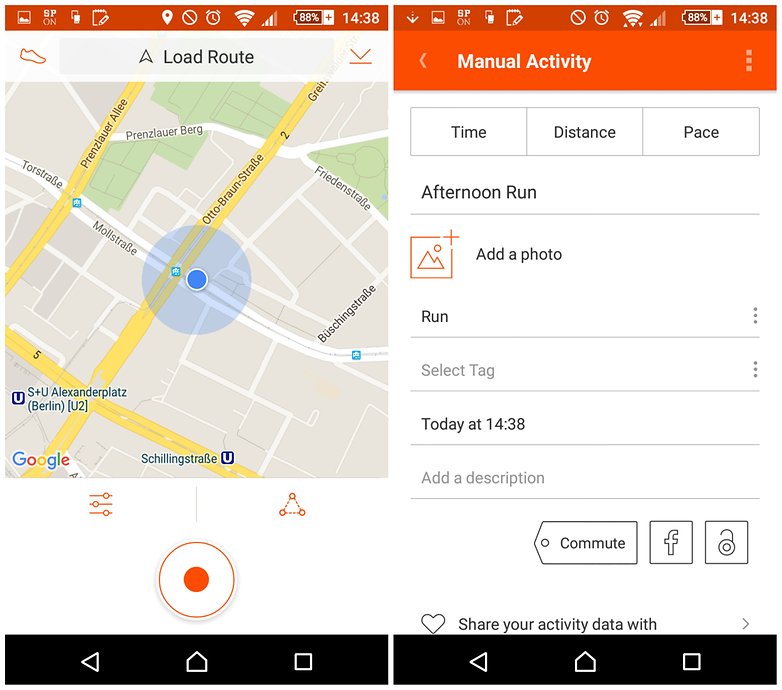 Strava Running and Cycling GPS

7. Best for runners: Runtastic
If comprehensive running and cycling statistics are what you're after then Runtastic has you covered: once you get back home you can see where you've been on a map, as well as analyze statistics for distance, elevation, speed heart rate and more. You can even view your activities in 3D.
Other features include a personalized workout diary and an automated voice coach to encourage you around your route. Treadmill, spinning and weightlifting activities can all be added manually to give you a more comprehensive picture of your overall fitness.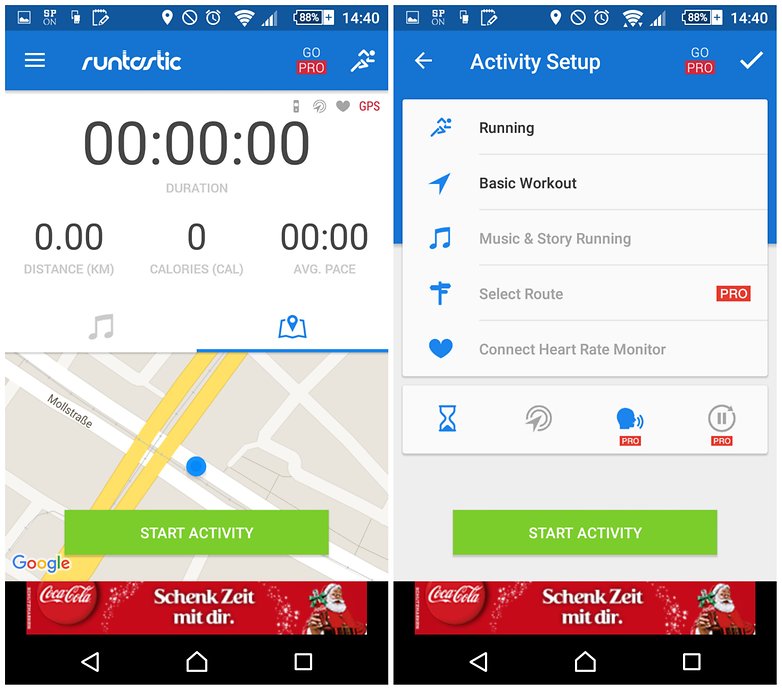 Runtastic Running & Fitness

8. Best for multiple activities: Map My Fitness Workout Trainer
Map My Fitness develops a whole host of different apps devoted to different types of activities, but this is the one to go for if you want to get an overall picture of your health. My Map Fitness Workout Trainer lets you pull data from your running, cycling, walking and other types of workout.
One area where the app excels is pulling together all of your statistics across a particular day, week, month or year for you to analyze. With more than 600 types of workout activity to choose from, you can keep a close eye on your progress and monitor how it changes over time.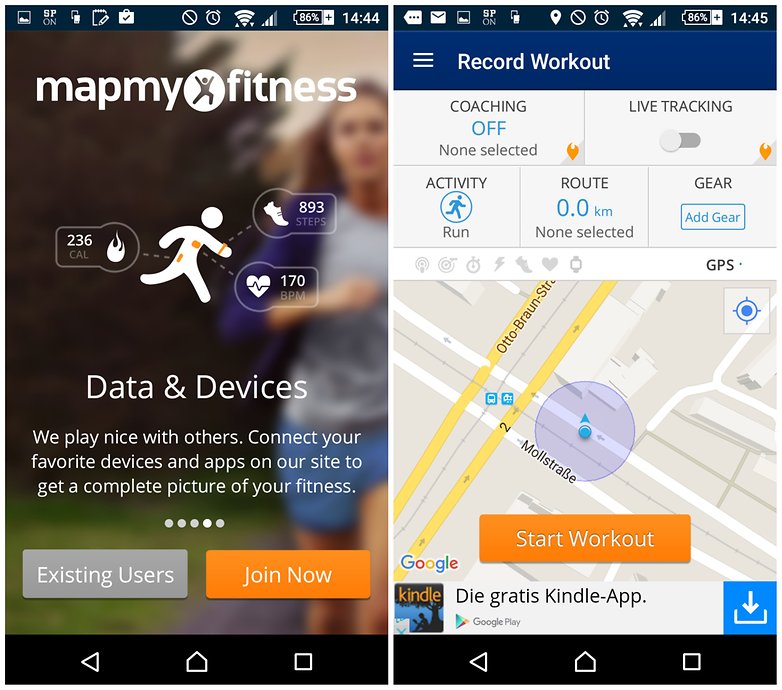 Map My Fitness Workout Trainer

9. Best interface: Endomondo Running Cycling Walk
Endomondo Running Cycling Walk is one of the best looking fitness apps out there. Like a lot of the other apps here, it enables you to pull together data from a wide range of activities, and you can set customized goals, routes and intervals based on your own program. There's also a prominent social element for sharing achievements with friends.
With separate sections covering training plans, challenges and commitments, there are many different ways to set targets and work towards them, and if you're stuck for inspiration you can download plans created by others. With everything from calendars to maps, it's a feature-packed app.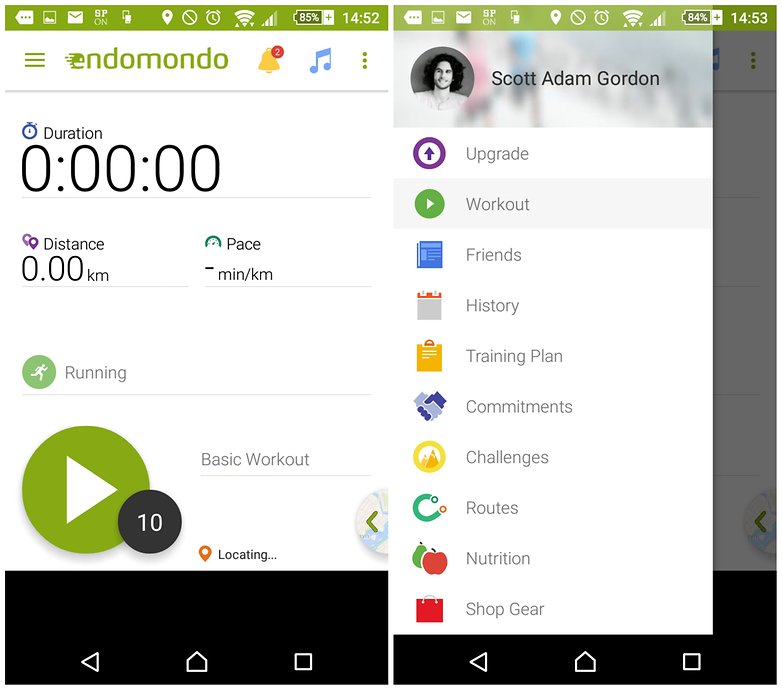 Endomondo - Running & Walking

What's your favorite fitness app? How often do you use it? Let us know in the comments.