The visionary Google Glass is a controversial point; AndroidPITers took a trip to the Google Headquarters in Hamburg to try one of the four pairs that are available in Germany at the moment. The team also had the chance to carry on an exclusive conversation with the Press Spokesman for Google Germany. But as far as we are concerned, the glass is still half empty.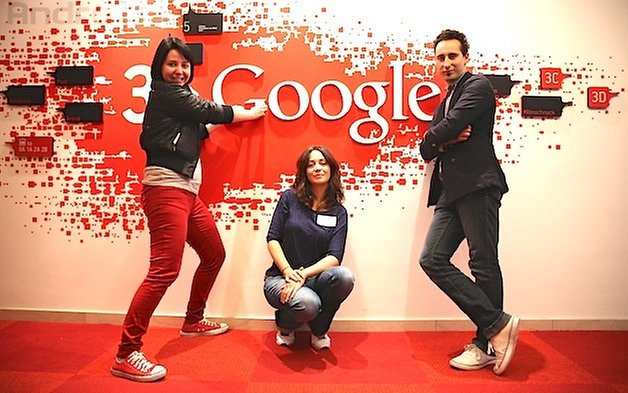 For many people, Glass is still a mirage in the distance confounded by rumors and even a certain level of fear, bringing about that age-old topic of private sphere infringement. And the skepticism just seems to be growing, especially in light of the more recent NSA data collecting scandal.
In the meantime, not that many people have actually come into contact with the revolutionary device. So without any real huge expectation, the AndroidPIT team at the Google Headquarters tried to get a better grasp of what Google Glass is, what purpose it really serves and how adaptable they are for everyday situations. Originally, many AndroidPITers speculated that Glass and its subsequent generations will have a huge success and, after the trip, we are certain of it. First, join us at Google Headquarters and experience our first hand experience of the device, and afterward check the bottom of the article for the complete Glass gallery.
My first impressions
During the conversation with the Googlers, which included the friendly press rep Stefan Keuchel, we were able to 'get to know' Glass a bit better. The device is light and surprisingly non-obstructive, though when female counterparts of our team tried them on they had a slight problem controlling the side touchpad due to their long hair. Despite the fact that the miniature display is placed directly in front of your face, it didn't at all seem to be ''in the way'' since it is found actually above the eye rather than right in front of it. This should allow you to go about your day without it hindering your vision, or avoid looking awkwardly when coming in contact with other people. That being said, Glass wouldn't actually be able to outlive a whole day (due to its small battery), but is to be employed for specific moments.
Using Glass
Operating Glass took some getting used to, but it was indeed quite simple and intuitive. Glass' right temple works as a touch sensor and is controlled with gestures: tapping activates Glass, swiping forward and back navigates between screens - working similarly in this way to smartphones - while a swipe down will bring you back to the home screen. Voice commands, as with Google Now, do the rest, as well as serving to initiate the search command and control applications.
The burning questions we asked
There wasn't much time, so many questions remained unanswered. Google remained mute to some of the inquiries that we posed, whether it be:
The official start date: some speculate 2014
The price: ''We are not Apple'' was their response, so you can speculate that the 1,500 USD for The Explorer Edition wouldn't apply to Glass distributed to the general public.
The camera functions controlled by winking: ''we can't talk about that'' which is an answer that anyone could interpret.
On the other hand, Stefan Keuchel was able to answer a few questions and confirmed that the face recognition feature, which has been causing a headache for many potential users and people from the public, won't be included. There are still so many open and unanswered questions to the topic of privacy and identity protection. As long as these haven't been resolved, Google won't be distributing this technology for mass use. But to be honest, it would be quite difficult to operate Glass secretly in social interactions, since it's totally obvious when someone is looking at the screen. And the voice commands like ''OK Glass, take a picture/record a video'' would pretty quickly give you away.
Bottom Line
Waiting for Google Glass to officially be released has me sitting on the edge of my seat: the device undoubtedly has a lot of potential but many things really depend on whether Google can figure out a way to improve the battery life which was quite tawdry in the first generation. And it's also up in the air how much they will eventually cost. Those who are interested in the gadgets of the new era of mobile technology will certainly be buying Glass, as long as it comes with a reasonable price between 200 and at the most 500 USD. We just have to wait and see how the rest of the casual users will react to Glass. This at least is clear: Glass is one of the most thrilling developments since the introduction of the touchscreen and it will definitely change the world once it hits the market.