Xiaomi Redmi 3 review: quality at a great price
Xiaomi has solid mid-range smartphones, including the Redmi Note 3, which boasts excellent specifications and impressive performance for its price. Can its counterpart, the Redmi 3 live up to the same standards? Let's find out in this in-depth Xiaomi Redmi 3 review.
Have you ever heard of OSIRIS?
Choose "Yes, I have!" or "Never heard of it.".
Oops! Seems like something went wrong. Reloading might help.

Oops! Seems like something went wrong. Reloading might help.
Good
✓

Build quality

✓

Design and finish

✓

Performance
Bad
✕

Only available in Chinese and English

✕

Not LTE 800 MHz
Xiaomi Redmi 3 release date and price
The Xiaomi Redmi 3 went on sale in China in January. The smartphone is available in three color configurations: all gold; white front with a gray back; and black front with a gray back. With the gold version, you get a choice between a smooth finish and a diamond pattern on the back, the other two options just come with the diamond pattern.
The Xiaomi Redmi 3 price is 699 CNY in China, which, at the time of writing, equates to around US$105. Of course, the price you actually pay will be higher, because you need to add on shipping and customs costs. Purchasing it directly from exporters in China will cost around US$160.
Xiaomi Redmi 3 design and build quality
The Redmi 3 is the smallest Xiaomi device, but that does not mean it's low-end. On the contrary, it looks every bit a premium phone, despite its mid-range specifications.
On the front, we see a 5-inch screen with curved edges. There are three capacitive buttons at the bottom and a motion sensor at the top, as well as speakers and a front camera. The edges around the screen are protected by a plastic edge.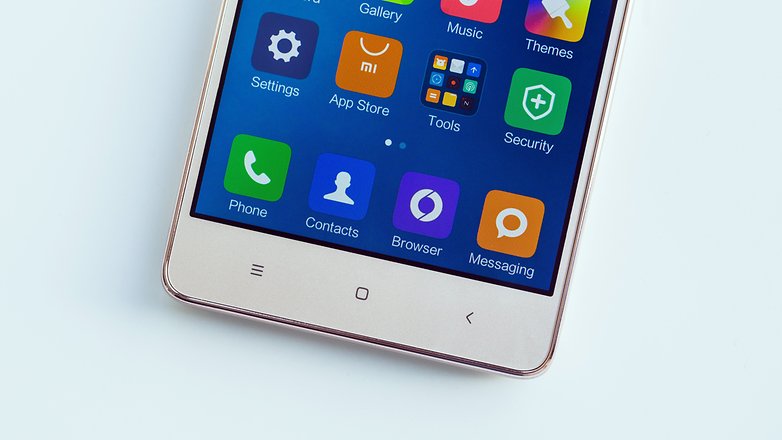 The phone's unibody design means the battery is not removable, unlike that of its predecessor, the Xiaomi Redmi 2. But the Redmi 3 does have an aluminum back, which gives adds a touch of glamor to the phone. In the upper and lower parts of the phone, the aluminum body flows into plastic.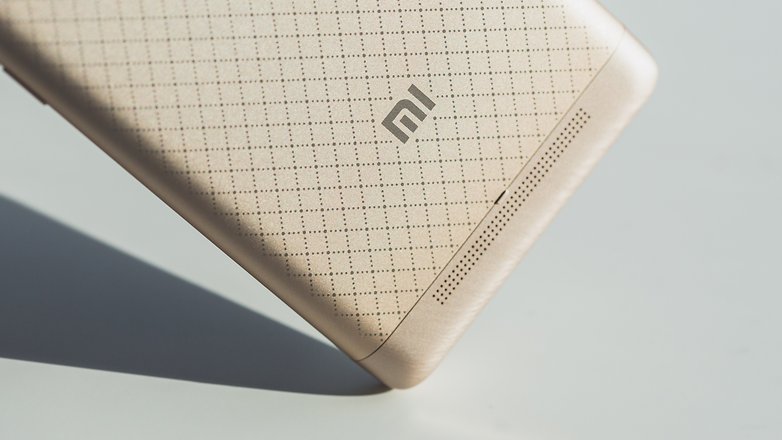 At the top of the phone you'll find a microphone, an infrared sensor and a mini-jack for headphones.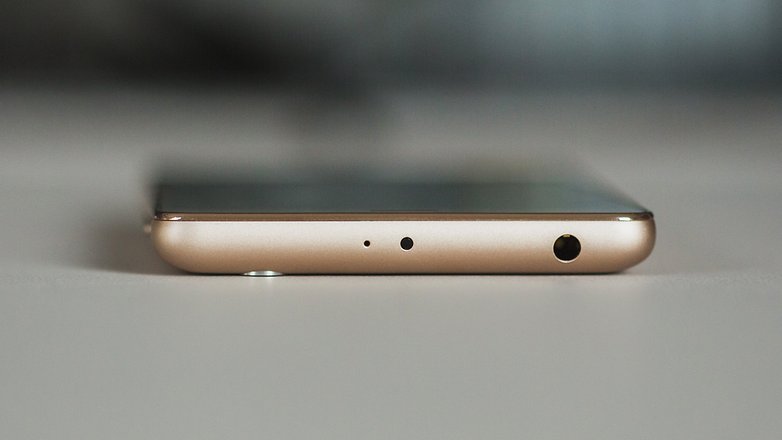 There are buttons on the right side. Both have a plastic finish and, thanks to the difference in size, it is very easy to tell them apart. On the left-hand side, there is a slot for the SIM and microSD cards.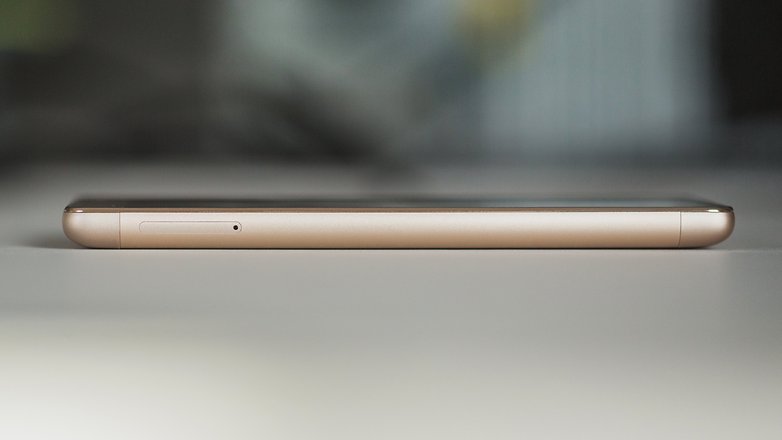 The finish is amazing for its price but our praise does not stop there. The Redmi 3's 144 g build is worthy of admiration and its 8.5 mm thickness is a big part of its allure.
Xiaomi Redmi 3 display
The Xiaomi Redmi 3 display is an IPS LCD panel with a 5-inch HD resolution. It is comparable to the Moto G (2015) screen, although the glass does not have any protection.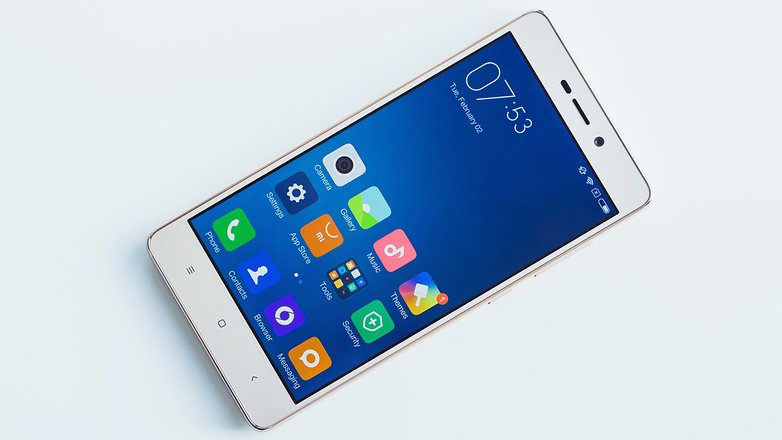 The viewing angles are not the best I've seen. It gets dark when viewed from certain directions but this effect is not too dramatic. The colors seemed to be pretty good for an LCD panel.
Xiaomi Redmi 3 special features
Like most Chinese devices, the Xiaomi Redmi 3 is offers dual SIM support. It has a hybrid slot, which means that one of the slots is compatible with both a microSD and nano SIM card, but only one at a time. The other slot supports a micro SIM. Therefore, you must choose between expanding the device's memory or running two SIMs.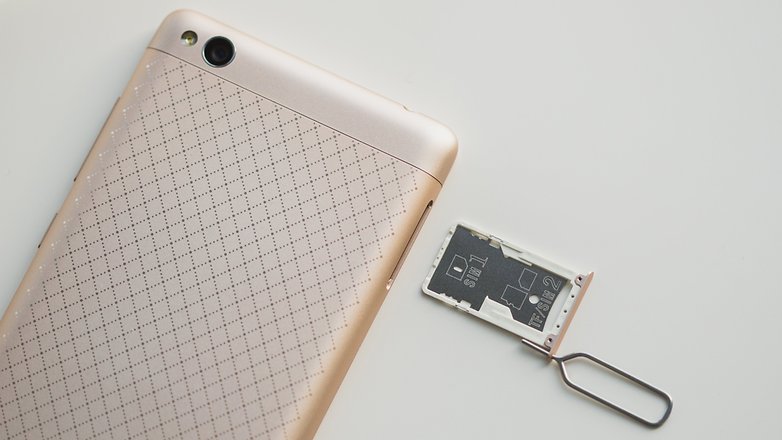 The Redmi 3 supports OTG technology, which enables the use of USB drives and external hard drives via a micro-USB to USB adapter cable.
The Redmi 3's infrared sensor can control television, air conditioning, DVD players and other appliances that are operated by remote control. This type of sensor is usually only found in high-end devices such as the LG G4 or the Galaxy S6.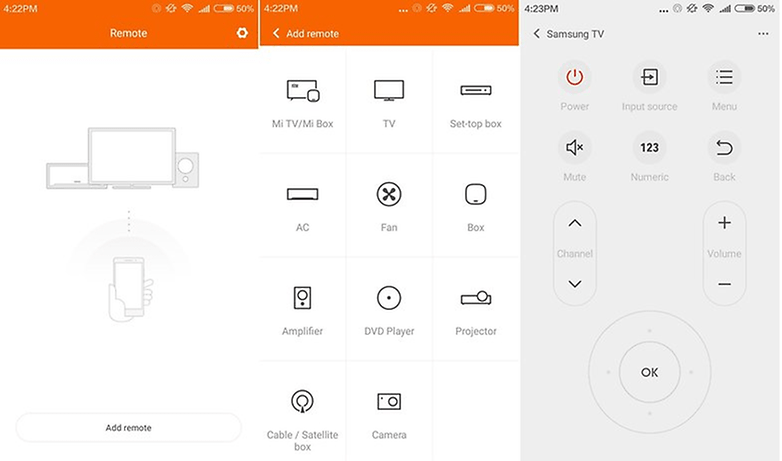 Xiaomi Redmi 3 software
The Redmi 3 has Android 5.1.1 Lollipop with Series 7 MIUI, a more advanced version than the Note 3. At the moment, there is only a Chinese and English ROM.
The Redmi Note 3 already has a multi-language MIUI 7.1 ROM, and we would expect the 3 to get one too, eventually, although nothing has been announced yet. MIUI 7.1 launched for a large number of Xiaomi devices in January, and it may just take a little longer for the Redmi 3 to be integrated into the family.
This device's bootloader is locked, so you cannot flash other operating systems. To update the phone, you need a computer and the Xiaomi Mi PC Suite.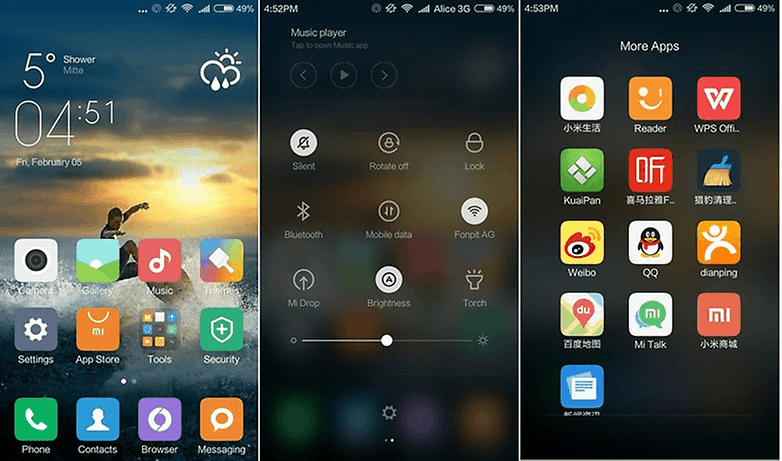 The Redmi 3 has several Chinese application services, such as Weibo, preinstalled which can be removed if you prefer not to have them. The only ones that cannot be uninstalled are the basic system applications like the camera, contacts, My App Store, etc.
Google services do not come preinstalled, but it still very easy to get them. You just need to look for 'Google' in the App Store and choose 'Xiaomi' and search the Baidu repository (the blue icon). The Google Play logo will appear and you just need to click Install, launch the application and grant all permissions requested. At the end of the process, you will have installed Google services and Google Play.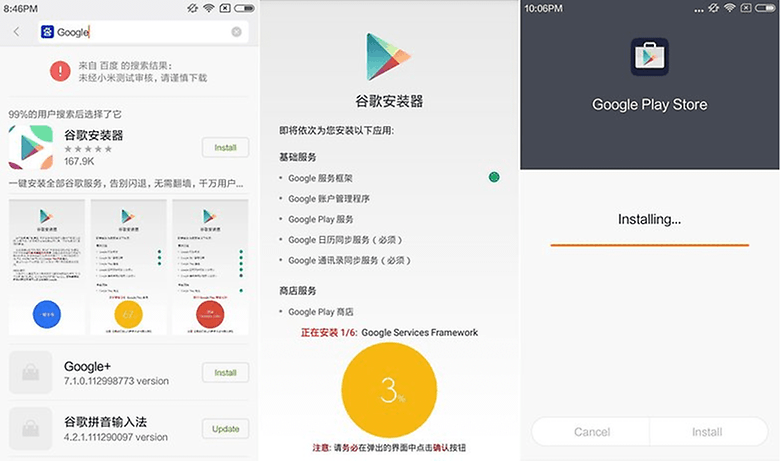 Xiaomi Redmi 3 performance
With a 64-bit Snapdragon 616, Adreno 405 GPU, 2 GB of RAM and 16 GB of internal memory, the Redmi 3 is similarly specced to the Moto G Turbo (which has a Snapdragon 615) and therefore offers a similar performance.
The Redmi 3 scores just over 55,000 in AnTuTu, which is a little less than the Moto G Turbo Edition, which scored almost 56,000.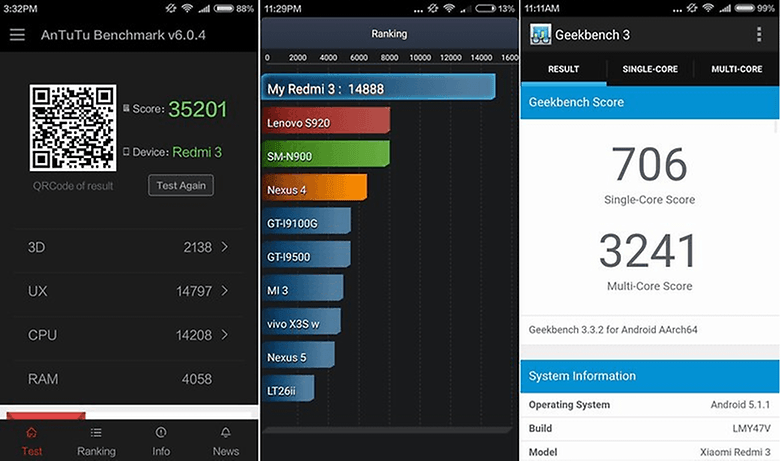 The Redmi 3 seems to have exceptional performance, especially when you consider its price. With this phone, everyday applications run smoothly and it soundly supports games, including Real Racing 3, Nova 3 or Traffic Rider. The animation of the games might seem a little slow at times but the phone offers a good level of sensitivity.
Xiaomi Redmi 3 audio
The rear speaker is quite powerful but sounds tinny and echoey. The front speaker has a much cleaner sound – in-call sound quality is excellent.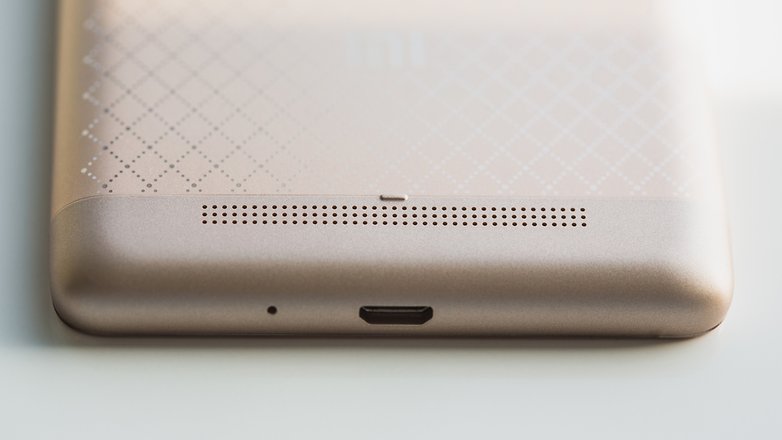 There are several interesting options for configuring the sound and tweaking the equalizer, as well as optimizing the headphone sound depending on the type you use.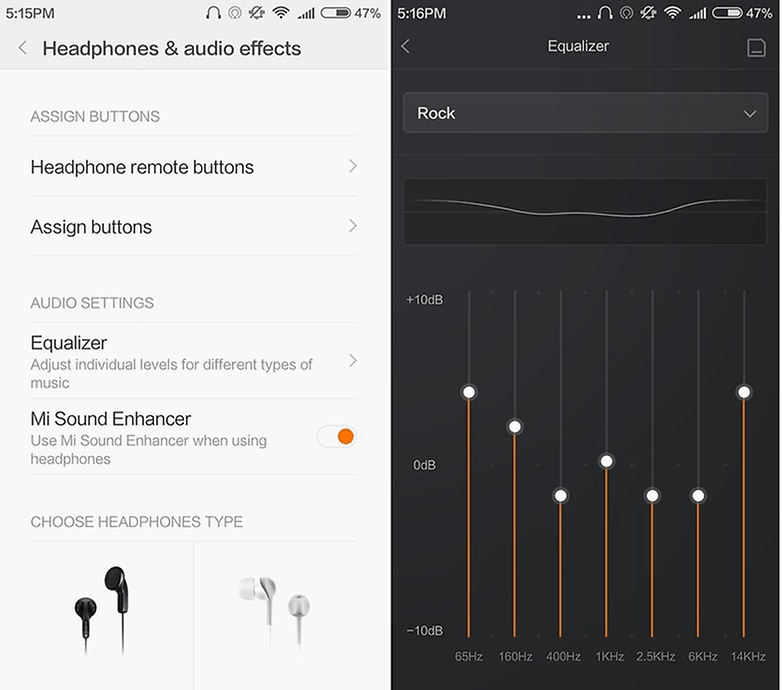 Xiaomi Redmi 3 camera
The Xiaomi Redmi 3 rear camera has a 13 MP sensor and a f/2.0 aperture and is accompanied by an LED flash. The first time I saw it, I was surprised at the size of the lens. The photo quality is quite good for the price of the phone and for its class.
In good light, it captures images very clearly. At night, like most smartphones, it falters, but does perform well indoors under artificial light.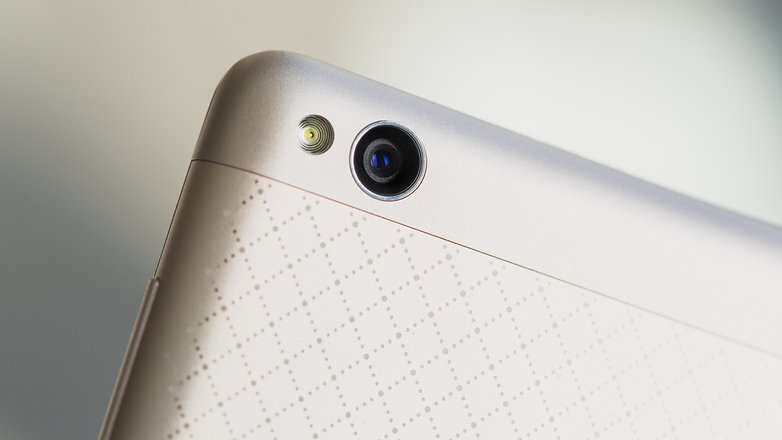 The front camera is a 5 MP shooter with a f/2.2 aperture. It's nothing fancy but the pictures are clear and you can expect good results. Below you can see some photos in taken in both HDR and automatic mode.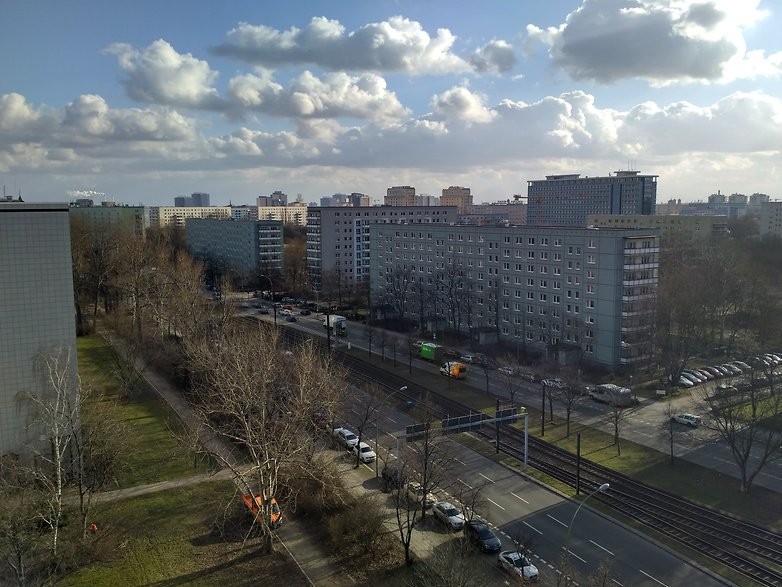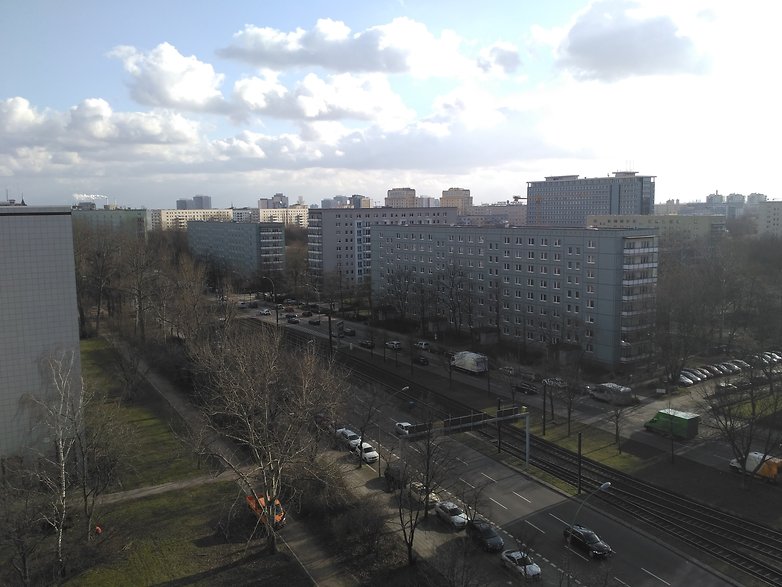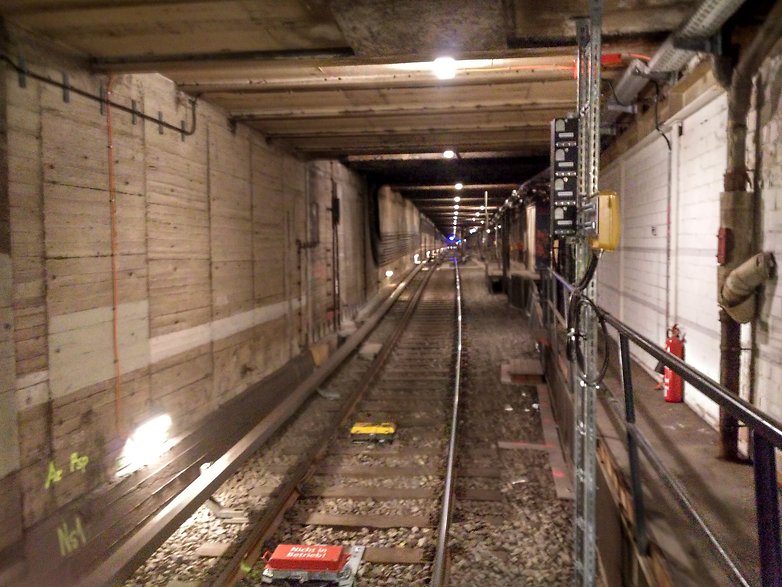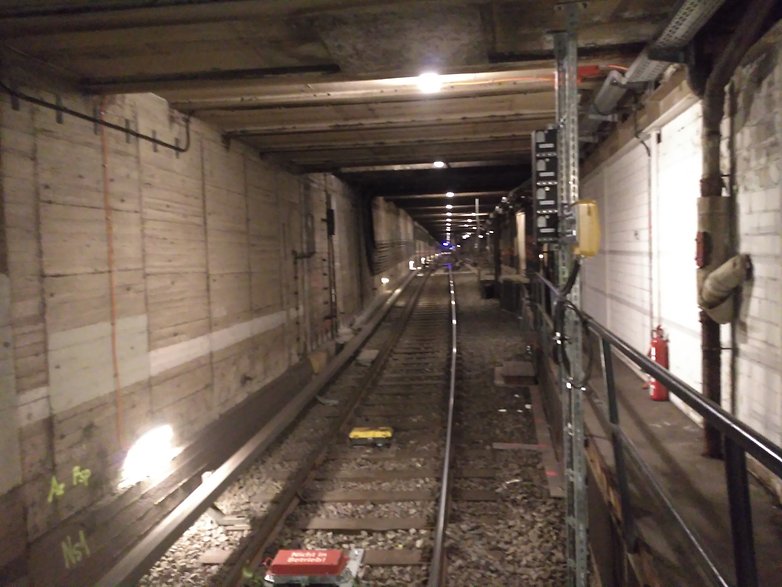 Xiaomi Redmi 3 battery
The most amazing part of the Redmi 3 is the battery. It has a 4,100 mAh capacity, which means it can last two to three days with moderate use. I put it under some fairly intensive use on the first day, playing games and doing benchmark tests, and I never had to charge it. In fact, it still had 13 percent battery life left at the end of the day.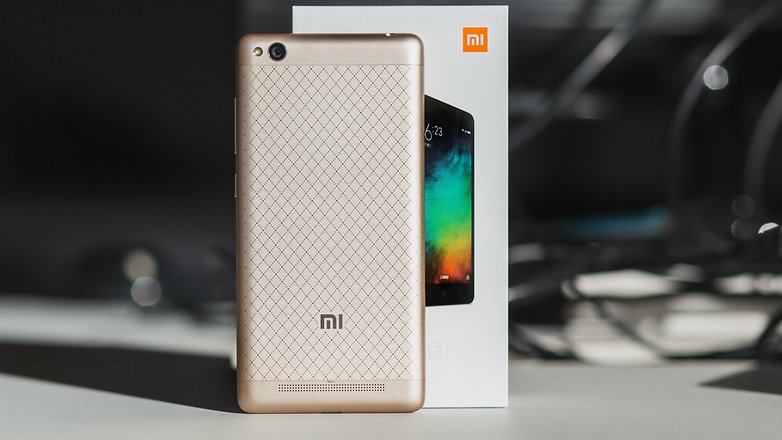 With a weight of 144 g, you would never guess that this phone has such a big battery. The Redmi 3 is definitely a role model for other manufacturers and for all ranges of smartphones.
To charge the battery over a good 4,000 mAh, a 2-amp charger is necessary but luckily it comes included with the phone. The total charging time is about two hours.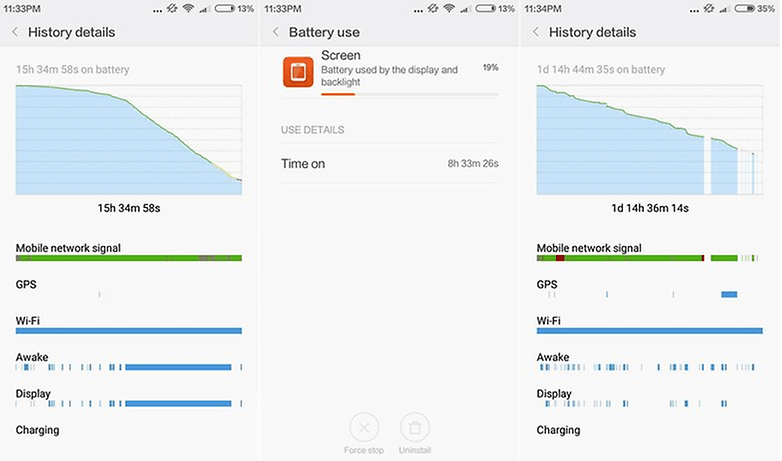 Xiaomi Redmi 3 technical specifications
| | |
| --- | --- |
| Dimensions: | 139.3 x 69.6 x 8.5 mm |
| Weight: | 143 g |
| Battery size: | 4100 mAh |
| Screen size: | 5 in |
| Display technology: | LCD |
| Screen: | 1280 x 720 pixels (294 ppi) |
| Front camera: | 5 megapixels |
| Rear camera: | 13 megapixels |
| Flashlight: | LED |
| Android version: | 5.1 - Lollipop |
| User interface: | MIUI |
| RAM: | 2 GB |
| Internal storage: | 16 GB |
| Removable storage: | microSD |
| Chipset: | Qualcomm Snapdragon 616 |
| Number of cores: | 8 |
| Max. clock speed: | 1.5 GHz |
| Connectivity: | HSPA, LTE, Bluetooth 4.1 |
Final verdict
The Xiaomi Redmi 3 outperforms most other devices in its price range and is a step up from the Redmi 2 in design, battery life and performance. In China, it is a far better option than the Moto G, but in the rest of the world, the import costs push the price a little too high. The lack of an international ROM is the another downside at present.