iPhone 8 Plus vs LG V30: A question of budget
Have you decided to replace your old smartphone with one of the new phablets released in 2017? Do you still have doubts? To help you choose, we have compared the iPhone 8 Plus with the LG V30. Here's how they differ.
Apple iPhone 8 Plus vs LG V30: 0-1 to LG
A smartphone's design can be aesthetically pleasing or not, it's a matter of taste. In the case of both the iPhone 8 Plus and the LG V30, the devices are well made, well assembled and offer detailed, fine finishes (although, with the V30, there are some noticeable imprecisions in the blending of the glass and metal). The material choice is the same, aluminum and glass, but the use of space on the front panel is different.
The iPhone 8 is bigger and heavier than the LG V30 and it doesn't use the front panel to its full potential.
This is where the difference lies: the V30 offers a 6-inch bezelless screen with a 151.7 x 7.3mm body and weight of 158 grams.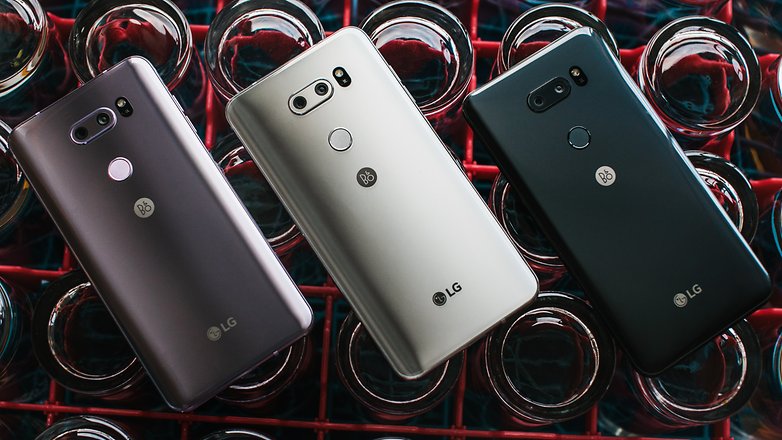 On its side, the iPhone 8 Plus measures 158.4 x 78.1 x 7.5mm, weighs 202 grams and has a diagonal measurement of 5.5 inches. The Cupertino rival is bigger, heavier and doesn't use the front panel to its full potential. Differences can also be felt when handling the smartphones: the V30 is much more manageable with one hand.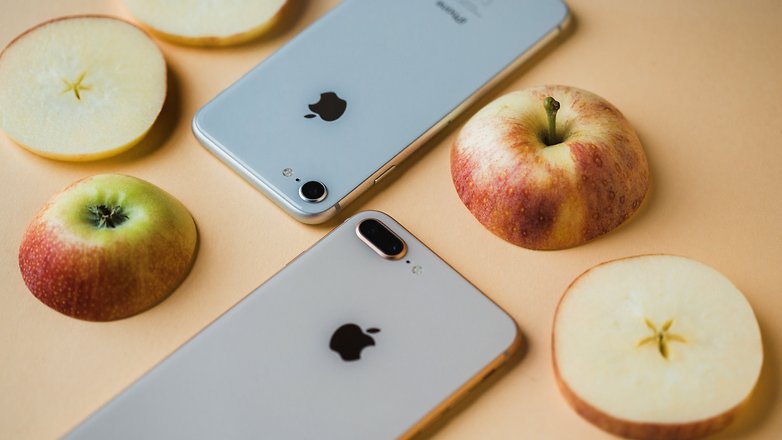 With regard to colors, Apple offers its phablet in silver, gold and grey, whereas the LG opts for black, silver, blue and purple. Purple is a more original color and, thanks to the lighting effects that are produced by the device's body, it is truly pleasing to the eye.
The LG V30's design is more attractive than that of the iPhone 8 Plus.
What do you think?
In terms of the display, the V30 emerges victorious. The IPS screen with a 1920 x 1080-pixel resolution and 401 ppi on the iPhone 8 Plus offers natural colors, is bright and pleasant to use. Without a doubt, it's the best IPS on the market, but its 16:9 format is a step backwards. The V30 has an AMOLED 2 :1 screen which also offers a higher resolution (2880 x 1440 pixels). The colors are well represented, except for white when the brightness isn't turned up. In the Settings menu on the V30, you can configure the color rendering for videos, images or the internet by choosing one of the provided profiles.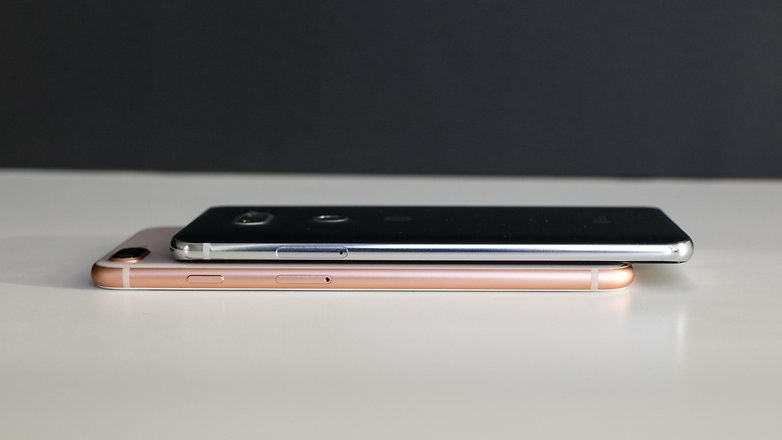 Apple iPhone 8 Plus vs LG V30: features and performance
iPhone 8 Plus
What can set the devices on the market apart is often their features. With regards to the iPhone 8 Plus, it offers ARKit support that benefits the camera. Different augmented reality applications allow you to play with constellations, dinosaurs and other entertaining scenarios that are worth delving into.
The iPhone 8 Plus, with Force Touch, now allows you to reply and interact with certain notifications and everything runs smoothly in terms of software. As usual, Apple doesn't disappoint in this area and offers an excellent user experience with a user-friendly system. And if you wish, you can benefit from an integrated file manager which doesn't give you access to actual files on the device, but it allows you to create files, copy and manage your files.
The iPhone 8 Plus doesn't offer a headphone jack but it has two integrated loudspeakers. The one on the bottom acts as a woofer whereas the other acts as a tweeter and, by positioning the smartphone horizontally, you can get the best out of your audio experience.
In terms of performance, you won't have any problems with the iPhone 8 Plus: its A11 Bionic chip, which integrates a NPU dedicated to artificial intelligence, also offers excellent performances with 3D games and complex tasks such as image data processing. Everything is fast and runs smoothly.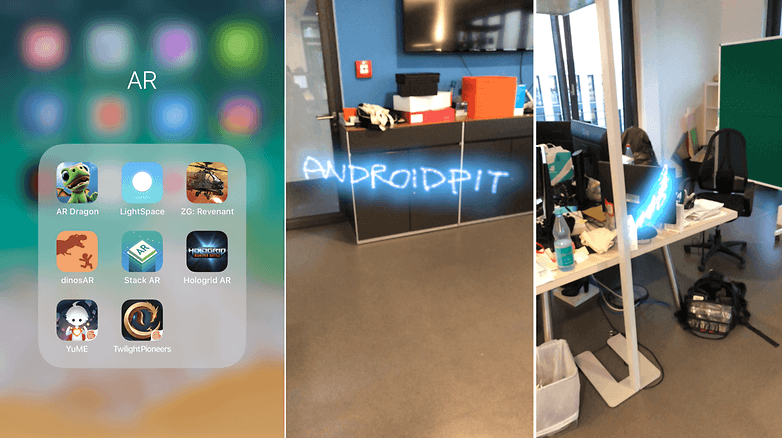 LG V30
The Always On feature on the V30 is really useful and you'll find out for yourself with daily use. It replaces the secondary screen, which characterizes the V range, and which allows you to launch the camera, Bluetooth, flashlight, audio settings, apps and music features, etc. with the indispensable floating bar.
The V30 has a mini-jack port for headphones and a Quad-DAC audio analog to digital converter. The sound quality is good but that's not surprising: LG invests a lot in this area, but it wasn't always impressive to the users.
The V30 is also able to easily manage demanding games and complex tasks with the Snapdragon 835 processor supported by 4 GB of RAM. If you're a gamer, take a closer look at our tests which will clear up any questions you have on this subject.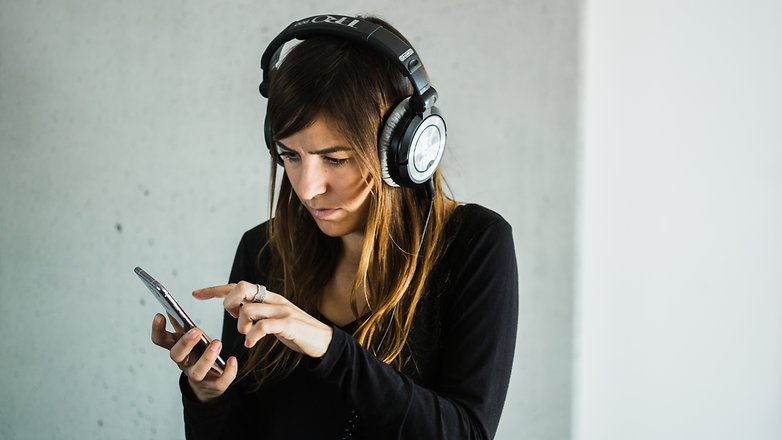 Apple iPhone 8 Plus vs LG V30: automatic mode or wide angle?
Both brands have included a dual-camera on the back of the devices. Apple uses two 12 MP sensors, a f/1.8 lens and a f/2.8 telephoto lens. The A11 Bionic processor optimizes photo processing for high quality images.
DxOMark has awarded it a total score of 94 points (which also takes videos into account) and the fourth position along with the Note 8, and behind the Mate 10 Pro, the iPhone X and the Google Pixel 2. Photos taken at night aren't great and it's a shame that Apple hasn't included any software options that you can play around with to improve this. You'll be happy enough if you're never interested in the advanced options, but if you like to venture into additional options, the V30 is a step ahead. With the iPhone 8 Plus, you can store 4K videos at 60 images per second.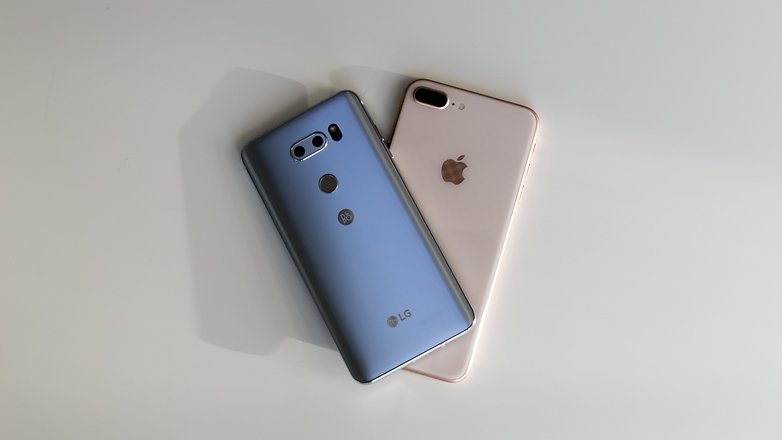 The V30 offers two cameras on the back, a 16MP lens at f/1.6 and a 13MP wide angle at f/1.9. The wide-angle lens is what sets it apart from the competition as it allows you to capture scenes and landscapes like no other device on the market. I found it extremely useful to have this type of lens rather than a telephoto lens when taking photos. However, this isn't the case for all users.
You won't be disappointed with the photos when lighting conditions are good, however, when in poor lighting, the quality of the photos is significantly reduced. For fussy users, the photo and video personalization will entertain you and meet your expectations, so the iPhone 8 may be the smartphone for you. The optical image stabilizer isn't available for UHD videos at 60 ips.
Apple iPhone 8 Plus vs. LG V30 technical specifications
Apple iPhone 8 Plus
LG V30
Dimensions:
158.4 x 78.1 x 7.5 mm
151.7 x 75.4 x 7.3 mm
Weight:
202 g
158 g
Battery size:
2675 mAh
3300 mAh
Screen size:
5.5 in
6 in
Display technology:
LCD
POLED
Screen:
1920 x 1080 pixels (401 ppi)
2880 x 1440 pixels (537 ppi)
Front camera:
7 megapixels
5 megapixels
Rear camera:
12 megapixels
16 megapixels
Flashlight:
LED
LED
RAM:
3 GB
4 GB
Internal storage:
64 GB
256 GB

64 GB
Removable storage:
Not available
microSD
Chipset:
Apple A11 Bionic
Qualcomm Snapdragon 835
Number of cores:
6
8
Max. clock speed:
Sorry, not yet available!
2.45 GHz
Connectivity:
HSPA, LTE, NFC, Bluetooth 5.0
HSPA, LTE, NFC, Bluetooth 5.0
Apple iPhone 8 Plus vs LG V30: price
To buy the iPhone 8 Plus, you'll have to spend $799 (64GB of internal memory) or $949 (256GB). The LG V30 costs $799 or $949 for the Plus device, but you must remember that the price could drop considerably in the coming months, as was the case with the G6, which is now available for around $500 though its release price was $699. The V30+ is already over $100 cheaper, now available for around $815 on Amazon.
Apple iPhone 8 Plus vs LG V30: who's the winner at the end of the day?
The iPhone 8 Plus is an excellent device which offers excellent performance. It does everything that it says on the box, but if you're prepared to spend almost $1000 for a smartphone which provides all the latest technology, you should take a look at other devices such as the iPhone X, for example, which is the real jewel in the Apple crown.
The V30 surprises with its design, the screen isn't the best on the market, but it will thrill gamers with its audio quality and Snapdragon 835 processor. It's a question of taste and budget: with the V30, you can save some money by buying an attractive, ergonomic and reliable smartphone since the price is very likely to drop considerably soon. However, if you're already immersed in the Apple ecosystem and you aren't prepared to abandon ship…you probably already know which device you're going to choose.
Which one do you prefer? Choose below, and tell us why in the comments!
Which would you choose?
Choose "LG V30" or "iPhone 8 Plus".
Oops! Seems like something went wrong. Reloading might help.

Oops! Seems like something went wrong. Reloading might help.