Samsung Gear Fit2 hands on: luxury for a lucky few
Fitness trackers are taking off. Athletes, both professional and amateur, as well as those just looking to stay healthy, all want to adorn their wrists with one. Samsung offers the Gear Fit2 as a high-end option, with an AMOLED display and more functionality than the competition. In our first hands-on, we show you how the Samsung Gear Fit2 differs from the rest.
Have you ever heard of CERBER?
Choose "No, I have never." or "Yes, I have.".
Oops! Seems like something went wrong. Reloading might help.

Oops! Seems like something went wrong. Reloading might help.
Samsung Gear Fit2 release date and price
The first Gear Fit appeared in 2014 and was presented together with the Samsung Galaxy S5. With the first generation of the Gear Fit, Samsung created a great device for the time: a fitness tracker with a heart rate monitor and pedometer which could also receive app notifications. However, these features were not the real highlight of the Gear Fit: its curved 1.84-inch AMOLED display, which displayed all important health data and notifications, was the real showstopper.
The original Gear Fit was also cause for some head shaking, however, as Samsung had designed it so that the screen's contents were only oriented in landscape mode, rendering it largely useless in everyday life. A later software update changed this, putting an end to the need for awkward head movements to read the display.
With the new Gear Fit2, Samsung updates the hardware and software and integrates 4 GB of internal memory, to allow the fitness tracker to function as a portable MP3 player, meaning you can leave your smartphone at home.
The Gear Fit2 is available for purchase now for $179.99. It comes in three colors – black, red or blue – and in two different strap sizes (S or L).
Samsung Gear Fit2 design and build quality
The design of the Gear Fit2 closely follows that of the 2014 original, except that the second generation is more of a piece. This is mainly because the central unit with the AMOLED display does not have to be inserted into the silicone bracelet. Instead, the bracelet, as on the Gear S2, attaches via a proprietary locking system.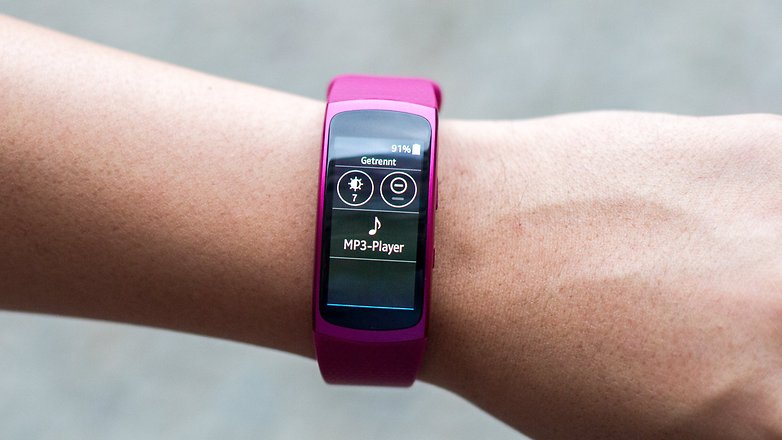 Speaking of the bracelet: at one end, Samsung has provided the band with a loop through which you thread the other end of the band. This loop ensures that the Gear Fit2 doesn't fall off your wrist if you accidentally open the buckle.
Thanks to the improved design, the curved display now attaches to the band seamlessly and without fuss, and the band is more secure on the wrist.
Samsung Gear Fit2 display
The Gear Fit2 sees a reduction in screen size from it predecessor: the AMOLED display has fallen from 1.84 to 1.5 inches. This means an increase in resolution. Instead of 128 x 432 pixels, the smaller Gear Fit2 display packs in 216 x 432 pixels. Overall, the display looked sharp and, even under strong sunlight, everything was easy to read.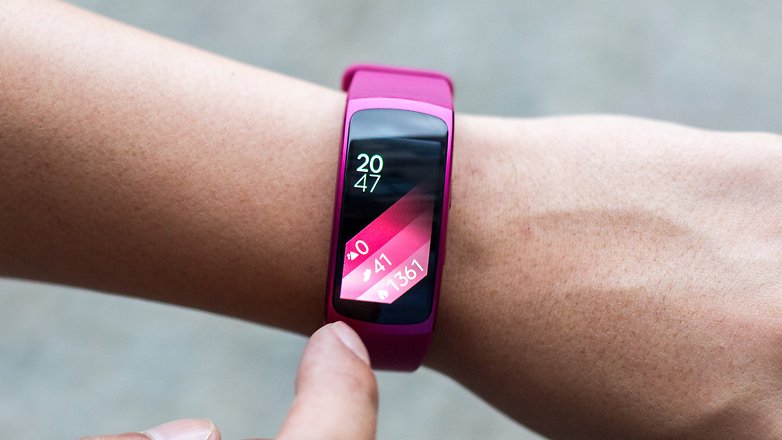 Since it is a touch screen, you can browse menus with a horizontal swipe and tap to access sub-menus. If one loses his way in the sea of settings and menus, then, on the side of the display, there are two physical buttons that can be used: one to go back to the previous menu and the other to return to the home screen.
Samsung Gear Fit2 software
The actual operating system of the Gear fit2 is based on Tizen and not on Android Wear. Thus, it is not possible to connect the Gear Fit2 through the Android Wear app. Anyone who wants to use the Gear Fit2 needs a Samsung Galaxy smartphone running Android 4.3 or higher and 1.5 GB of RAM. Further, if your Samsung smartphone does not belong to the Galaxy series, then it must, at least, have Android 4.4 installed.
While testing the Gear Fit2, I learned from Barbara Gehl, PR Manager at Samsung Mobile, that the restriction of functionality to Samsung smartphones will not last for long. In plain language, this means that Samsung is planning to offer the Gear app for all Android smartphones in the near future. Whether the Gear App will also be released for iOS, Ms Gehl could not say. But it seems likely, given that an iOS companion app for the Tizen-based Gear S2 is known to be in the works.
Samsung Gear Fit2 performance
Inside the Gear Fit2, we find a 1 GHz Exynos 3250 dual-core processor of Samsung's own devising. Half a GB of RAM backs the processor up and there's the aforementioned 4 GB of internal memory, intended for music. Naturally the Gear Fit2 also features an optical heart rate monitor, GPS, gyroscope, barometer and accelerometer, so that steps, climbs and distances can be counted, measured and catalogued.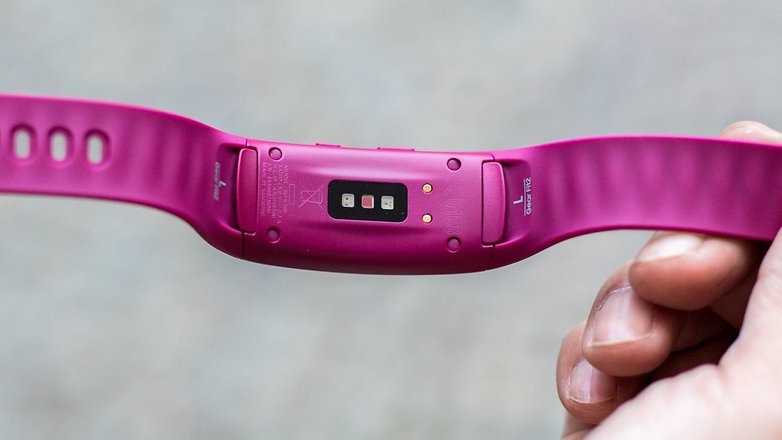 Spotify users have the added bonus of streaming compatibility, but this still requires a smartphone to work. Alternatively, one can fill the 4 GB internal memory with MP3s and enjoy them through a paired Bluetooth headset.
Unfortunately, during our hands-on, there was not enough time to try out all the device's functions. Once we have received our review unit in a few days, we will be able to test it much more thoroughly.
Samsung Gear Fit2 battery
The Gear Fit2 has a 200-mAh battery, which, according to Samsung, should provide three days of staying power. In pure standby mode, the battery should survive five days. Whether the Gear Fit2 actually achieves these figures in everyday use is questionable and yet to be determined by our forthcoming full review.
What is good is that Samsung no longer requires a fiddly mechanical docking station to charge the Gear Fit2: there is now a magnetic connection – as with the Gear S2.
Samsung Gear Fit2 technical specifications
| | |
| --- | --- |
| Weight: | 30 g |
| Battery size: | 200 mAh |
| Screen size: | 13.5 in |
| Screen: | 432 x 216 pixels (36 ppi) |
| Android version: | Not available |
| RAM: | 512 MB |
| Internal storage: | 4 GB |
| Connectivity: | Bluetooth 4.2 |
Early Verdict
The Gear Fit2 is a luxurious fitness tracker. No other such device has a display as brilliant as that of the Gear Fit2. The additional 4 GB of internal memory expands the device's functionality into the portable audio player realm, which is especially handy because you can go jogging without having to carry your smartphone with you.
Unfortunately, the Gear Fit2 is not for every smartphone owner. Samsung has as yet failed to make the Gear app available for all Android devices, limiting the Gear Fit2's audience to those who already own a Samsung smartphone. Luckily, it seems that Samsung's software department is already working on an open version of the Gear app, so that, in the near future, owners of any Android smartphone will be able to enjoy what the Gear Fit2 has to offer. If an iOS app is also made available, the Gear Fit2 could mutate into the fitness tracker ne plus ultra. Until then, it remains an exemplary accessory for Samsung smartphones.