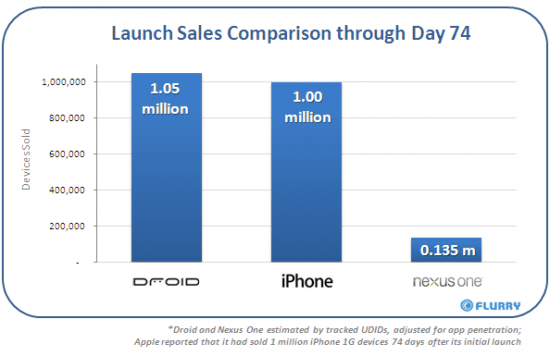 I only read this article because I was bored at work.
What do you think?
Flurry, a company that has analytics tracking code on at least 1 app on 80% of iPhone and Android devices, has just released some incredibly interesting statistics. With that level of reach, the company is confident they can accurately estimate/report on unit sales of individual phone models. Want to see their estimate of Motorola Droid sales vs. Apple iPhone sales after each phone was on the market for 74 days?
That's right – the Motorola Droid beats out the iPhone (first generation) by a hair. Pretty amazing accomplishment if you ask me. And as the Android army grows in numbers on a number of levels – carriers, manufacturers, form factors, etc… – the statistics will only get more impressive.