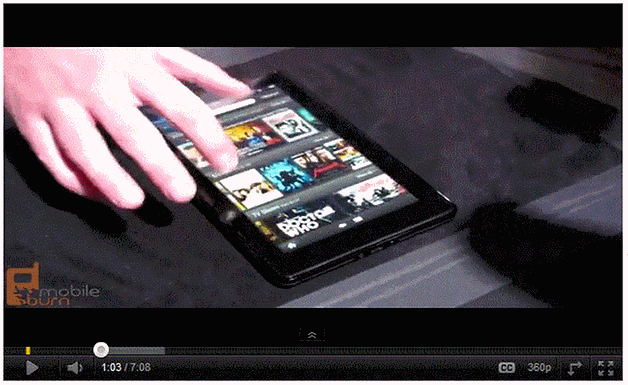 Amazon's sleek, new 7" Android tablet turned some head when it debuted in New York yesterday. Some even went so far as to call it game changing. I haven't had the pleasure of trying one of the new media viewers out but I have to admit I am intrigued by prospect of a Kindle built on the shoulders of Android. After our live blogging yesterday, a new hands-on video has hit the web from the even in new york. It gives a good sense of the look and feel of the new Amazon Android fusion and I have to admit, the tablet is every bit as polished as you'd expect from Amazon.com
Unfortunately, the PR representatives don't let the journalists in the video get a crack at their self-proclaimed iPad-killer, so it's hard to tell what range of functionality that the 7" tablet offers. But as you'll hear from one of the Amazon representatives in the video, the OS is "only built on top of " the Android OS, is "beautifully simple" with "complete focus" on the content. I can't shake the feeling, that they've further nerfed the functionality of the tablet to make it a pure media consumption device.
If anyone in the AndroidPIT community has gotten their hands on one of the new Kindle Fire tablets drop us a line. We'd love to hear your first impressions of the new Android(?) device.
Related Amazon News: