The hottest new games coming to Android: highlights from E3
Update: The Elder Scrolls: Blades, Command and Conquer: Rivals and Gears Pop!
Every year, mobile games get more sophisticated and graphically impressive, setting a new standard for playing on small (but ever-growing) smartphone screens. Here's our pick of the most exciting Android games we're looking forward to playing in 2018, including the new titles just announced at this year's E3.
E3 2018 has kicked off and the first press conferences showed us how gaming on smartphones and tablets is becoming increasingly important for the gaming industry. Big players like EA Games, Microsoft and Bethesda have all taken a few moments on stage to talk about new mobile titles coming in, all from beloved franchises that we hope will expand the range of quality big budget games on Android. Let's take a look what what's coming up.
Command & Conquer: Rivals
EA was the first to show a new title coming to Android (for once, iOS will have to wait) whose name will certainly bring to mind some memories: Command & Conquer: Rivals is indeed the first title in the acclaimed series of real-time strategy games coming on to the market for six years, and somewhat controversially, as a competitive mobile game.
The new game concentrates the action into a single battlefield where two opponents send their armies against each other, fighting for control of a missile launch platform. Familiar factions GDI and the Brotherhood of Nod return to reopen hostilities. But gameplay seems less like a Command and Conquer revival and more reminiscent of other mobile strategy titles such as Clash Royale.
If this sounds appealing to you, you can now pre-register on the Play Store for notifications about Command and Conquer: Rivals. If you were hoping for something more like the old-school RTS games, then you'll find good alternatives in our list of the best strategy games for Android.
Gears Pop!
Microsoft's Gears of War franchise is also getting a makeover for mobile, with a rather incongruous collaboration. Gears of War teams up with collectible figurine manufacturer Funko Pop to bring Gears Pop!. No, really. Check out the trailer for our first look.
The trailer doesn't reveal much about how this game will actually play, but its safe to say that the tone of Gears Pop! will be several shades lighter than the Xbox series. Nonetheless, the thought of Gears of War's tense gun-and-cover shooting experience coming to mobile is quite appealing, and we've got our fingers crossed for Gears Pop.
The Elder Scrolls: Blades
Bethesda was a cruel tease indeed, showing a 45-second The Elder Scrolls VI trailer completely devoid of any real information except that it will happen. But Elder Scrolls fans weren't left empty-handed. Instead, the next game in the Elder Scrolls franchise will be a mobile-first game.
The Elder Scrolls: Blades is dedicated to more casual gaming while maintaining elements typical of the The Elder Scrolls saga and a visual quality on par with top game sonsoles. Interestingly, TES: Blades will come to Android and iOS first, but is also slated for release on PC, consoles and even VR devices afterwards.
The Elder Scrolls: Blades casts you as a member of the Blades, the elite agents of Tamriel's Empire that many gamers will already be familiar with. In this role, players will explore both "hand-crafted" and procedurally designed dungeons, according to Bethesda's Todd Howard.
You will be able to play Blades by tapping or using virtual dual sticks, and a full range of melee combat, archery and sorcery will be available for the player as they level up and advance their character. In addition to enhancing your player character, the game also features a "town-building" mode that lets you create a virtual city in the world of Tamriel.
Unusually, you'll also be able to play Blades both vertically and horizontally with the smartphone. Howard jokingly referred to playing the game in portrait position as 'meeting mode', as holding the phone vertically will allow for some more discreet gaming when you've got company.
The Elder Scrolls: Blades will be a free download on Android and iOS, and you can already pre-register on the Google Play Store.
So far, these are the big three from E3. What do you think of these new offerings? Let us know in the comments!
---
---
The gaming conference isn't over, and we'll be updating you on any more promising new games coming to Android, in the meantime, there are still other previously announced new titles to look forward to.
Dragalia Lost
Nintendo is killing it with the Switch these days, but that doesn't mean the legendary games company is neglecting other handheld game platforms. In fact, Nintendo just announced that it's working on an all-new RPG for mobile devices. The game is called Dragalia Lost and is being developed in partnership with Cygames, best known for games like Granblue Fantasy and the digital card game Shadowverse.
Described as an "all-new original action RPG application", which Cygames designed and which Nintendo "has been co-developing and will jointly operate", we can already see how it looks in the trailer. That is, graphically impressive, and very Japanese.
The trailer shows a character transforming into a dragon, which could be a key gameplay mechanic, as the story is set in a world where humans and dragons co-exist, and you can make a pact with a dragon in exchange for their power.
Dragalia Lost is slated to be released this summer, first in Asia then in North America and Europe.
Westworld
HBO's Westworld was a captivating TV series, and soon the cyber- and cow- punk setting will be moseying on down to mobile, too. The Westworld game for iOS and Android is scheduled to launch this April and puts you into the role of a new employee at Westworld learning the ropes on a simulation.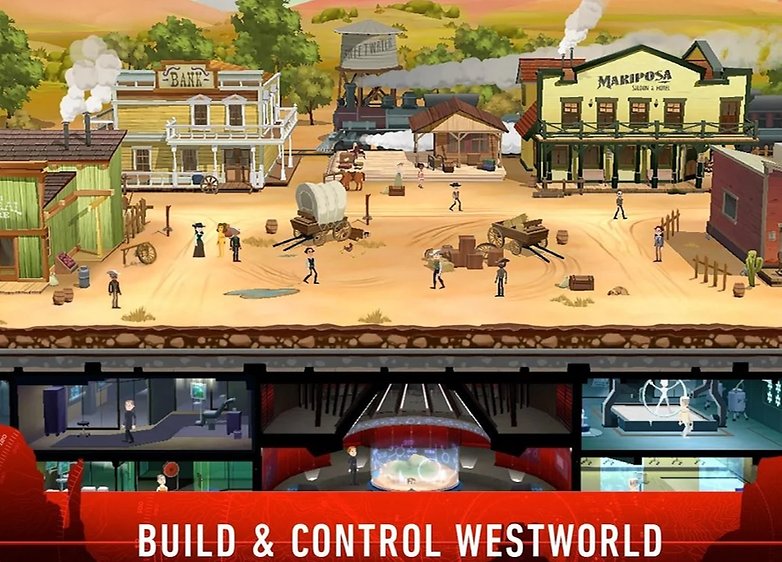 Westworld rather gritty and mature aesthetic is toned down for the mobile game, which features colorful 2D characters. But that doesn't mean it won't engage with the more serious themes of the TV series. As a Westworld employee, you can create new, disposable life in the form of hosts, and learn how to make keep the guests (both cruel and benign) happy.
The Westworld mobile game is intended to be free-to-play with IAP, but we'll see if Warner Bros manage to strike a good balance. In the meantime, you can pre-register for the game here.
Fornite Battle Royale
Epic Games zombie-apocalypse building/survival game introduced a free-to-play battle royale mode that quickly stole the spotlight away from the main game. Cynics will point out this move came hot on the heels of PUBG's success, but Fornite's take on the genre is undeniably fun, with a vibe of its own.
It's specifically this battle royale mode that's going to come to Android and iOS, ready to compete with PUBG in the mobile arena. Even better, Fortnite on mobile will support cross-platform play, so you'll be playing the same game, same graphics, as those using PC and PS4, and be able to keep your game progression between devices.
This is exciting news to gamers frustrated by the scaled-down or piecemeal adaptions that we're used to seeing when a big name title comes to mobile. Epic has stated "Fortnite is the same 100-player game you know from PlayStation 4, Xbox One, PC, and Mac. Same gameplay, same map, same content, same weekly updates."
Surprise! https://t.co/AXOXkhfriX

— Wes Phillips (@WesPhillips) March 9, 2018
Even if you're on tenterhooks waiting for Fortnite Battle Royale to arrive on Android, then there's nothing to stop you from building your skills on any of the other platforms, including your home computer. Everything should carry over once the hit game becomes available on your Android phone this summer.
Runescape Mobile
Runescape may need no introduction for old-school RPG fans, as the popular massively multiplayer fantasy world has been a staple on desktop since 2001. Runescape has a huge and dedicated community that will no doubt welcome the opportunity to adventure on their mobile devices.
Mobile gamers shouldn't be afraid of diving straight in either, however, as this version of Runescape will be optimized with mobile devices in mind. In the video below, you can see Jagex studios explain how they are adapting their popular MMORPG for smaller touch screens.
Runescape may be old school, but it's earned its long lifespan through quality content and a great community, so don't be surprised if this turns out to be even more addictive than the flashier modern new MMOs on mobile right now.
Life is Strange Mobile
Life is Strange is a narrative choice-driven game centered around the protagonist's special ability to rewind time. Without spoiling too much, let's just say that gamers who are less focused on action and more into exploring an emotionally engaging story will really appreciate that this game is finally coming to mobile.
The game is already available to iPhone users but Life is Strange is scheduled to release for Android in early 2018. Something sweet to kick off the new year's gaming with, then. Be warned when taking this game out on your morning commute, you might just end up crying on the subway.
Excited to play Life is Strange on your Android phone? Pre-register now!
Contra: Return
Contra is a classic video game franchise that's been around since the '80s, and has seen release on a variety of home and arcade machines. Unfortunately, it doesn't have a great history on mobile, with a remake of the original Contra being only briefly available outside of China before being pulled from the Play Store.
But there's still hope, as Contra: Return, Tencent and Konami and currently being tested in China, is slated for an eventual worldwide release. It boasts 3D graphics and huge bosses as well as the series' trademark insane firepower and classic 2-player mode.
Mobile gaming has never been better
It's shaping up to be a good year for Android games. These are the main titles we're looking forward to playing in 2018, but that's not all. Popular iOS games will be adapted to Android, and the retro-gaming scene will no doubt bring new ports to mobile, such as we're seeing with Sega Forever bringing back Genesis classics to the Play Store.
To keep up to date on the coolest games coming to the Play Store every month, bookmark our regularly updated best new games list.
Looking for something more specific? Why not try:
Many of our current favorites will continue to be updated and may get expansions, and there are no doubt going to be a few good surprises this year too!
What games are you looking forward to playing in 2018? Let us know in the comments!