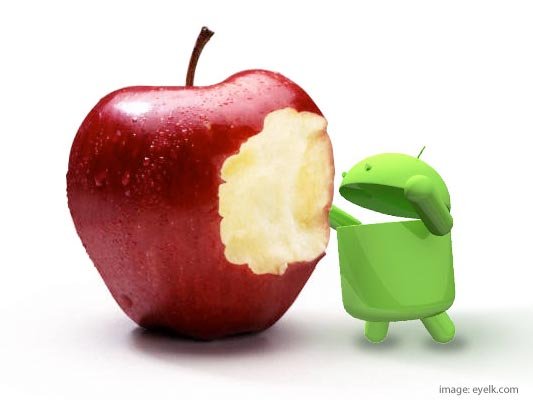 I don't know about you guys, but the reaction from Apple fans and now Apple employees in regards to Android getting Instagram is just getting plain outright STUPID. I mean come on...it's one thing if a few crazy fans wanna get upset...But for the VP of Apple to come out and publically say that because of Android he's stopped using the app? WTF? It's almost like he's trying to make Android users look poor or stupid, and I for one have seriously had enough of it. Due to the incredibly stupid antics that this apps release on Android have stirred up, it has inspired me to write a poem. That's right...a poem. This poem is not only an ode to Android, but a message for Apple users (AND employees) to simply GROW UP. It's Friday, I haven't ranted in a while, and now I have an excuse :-D
Oh Andy dear Andy...you little green droid
It's amazing to see...the success you've enjoyed
You started so small... and grew up so damn fast
It's so awesome to see...how you whooped Apple's ass



Both in sales and in style...yeah you show em who's king
And give us so much more...than that silly iThing
You've got apps of all shapes...to help out everyday
All conviently found...in your new Google Play



See what's cool about Andy...is he doesn't talk crap
Like those guys who parade...with their Apple iMacs
Doesn't cry or get mad...like the fully grown man
Who got so freakin pissed...when you got Instagram



See it's people like him...who give you a bad name
As they just can't accept...that you've gotten such fame
So they whine and say "hey!...gather arms lets attack!"
"Instagram was for us!...only Apple has that!"



You're response is just "chill...guys it's only an app"
"Your life must be pathetic...can't you realize that?"
"Is it such a big deal...just to snap a few pics"
"Then upload it to Facebook?...wow you guys are such **cks



So go home and bow down...to you're iPhone statue
And just pray to the Gods...that it doesn't slap you
Cause the iPhone itself...we have no problem with
It's the people who use them...when they act like such pricks



Andy took out the iPhone...that's a fact you can read
And what's next is a warning...that I think you should heed
Yes he's proven himself...as the best of the best
So don't get mad and whine...cause the iPad is next...



Seriously Apple.....grow up. I can be just as immature as your Vice President (yes I linked twice to that article, as it's just so pathetic).
Picture credits: http://cdn.techpp.com