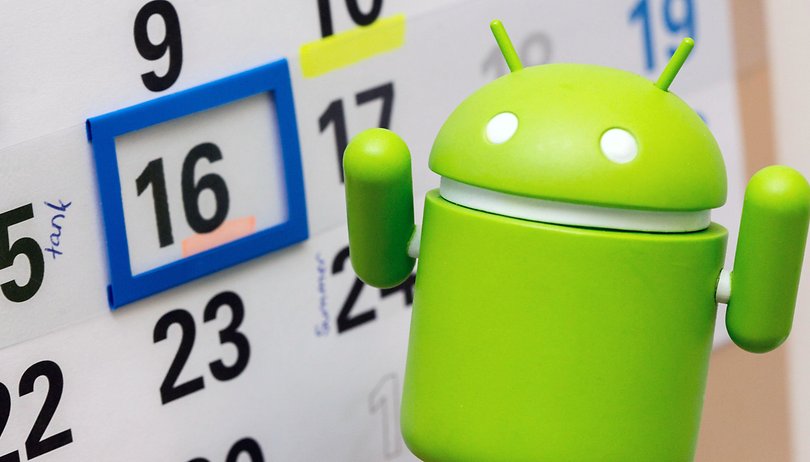 Stay on schedule with these Google Calendar alternatives
Google Calendar sets a high bar for other Android calendar apps to try to reach. As solid as it is, you may have unique needs which warrant exploring some alternatives. That's why we've put together a list of some of the best calendar apps on the Play Store.
Business Calendar 2
Business Calendar 2 might be a familiar name to some people, and that's for a good reason: it has loads and loads of features, and that includes the ability to customize each calendar view individually as well as more general customization options.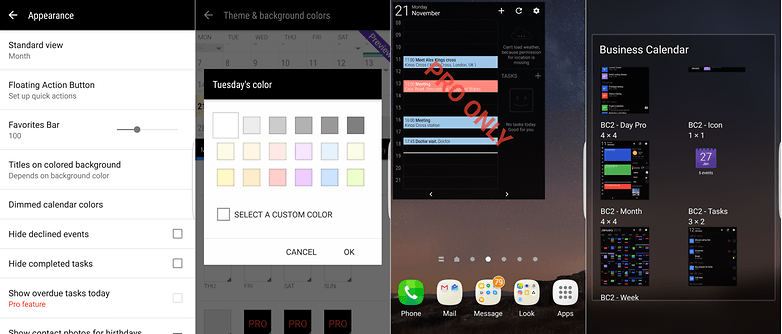 It's the ability to modify the look of basically every part of the app that might make Business Calendar 2 appeal, along with seven desktop widgets designed to give you at-a-glance information. These widgets each have multiple theme options of their own too.
Add in a whole range of different views for your appointments, and the ability to add contacts, location, notes and a few other things to each appointment, it probably does have the feature you're looking for. That doesn't mean it's necessarily the best looking option available, but it's one of the more powerful. Oh, it'll also show you a weather forecast too.
The only potential downside there is that if you don't need or want control over all the aspects and appearance of your calendar, it might be a little overwhelming but you can always just leave the defaults to begin with. It's free to download if you don't want full customization options, or you can unlock everything for a one off fee of around $5. Alternatively, you can unlock different 'packs' of features depending on what you need.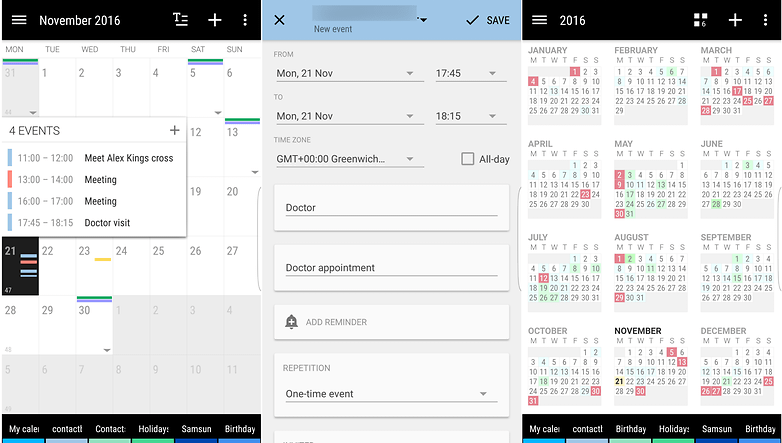 SolCalendar
SolCalendar is one of the most accomplished calendars on Android, but doesn't go too far and over-complicate things, which is one of the reasons it's made it onto this roundup.
It doesn't offer the most integrations, so if that's what you're looking for in a calendar you will need to look elsewhere. What it does offer though is a good variety of well-designed and customizable home screen widgets. This is particularly important for something like a calendar app, as a quick glance is sometimes all you want to get an overview for the day ahead.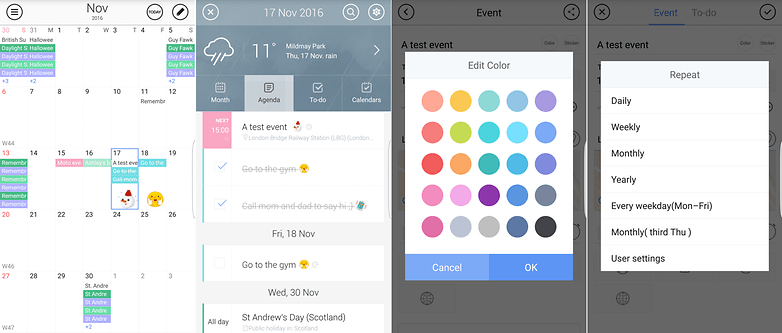 Once you give into the app itself, you'll find that it syncs with Google Calendar, Exchange, iCloud, Yahoo Calendar and a few other popular ones too. It should sync any CalDAV calendar without problems. Add in that you can also sync your Google Tasks and it gets even more useful.
The main view of the app is split into four sections: Month, Agenda, To-do and Calendars. Each is pretty self-explanatory, and above each of these tabs is another section showing the weather, as long as you granted the app permission to use your location. There's also Google Maps integration for adding locations to meetings and to-dos.
In addition, you can also color code any events or to-dos as you add them, as well as add stickers to them and share them with friends. You can also plan meetings across different time-zones with ease by switching as you set the meeting or specific task to recur as frequently as you need.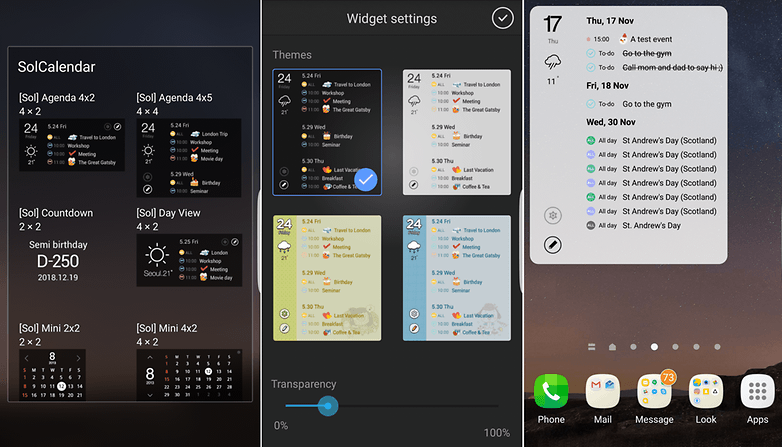 SolCalendar's strength lies in its ability to keep you out of the main app as much as possible, providing you use a widget, for 'at a glance' convenience. But it also provides a lot of features if you do dig into the main app.
It's also free, and available in over 22 languages thanks to translations from its community of users.
Any.do Cal
Cal by Any.do is one of the most straightforward schedule planners on this list, which means that power users may want to look elsewhere. However, if what you want from your calendar is the ability to quickly add an event, location and other details in just a couple of taps, Cal can help.
Rather than show you a monthly view that doesn't allow much detail at a glance, Cal focuses on showing you one day at a time, with your next event clearly marked in your list. Behind this, you get a full screen photo from a range of different categories.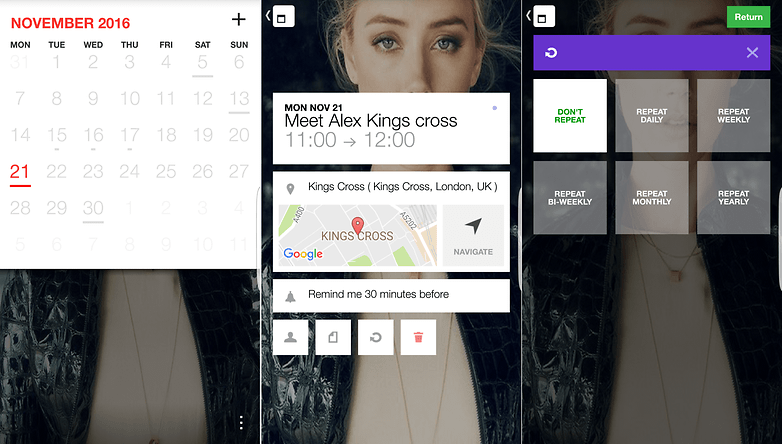 As with others in this list, you can add details to your event, like specific contacts (for quickly getting in touch), a location via Google Maps, notes about the meeting and whether or not you want the appointment to repeat automatically.
If you want to use the integrated to-do list functionality, you'll also need to install the main Any.Do app as well, which is a bit of a shame for anyone that has limited space on their phone for apps. It also has fewer options than many of the others in this list, and just one home screen widget, but it does offer a simple option for less demanding users. It's probably more of a no-brainer if you're already an Any.do user.
If you're looking for integrations, multiple theme options and a host of other settings, you're going to want to look elsewhere but it does support Exchange accounts, and has a few handy predictive features, like suggesting people you might want to meet and places to do so.
Today Calendar
You might have noticed by this point that Google Calendar isn't in the list - but that's not a reflection on how good it is or the features on offer. Indeed, Calendar has a few extra benefits if you're tied into the Google services ecosystem, and can even do a few additional things by integrating with Assistant on Pixel devices.
Today Calendar, however, is a paid alternative you might want to consider if you don't need the integration with Assistant but still want to add a few more features to the stock Google Calendar. In essence, if you're familiar with Google's offering, you'll feel at home with Today.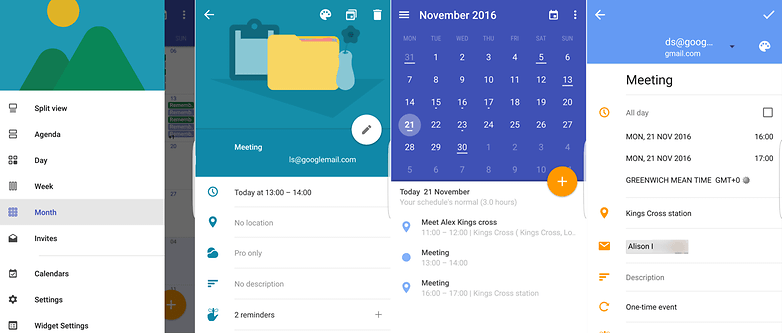 Where it goes above and beyond Google's offering is by rebuilding certain aspects of the app from the ground-up and making useful tweaks to others. So, for example, the overview screen integrates both agenda and month views, so you can see what you're doing today and for the rest of the month all in one screen.
It also lets you color-code appointments, create duplicate events in just one tap, integrates with Google Maps and has a super-simple event creation screen with all the options presented in one place. There's even a 'busy body' feature that gives you an indication of how much free time you have across a whole day at a glance.
Overall, the combination of being based on the tried-and-trusted Google Calendar and additional features presented in a smart way make it worth considering if you're a fan of Google's.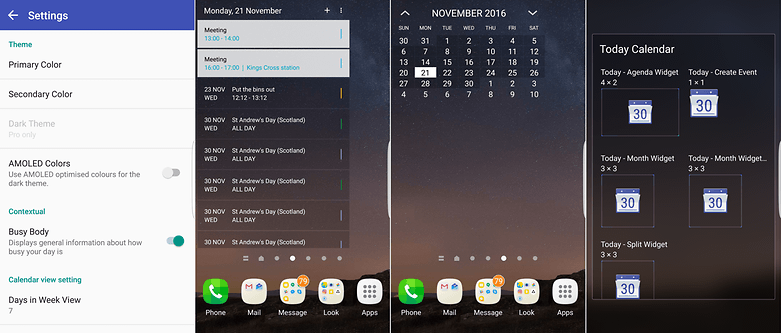 The one thing that might stand in your way, however, is the price. Today Calendar comes as a free seven day trial, but after that you'll need to pay for the Pro version ($3.99) to keep using all the features.
CloudCal
While the rest of the options in this list bring a similar daily and monthly overview, CloudCal has a completely different approach that uses visual cues in the overview to quickly indicate how many appointments you have each day and when they are - tapping on a specific day brings all the info into view at the bottom of the screen.
While there are a lot of options available under the hood, you will need to pay for the Pro version of the app if you want to get the most out of it. For example, you'll need the upgrade if you want to attach specific files or documents to a scheduled event, or even if you just want to add a location in Google Maps to it.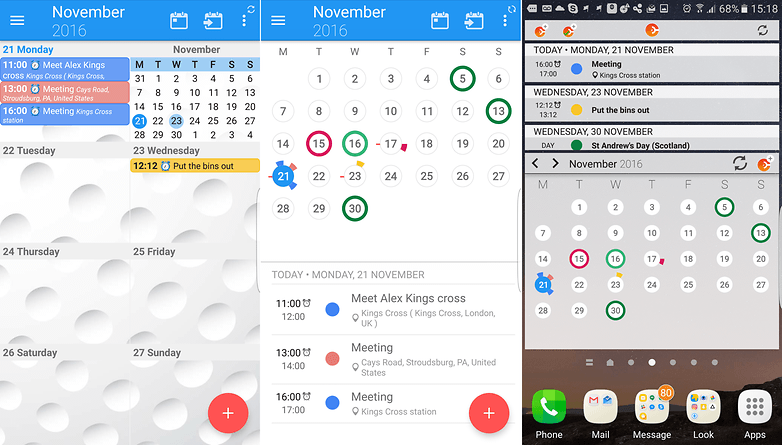 CloudCal comes with four default widget options by default, which let you to both review and add to your daily agenda without opening the main app.
It's also one of the options that offers a range of different integrations, including Facebook, Evernote, Trello, Eventbrite and others. You can also download the CloudTasks app from the same company if you want to integrate to-do lists and other tasks too.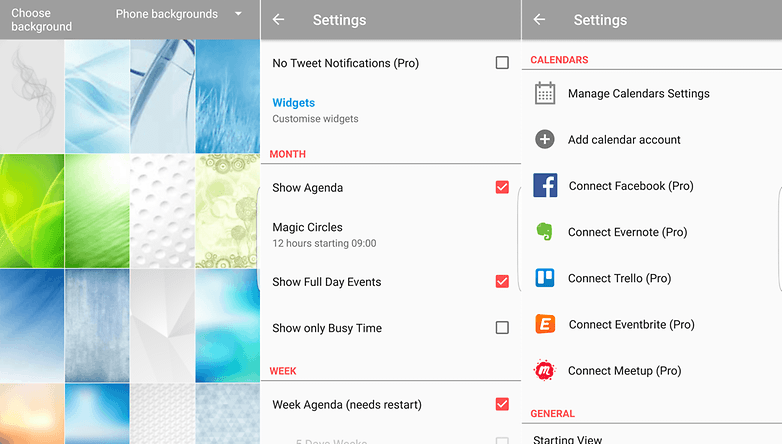 If you do want to unlock all the features, you'll need to cough up $2.49 though.
What's your favorite calendar app? Let us know in the comments below!
---
This article has been rewritten since first publication. Comments below may not reflect current content.