Best Calendar apps for Android
Finding the right application to manage your various calendars and agendas can sometimes turn into an obstacle course. Most of us need flexible applications that can adapt to our schedule, not the other way around. The app needs to provide practical functions and be intuitive, which is not an easy pairing to find. Here's our selection of the five best calendar applications on Android.
Summary
How do we make our selections?
The apps listed here are the result of thorough testing and comparison. While we evaluated many calendar apps in the process of making this list, these are the five that impressed us the most.
The applications were tested on a Moto G4, which has a very similar interface to stock Android, but to the best of my knowledge, all of the apps found here work with any UI.
What do I think the best calendar apps are?
aCalendar: simple and effective
aCalendar is a popular German app. It has won users' hearts with its simplicity, but what makes it deserve a place on this list?
Design / appearance / intuitiveness
The first thing you're presented with when you launch the application is a short tutorial. You are redirected to the developer's website, where you can learn the app's basic functions. It is extremely simple: a horizontal swipe lets you switch from one overview (month, week, day) to another, while a vertical swipe lets you scroll through days, weeks or months.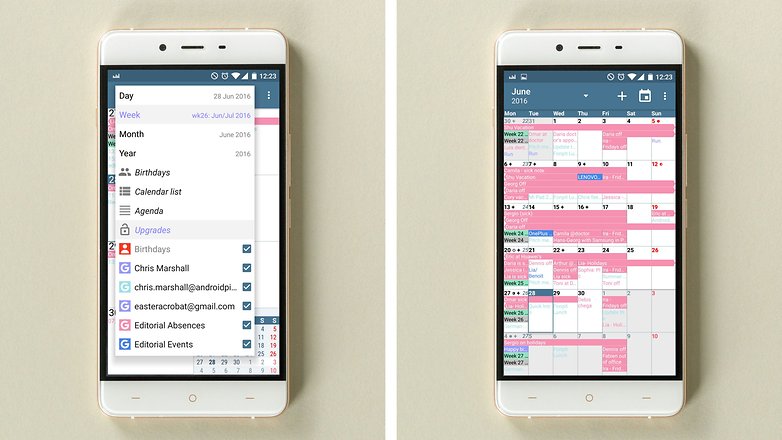 In terms of design, aCalendar is extremely sober, even classical. At the top left, you find the time and the option to enable / disable additional calendars. At the top right, you find the plus symbol, which allows you to add an event; an icon that makes you return to the current day; and various tools, such as search.
The application has a handy widget that gives you an overview of the events of today and the next few days.
This application will fetch any information already stored in your Google account. If you have any events scheduled, it will find and display them automatically.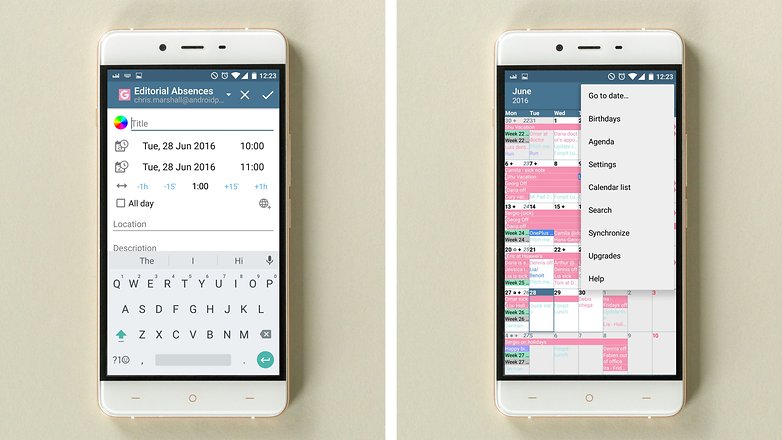 You can add birthdays and associate them with a specific contact, or manually create a more general event. You will be able to choose the date and start / end time of the event, the location where it will take place, a description, etc. Of course, you can also use reminders and repeat events to ensure you never forget a meeting.
aCalendar is a simple and intuitive application that does everything you'd expect from a calendar app. As the developer says in the Play Store, there are no unnecessary functions. This is a free application and there is no advertising, which is very nice, too. For those who are interested, there is also a paid version of the app, letting you support the developer and discover the app's full potential.
Version: 1.8.4
Size: 2.84 MB
Compatibility: Android 2.1 or higher
Business model: Free with in-app purchases
aCalendar - Android Calendar

DigiCal: classic with a twist
DigiCal is a very popular calendar application on Android. In some respects, it is similar to aCalendar, but it has few notable differences, including one feature that really sets it apart.
Design / appearance / intuitiveness
The first thing you see after starting the application is a presentation summarizing the app's main functions. Again, the design is very simple: we find by default a lot of white background and a lot of blue and black text. The application screen is divided into two distinct parts: the first shows an overview of the month in a classic calendar format, while the second shows upcoming events in a more typical calendar app design.
At the top left, you can access the menu that lets you switch from one view to another. On the right, there are buttons similar to those found in aCalendar: one returning you to the current day, a second that lets you create events, and a third that opens the menu.
Various widgets are available in a variety of sizes. The customization options are quite developed: you can you select a classic calendar format or choose to display the entire month in a grid, as well as plenty of other options.
The application will look for the data in your Google Calendar to display. When creating new events, you can choose the color in which they appear in the calendar, the date and start / end time, frequency, callback options, the location where the event is to take place, and various other options.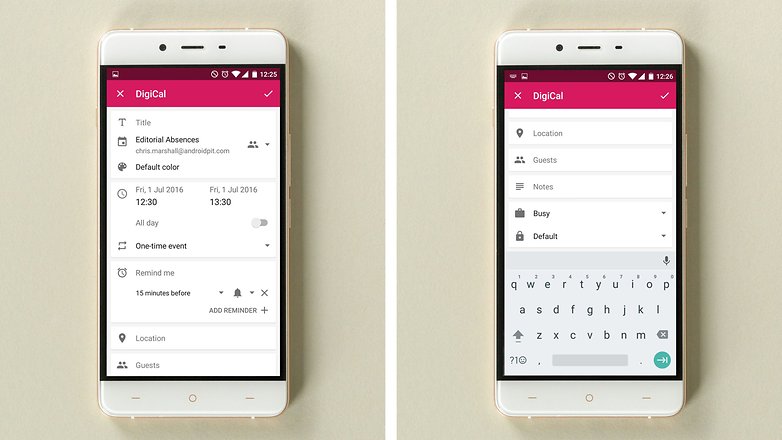 The options are extensive. For example, you can set the language and the default view, or change the theme and the main color. The configuration of events and notifications is also possible. If you wish, you can add a weather forecast for the next few days directly to the calendar overview; this can be convenient for those who travel a lot.
DigiCal has one particularly interesting feature: it can use the GPS on your smartphone to tell you how far you are from a scheduled event.
The application is very simple and intuitive. The two-window setup may displease some, but the GPS functionality is undoubtedly an interesting addition. There is also a paid version of this app, but the free version does the job and does not display any pop-up advertisements.
Version: 1.7.4g
Size: 8.99 MB
Compatibility: Android 2.3.3 or higher
Business model: Free with in-app purchases
DigiCal Calendar Agenda

Jorte Calendar: sophisticated with potential
Jorte is also one of the most popular calendar applications. For reasons that escape me, the application has a reputation for being a little buggy; I didn't encounter any problems throughout my time with it.
Design / appearance / intuitiveness
From the start, you have a choice of customization options. You can choose which calendar you want to use and choose various setup options, such as time zones and holidays.
The interface of Jorte is a little more developed than those I've looked at so far in this list, or at least more sophisticated. The application covers the whole window and the menu is found at the bottom of the screen, in horizontal form. Most of the icons are useful, but the selection is limited in the free version.
In the main part of the screen, we find the calendar in its classic form, where you can navigate with a simple side swipe. Below this, you will find your list of tasks and memos. If you click on the first symbol, Today, a side menu will open, offering more actions. At at the top of the window you will find an advertisement. A large number of options can make the application a bit confusing at times, but I figured out my way around it quickly enough.
Of course, it also features widgets.
As usual, you can synchronize it with your Google account, the difference this time being that Jorte has its own service. You can, of course, add new events, according to the same criteria.
The calendar is heavily customizable, placing it at the more complex end of the calendar-app spectrum. You can add new events via the New button (which also offers you other options, such as the creation of a task), when adding an event, the configuration is always the same: date, start / end time, color, location, notes, etc.
The perks of choosing Jorte lie in its configuration. Some important settings, however, are locked in the free version, (including being able to lock the app and schedule). You can add various calendars, such as national holidays (there are many countries to choose from in the list). You can also add various weather calendars to see the forecast by day on the calendar overview.
Jorte is a very good application that has several useful functions. The only negatives I see are in the setup menus, which are not particularly intuitive, and if we are to believe the testimony of Play Store users, there are also some bugs lurking in there, but, again, I didn't notice any.
Version: 1.8.39
Size: 12 MB
Compatibility: Android 4.0 or higher
Business model: Free with in-app purchases
Jorte Calendar & Organizer

Business Calendar 2: the best value functions / intuitiveness
For some, the original Business Calendar was the best calendar application available, but times have changed. What makes this sequel app deserve its place in our ranking?
Design / appearance / intuitiveness
When you launch the application, you have the choice between two types of designs: either you opt for classic colors, or you opt for lighter colors. Honestly, in practice I do not think it makes much difference, but at least you have the choice.
The interface sticks to the classic formula, covering the entire screen. At the bottom of the app, you will find your different calendars, all color coded. If you wish to remove one from view, simply press on the colored tab.
This feature can be quite useful if you use a lot of calendars that would otherwise involve juggling menus to deactivate and reactivate every two minutes. Above the calendar, you can choose how many days you want to be displayed on the main screen, which can also be very practical.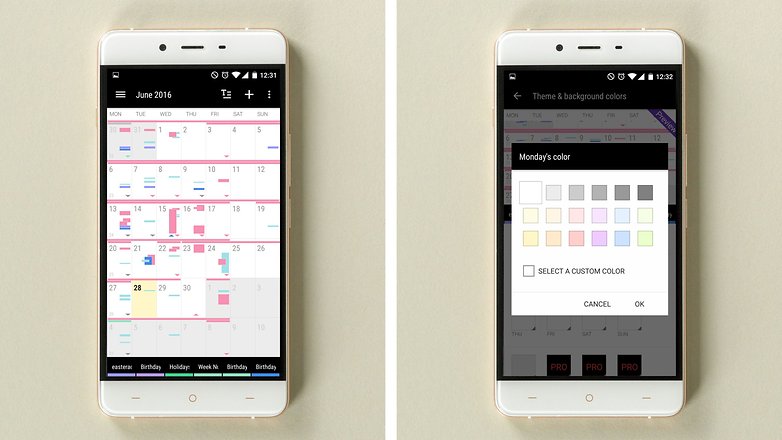 At the top right, you find the usual shortcuts: one will return you to the current day, the second will allow you to create an event and the third will offer you various options. At the top left you will find the menu (the hamburger menu, or three lines) that will allow you to access different views (year, month, week, day, calendar), tasks, options, birthdays and other elements.
The application is very intuitive, and I must admit that, in this regard, it is my favorite on the list. Widgets are available if you wish to access your calendar directly from the home screen.
As with the other apps on this page, Business Calendar 2 will fetch data from your Google Calendar to display. Then you can add events, always following the same system: date, start / end time, location, description, reminder, frequency. Nothing extraordinary in this regard, but the application does the job.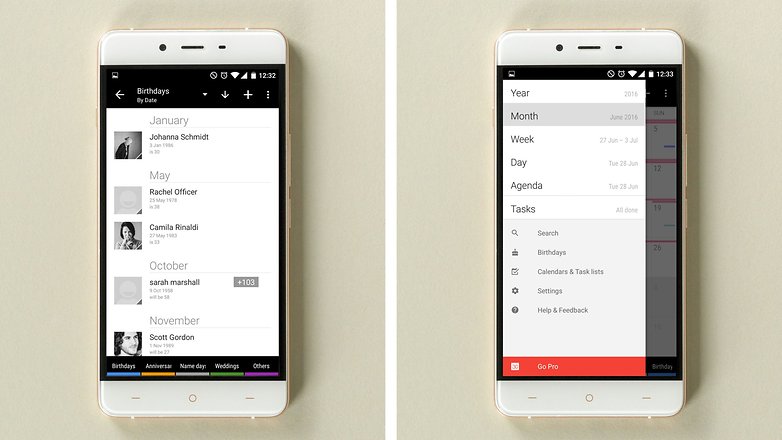 Many options are available: time, appearance, theme, reminders, language, maintenance. You can choose a theme for the application (some require paying for the Pro version), configure notifications and vibrations, etc.
If you care to have access to integrated weather, you will not be disappointed either.
This app is my favorite on the list. It may not have the GPS functionality of DigiCal, but for me it offers the best blend of intuitiveness and functionality.
Version: 2.14.3
Size: 12.5 MB
Compatibility: Android 4.1 or higher
Business model: Free with in-app purchases
Business Calendar 2

Google Calendar
This application is undoubtedly the most popular in this category, and it's easy to understand why: it has all the expertise of Google behind it. But is it better than the others?
Design / appearance / intuitiveness
The application has a fairly simple interface. It is vertically organized: you will find all your events listed chronologically, one after the other, with small interlude drawings between months (that are also season-relevant). If you click the month at the top of the screen, a very simple calendar will appear. You will then have a split screen between the calendar in the top half and the agenda below it, but of course you can customize it all to your liking.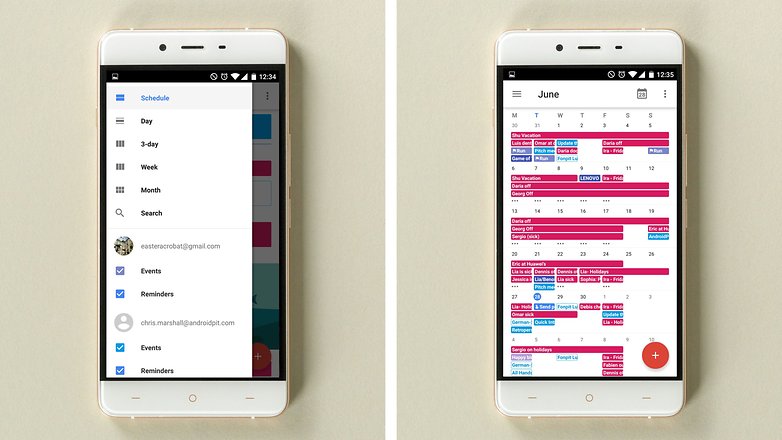 Personally, I do not really like the minimalist look of Google Calendar, but its simplicity is effective. At the top left you will find a menu that is slightly reminiscent of DigiCal (which was probably inspired by Google's effort), where you can choose the view you prefer (planning, day, 3 days, week, month), perform a search, enable / disable reminders, anniversaries and holidays, as well as access settings.
Would you be surprised if I told you that you can create events? To do so, simply press the plus symbol, which is at the bottom right of your screen, and you can not only create an event but also set a reminder or a goal.
The first is connected to your Gmail account; it can be used for more or less anything: reservations, meetings, etc. The second allows you to receive notifications to remind you to do something, e.g., to go buy bread before the bakery closes. Goals are (as the name suggests) goals you wish to achieve. This can be anything, from jogging three times a week to meditating or playing an instrument.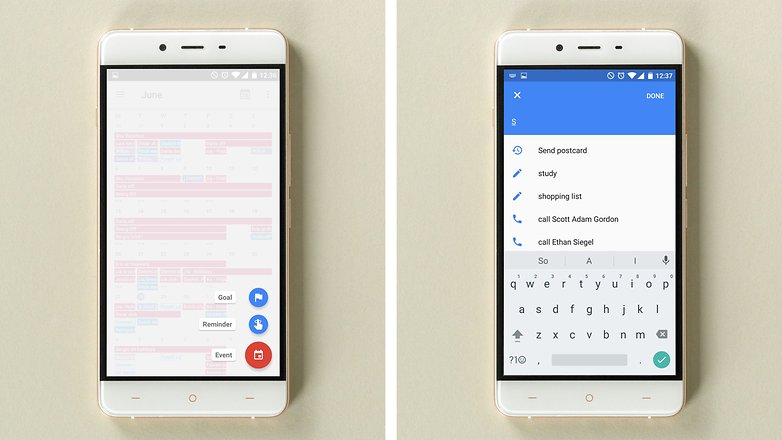 If you use different calendars, know that Google Calendar can comfortably accommodate multiple calendars. Another plus: Google's AI for suggested text. For example, imagine that you have a tennis match next Saturday; you simply create an event and enter "Te" and Google should offer up tennis as the first option.
For those who use Gmail a lot to synchronize their calendar, Google Calendar is undoubtedly the best option. Everything related to the look is a matter of taste, and it is therefore up to you to decide whether you like it or not. If you're not a fan of Google, clearly this application is not for you.
Version: 5.5.4-123319114
Size: 21.2 MB
Compatibility: Android 4.2 or higher
Business model: Free with in-app purchases
Google Calendar

Whatever application you use, the important thing is that it suits your needs. We hope that this list will help you find the right choice.