Best Android games you should play in 2018
There are a LOT of games in the Play Store (clue's in the name), and finding the games that are worth your time can be difficult. But don't worry, we've done the hard job of playing through the most promising titles out there to compile this list of the best Android games. Whether you're a hardcore handheld gamer or just looking for something to pass the time on your commute, we've got games for you. Join us as we explore various genres and present the best of the best games to install on your Android phone or tablet in 2018.
All the following games are fantastic, but we've used our gaming experience to organize the most impressive titles according to genre below. Whether you love solving tricky puzzle games, leading an army to battle in strategy games, or exploring new RPG worlds, just select a category below to find the cream of the crop.
Jump to a section:
Workout your fingers with these Android sports games
Sports games are a tricky beast that usually take lots of hours of practice refining those skills. They're also likely dictated by the sort of sports you like, so if soccer is your game, you'll want to check out Fifa's latest installment and if basketball or baseball or more your speed, there are big name franchises to check out there too. What we've offered below are a couple of suggestions that should be fun for everyone, whatever sports you like.
Golf Clash
Golf Clash is one of the newer games on this list, but while it hasn't been around for too long, it's already attracted a lot of dedicated players.
As with any other golf game, the aim is pretty clear, but rather than put you through a time-consuming 9 or 18-hole round, all games take place against other real players and last just one hole. If you both take the same number of shots sinking the ball, you then need to win a one-shot closest to the pin shootout.
Winning or losing carries a benefit or punishment of winning or losing the wagered coins and trophy points. As you get more trophy points, you can access games worth more coins - but losing games means you lose trophy points too.
There's no tournament mode as yet, but it's on it's way, and there is a weekly leaderboard with various different leagues so you can see how well you're progressing.
App version: 71.0.5.109.1
App size: 110 MB
Compatibility: Android 4.4 and up
Price: Free, with in-app purchases
Table Tennis Touch
Table Tennis Touch is by no means the only ping pong game available on Android, but it is one of the best, despite needing to pay $2.99 upfront to download it. Once you have, you'll realize that while the controls are simple, the level of precision required (and possible to get out of your shots) is immense. Topspin, backspin, sidespin and powerful smash shots are just a stroke away.
Gaming options are pretty simple - you can either play online against another real person, jump into a quick match versus AI or take part in a championship against AI opponents. The main section is a series of increasingly difficult matchings in the career mode, though there are a few mini-games thrown in to break things up.
App version: 2.2.1230.1
App size: 303 MB
Compatibility: Android 4.1 and up
Price: $2.99, with in-app purchases
No Wi-Fi? These are the best games to play offline
Sometimes you end up in a situation where you've got no data or Wi-Fi connection available, and in those situations, you're going to need a fun game that plays well offline. The suggestions below lean towards the casual gamer, but a number of others in this list (Thimbleweed Park and Planescape: Torment particularly) are also huge game with hours of content that work without a connection.
Crashlands
Crashlands is a fantastically well-designed game that plonks your protagonist on a dangerous planet with a mission to build a base, defeat your enemies, and eventually escape back to space.
The combat system is simple and fun and a streamlined inventory makes it easy to harvest resources and craft your base and items.
The story is light-hearted with plenty of tongue-in-cheek humor. For $6.99, Crashlands offers potentially infinite addictive gameplay—once you've beaten the game, you can simply make more content yourself with the level editor.
App version: 1.2.16
App size: 71.49 MB
Compatibility: Android 2.3 or higher
Price: $6.99
Eternium
Eternium is an excellent Diablo-style hack and slash game in its own right, but it's helped even more by the fact that you can play it for as long as you like with no restrictions - there's no power gauge or stamina system that limits how much you can play each day without spending on coins or diamonds, as with many other games. It also works entirely offline once it's fully downloaded and updated.
The gameplay is classic action RPG fare with a huge variety of weapons, different characters to use (you can also create your own) and a crafting system for both abilities and weapon upgrades, which will keep you playing in pursuit of that next unlock.
Moving and attacking are simple, and you can execute special commands by drawing a sign on the screen. These commands are handily shown next to the moves as you play, in case you forget which is which. With lots to explore and craft, it'll keep you busy for a long time.
App version: 1.2.70
App size: 124 MB
Compatibility: Android 4.0 or higher
Price: Free, with in-app purchases
Have fun figuring out these Android puzzle games
Need a brain scratcher to keep you entertained? These suggestions should have you covered, whether you like physics-based puzzlers or more exploratory games.
Rolling Snail
Sometimes the sheer simplicity of a game is what gets under your skin, and that's the case with Rolling Snail, which describes itself as a physics-based drawing game. The aim is simple: get your snail to the weird portal-looking thing to advance to the next level.
You do this by drawing a line for the snail to roll along, occassionally helping it along its way by dropping a rock on it or removing/snipping lines that you've already drawn.
Each level has three stars for you to collect on your way to the exit - the more stars you get, the more points you'll get for each level too. You might think it sounds a little too simple, but if you like an occasional puzzler, Rolling Snail is worth a look.
App version: 2.2.1230.1
App size: 303 MB
Compatibility: Android 4.1 and up
Price: $2.99, with in-app purchases
Thimbleweed Park
The latest adventure game from legendary Monkey Island series designer Ron Gilbert, perfectly blends nostalgia with modern convenience:
You control a pair of idiosyncratic FBI agents investigating a murder mystery in an equally idiosyncratic town, and in the mode of classic adventure games, you need to explore different environments, talk to quirky characters, and collect and use items in the right way to solve puzzles to progress.
Being able to switch between different characters in different locations adds another layer of depth, but if the head-scratchers are too much, there's even an 'easy' mode if you'd rather just enjoy the story and retro-style graphics.
App version: 1.0.4
App size: 0.92 GB
Compatibility: Android 4.4 and up
Price: $9.99
Get in on the Play Store
Hold the line against enemy waves
Tower defense is a huge genre with many Clash of Clans-style imitators. Often, however, these are blatant money-grabs or vehicles for ads. The ones below offer a better experience than that.
Realm Defense: Hero Legends TD
Realm Defense makes its way into this list for being beginner-friendly but still offering enough variety for veteran tower defense fans. It's also one of the better balanced games in the genre, not requiring you to spend money to progress as long as you're willing to put in the time.
The main game is made up of waves of enemies set across more than 40 levels, and each of your weapons can be levelled up in various ways to add new abilities. There are also other bonus items to use, like spells to burn or freeze enemies, and end of level bosses as you progress.
There's also a league that gives one free entry per day. If you want to play a 'league' game more than that, it'll cost you diamonds.
App version: 1.2.1
App size: 94.03 MB
Compatibility: Android 4.0.3 and up
Price: Free with in-app purchases
Fieldrunners 2
If you'd like your tower defense games a little brighter but equally unforgiving in their difficulty, Fieldrunners 2 is well worth downloading, particularly if you missed out the original game that came a few years before. Even if you did play that one, you'll probably still enjoy the sequel.
With a fun, cartoony graphic style and unrelenting waves of enemies with different abilities to defeat, you'll need to carefully plan how you will deal with each wave, if you want to make it through to the next level.
As you play, you unlock different quantity-limited items that you can use in each round - playing on a harder difficulty level gives you more stars, which allows you to unlock items quicker but presents a significantly harder challenge with each leap in difficulty. Whether you spend just five minutes in the game or two hours unable to drag yourself away, it's a whole lot of fun.
It's not free to download, but for just $2, it's not hard to get your money's worth. Unfortunately, it's not been updated in quite some time, but it still worked just fine for us.
App version: 1.2.1
App size: 272 MB
Compatibility: Android 4.0.3 and up
Price: $1.99
Fighter? Wizard? Rogue? Try these fantastic RPGs for Android
Just like with tower defense and sports games, there's a good chance you have your favorite RPG that you've already invested a lot of time (and possibly money) in already.
Eternium from our offline list is a fun free option that doesn't lean too heavily on grinding, and if you do choose to pay for in-game content, it's not stupidly priced. If you're a Final Fantasy fan, you might want to check out Brave Exvius. The following are more in-depth RPGs for those prepared to spend hours diving into fantasy worlds.
Planescape: Torment Enhanced Edition
Planescape: Torment is rightly remembered by gamers of a certain age as a masterpiece, but the Dungeons and Dragons based RPG that wowed so many in the year 2000 hasn't aged so well alongside modern AAA titles.
Thankfully, Beamdog have given this classic title a modern facelift and tune up that includes various convenience tweaks as well as beautification and a remastered soundtrack.
Planescape: Torment Enhanced Edition's rich and immersive storytelling remains as compelling as ever, and you can expect to sink 30-40 hours into completing it.
If you enjoy Planescape: Torment, then you might also want to check out Beamdog's similarly enhanced editions of classic RPGs such as Baldur's Gate and Baldur's Gate 2.
App version: 3.1.3.0
App size: 1.41 GB
Compatibility: Android 3.0 or higher
Price: $9.99
Chrono Trigger
Chrono Trigger is by no means a new RPG, in fact, it's a port of one that's been around in one form or another since 1995 on the Super Nintendo. While the world has moved on, this game has not, meaning it provides some good old fashioned RPG fare that doesn't require you to continue spending money on in-app purchases. You do, however, need to spend $9.99 as a one-off purchase up front to buy it.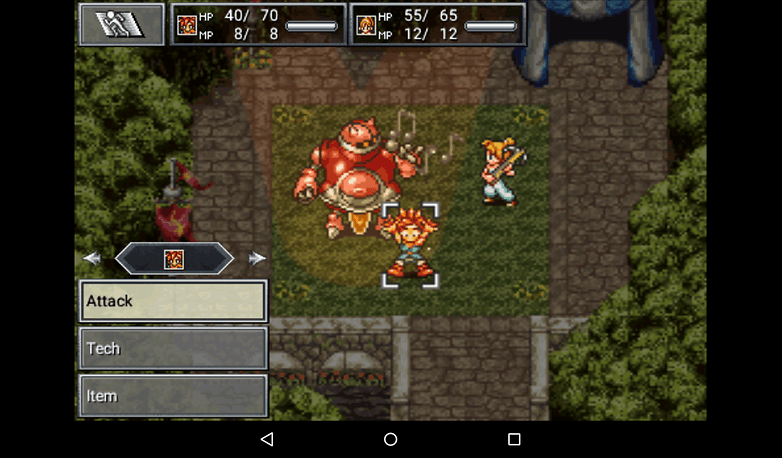 While that feels like a lot for an app nowadays, it's well worth it for anyone who enjoys RPGs. It also includes the two additional areas that were released as part of an update for the Nintendo DS.
Somewhere near the start of the story, a friend you've met along the way is accidentally transported to a different time (yes, you get to use a time machine) and you heroically throw yourself into the portal to rescue her. What ensues after that is a mix of exploration, real-time battling, collecting different items and potions, and all manner of other things in a long game that should last you many, many hours per play through.
App version: 1.0.7
App size: Varies-downloads as areas unlock
Compatibility: Android 2.2 and up
Price: $9.99
Ready? Go! Android endless runner games
Endless runners are always one of the most popular Android games categories, and our suggestions below should keep you entertained for a long, long time.
Sky Dancer
Sky Dancer is a stylish endless runner in a similar vein to Temple Run, but one that keeps things nice and simple in terms of options and power-ups.
What makes Sky Dancer both irritating and fun is the precision required to plant your landing perfectly as you sprint through the 3D landscape. Tap both sides of the screen to jump, or hold either side to move in that direction, and that's all your controls.
When you do inevitably meet your demise, you get once chance to continue (either by using coins or watching an ad). The next time you slip up, the game is over.
There's no need to buy any in-game content (though there are different characters available), it's free to download and pleasingly simple.
App version: 1.3.2
App size: 82 MB
Compatibility: Android 4.03 and up
Price: Free, in-app purchases
Run Sausage Run!
Run Sausage Run! Is an endless runner with a culinary twist. As a plucky sausage attempting to escape your fate on the dinner table, you've got to dash through the kitchen dodging deathtraps like knives, tenderizers, searing hot grills, and various whirling blades.
The bloody but cartoony visuals and tongue-firmly-in-cheek humor makes Run Sausage Run! stand out from the many endless runners out there by force of personality. The fantastic soundtrack and variety of power ups help keep the high-score chasing gameplay interesting over time and there are various outfits and skins to unlock to personalize your sausage.
Although free to play, the game is supported by ads, which, once you get engrossed in a particularly tricky section of traps, can feel quite frustrating. An in-app purchase exists to remove them.
App version: 1.2.0
App size: 98.25 MB
Compatibility: Android 4.1 and up
Economic model: In-app purchases
Android action games to get your adrenaline pumping
If you'd rather be handling weapons and slaying rivals than kickflipping your way to a high-score, these action games should keep you entertained.
Dead Trigger 2
Fragging zombies might be a gaming cliche, but done right, it remains incredibly satisfying to shred the shuffling, moaning meatbags with heavy firepower. And Dead Trigger 2 does it right, and looks good doing it too. One of the most graphically impressive games available on Android, this FPS from Madfinger Games boasts hundreds of missions with a wide variety of weapons.
Dead Trigger 2 may be an action shooter but it's not all about guns. There's a visceral satisfaction in dbeating down on the undead with a hammer or eviscerating them with a machete. Then there are more unconventional ways to bring the pain, such as with a boat motor or with...exploding chickens. Yes.
Of course, there's a variety of enemies with different types of attacks and weaknesses to keep the player challenged, too. Dead Trigger 2 isn't mindless repetitive blasting. The levels are well-designed with a variety of enemies that demand new tactics.
App version: 1.3.1
App size: 519 MB
Compatibility: Android 4.0.3 and up
Price: Free (in-app purchases)
Implosion - Never Lose Hope
Rayark's offers 6 levels of their fantastic sci-fi action game for free download, and it's enough to get sucked into this graphically gorgeous title. The player controls one of two mechs with a variety of abilities for long- and close-range combat against a variety of alien and cybernetic enemies.
The controls are intuitive and responsive and it's easy to master a range of impressive sword attacks, dashes, shooting, melee combos etc to keep things interesting. Unlocking the full version opens potentially hours of slick action and combat with more powerful enemies.
App version: 1.2.11
App size: 1.49 GB
Compatibility: Android 4.0 and up
Price: Free ($9.99 for full version)
Start your engines! Racing games for speed freaks
The racers included below have been selected for quality and fun, rather than realism and depth of play. There's plenty to explore in both, but anyone looking for a more traditional big name racer will want to check out long-standing favorites like Asphalt 8: Airborne.
Micro Machines
Micro Machines needs little introduction on any platform, and the Android game is no different. Grab yourself a car, select a race mode and you'll be thrown into a race against other real opponents playing around the world.
As is common in many free-to-play games nowadays, you'll need to play a fair amount to unlock new courses and vehicles as you progress, but there's enough variety to keep you entertained. And if you're happy to hand over some money to skip the grind, you can do that instead.
In race modes, the objective is pretty simple - get across the line first by any means necessary, which means using the weapons and other pickups you'll collect as you race. In elimination mode, points are awarded to racers that manage to keep up the pace and stay on screen, and in Battle mode there's no course to race around and the only aim is destruction of your enemies.
Sounds like fun? That's because it is.
App version: 1.0.5.0001
App size: 335 MB
Compatibility: Android 4.0.3 and up
Price: Free, in-app purchases
Dirt Xtreme
For anyone that prefers their races short and on two wheels, Dirt Xtreme is a new game that pitches a great balance of exciting races with challenging courses. It's essentially a racing game that's somewhere between a straight-out motocross game and a trial bike game that rewards balance and control.
Races are mostly a minute or less, making it ideal for quick blasts when you just have a few minutes and there's a selection of different bikes and tracks to unlock.
In career mode, you work your way through different locations, each of which have multiple stages, racing against other players. When there aren't suitably skill-matched real opponents for you to race against, AI fills the gap.
The upgrade system requires you to collect multiple items for each bike part, and you can upgrade each bike multiple times to significantly increase its overall stats. Even better, a recently introduced daily bonus makes getting the parts and bike blueprints required easier.
Once you've got the hang of things, switch to full manual controls for a more rewarding experience that requires better timing and skill.
Get it on the Play Store
App version: 0.2.0
App size: 210 MB
Compatibility: Android 4.0.3 and up
Price: Free, in-app purchases
Android fighting games: the way of the warrior
Sometimes all you really want to do to release frustration with the real world is bash the hell out of someone in a video game. For those moments, we'd recommend these Android fighting games.
Street Fighter Fighter IV: Champion Edition
When it comes to fighting games, you can't go wrong with Street Fighter. Capcom's classic fighting series puts up a good fight on mobile, although you'll notice a graphical downgrade if you've played SFIV on console (come on Capcom, even Street Fighter 2 on the Sega Genesis had animated stage backgrounds).
But Street Fighter IV: Champion Edition doesn't skimp on gameplay. Unlike many fighting games on mobile, there's no login for daily rewards, no grinding for in-game currencies to level up your fighters punches, no gambling-style random unlocks of characters or features.
Instead, you can try it out for free, playing Ryu against three classic characters, and one eminently in-app purchase of $5 unlocks all the other fighters. Then you can let rip with the full roster in a variety of game modes including online versus, with a full virtual gamepad (though you can add your own controller) to give Street Fighter veterans the deep gameplay they're used to.
For new players or those who find the touchpad awkward, there are various convenience features make special moves easier to pull off. Somewhat frustratingly, the game is online-only, even if you're playing solo, and even after you've paid. But so long as you have a Wi-Fi connection, this is the most satisfying fight game on mobile.
App version: 1.00.01
App size: 2.17 GB
Compatibility: Android 4.4 and up
Price: Free version, $5 in-app purchase for full version
Shadow Fight 3
The classic beat 'em up, in which a pair of rock-hard warriors thrash each other within an inch of their lives, isn't one of the more popular types of mobile games but the Shadow Fight series has always stood out as one of the best examples of the genre on mobile devices.
Although previous titles in the series featured battles between almost featureless black figures, Shadow Fight 3 brings all the action into the light, with great graphics and a variety of fighting styles, armor and weapons for your fighter to brutalize opponents with. "Shadow" powers are still available as special moves, however.
You won't get far with button-mashing in this game either, beating Shadow Fight 3 requires proper form and timing to succeed, especially if you resist the in-app purchases.
App version: 5.2.3
App size: 551 MB
App compatibility: Android 4.1 and up
Price: Free, in-app purchases
Want to see the other challengers? Check out our list of the top fighting games for Android
Expand and conquer with the best Android strategy games
Want to plot the rise of an empire? Conquer new lands while developing technologies that catapult you through the ages? These Android strategy game suggestions have got you covered.
The Battle of Polytopia
The Battle of Polytopia is a wonderful mix of of strategy and adventure that sees you exploring (and conquering new lands) and battling any AI tribes you come across on the way. It's also one of the better looking options with cute, blocky graphics.
The tribe you choose for each game will dictate the type of adventurer you start with, but you can research new abilities along the way, so it really just dictates what you'll be doing at the start. Levelling up is easy enough to achieve to not be frustrating but the gameplay is tricky (and varied) enough to keep you coming back for more. This is also helped by the automatically generated maps and different tribes you can join.
It's very simple in comparison to many strategy games, meaning there aren't too many in-game options and items, not that it doesn't present a challenge. It's a pleasingly small download and there's really no need to pay for any in-game purchases in order to progress or fight off the newest challenge.
App version: New World
App size: 29 MB
App compatibility: Android 4. 0 and up
Price: Free, in-app purchases
Hex Commander: Fantasy Heroes
This turn based strategy game is set in your more-or-less typical fantasy world where your hero commands an army in a campaign against various enemies such as orcs, elves, goblins and dwarves and the like. Aside from strategic positioning and movement of troops, your hero also can use magic to influence the field.
Hex Commander is graphically impressive and the larger battles look epic. The campaign mode has plenty of content and there are skirmish games available once you've played through the story. At the moment, many of the races you fight in the game are unplayable, but for a free game, there's lots of fun to be had without needing in-app purchases to win.
App version: 2.9
App size: 70.11 MB
App compatibility: Android 2.3.3 and up
Price: Free, in-app purchases
Get it on the Play Store
Get your game on
There are hours of fun to be found in the games listed above, but in case the selection doesn't quite fit your style, we're always on the lookout for great new games, and you can check out our reviews of the latest and greatest in our monthly list of the best new games to land on the Play Store
If you're interested in pushing immersion to the limit, then take a look at our selection of best VR games for Android, covering Cardboard, Daydream and Gear VR.
What does the future hold in store for Android games? As our smartphones become even more high tech, Android games are becoming more impressive all the time.We keep track of the most hotly anticipated titles right here:
What is your favorite Android game? Let us know in the comments!